Daytona 500 winning black 3 burning out a 3 on the tri oval grass. Nascar just isn't the same without that black car.
Coolest special paint scheme for the 3, reflecting both Dale and my passion for the outdoors.
8 tribute to 3 scheme that ran at talladega and gave us all chills. Sold a lot of shirts and diecasts too.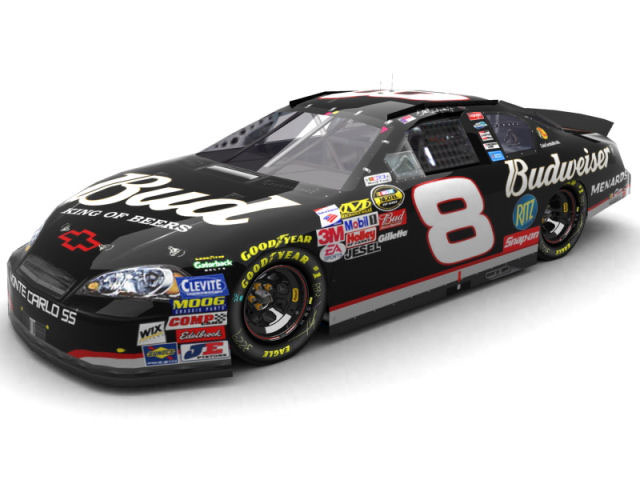 Daytona 500 winning 8 car. How cool is the Born on Date. (Note: this picture is the Shootout car, the Born on Date was changed to 15 Feb for the 500). Glad we went.
Major League Baseball All Star game car. Photo taken at Talladega where we got within a few feet of Jr, DW, Larry Mac and this car (and we have the pictures to prove it somewhere). Jr won the Pepsi 400 in 2001 in this car, the first race at Daytona after Dale's fatal crash. A moment for the ages that not even Nascar could script.
Great looking 22 Pontiac. Not the Daytona 500 winner which was a Dodge but looks cooler in a Pontiac. Plus it's more fun to say Catahpiwwar Pawntiac than Catahpiwwar Dodge. No trouble finding this car on the track.
The Skoal Bandit. The namesake of my first car a 1980 Chevy Citation II which suffered a DNF due to engine failure (I was 16, you do the math).
Cale. Hardee's. Old school. Nothing else to say.
Always cool looking Kodak car, in many variations and makes thru the years, with many different drivers. Couldn't find a decent Sterling Daytona 500 winner picture though, which was my preference. No straining to find this car on the track either.
The baddest muscle car in history, and this coming from a non-Mopar guy. In plain Petty blue, 43, and 426 c.i. To my knowledge, only Nascar car banned because it was too dominant. Wonder how you use the chrome horn with this one.
DW Mountain Dew Buick. Loved the 88 retro scheme of this car last year.
Special gold Winston car for Jimmy Spencer in the Winston. In honor of our friend the CPADawg.
Look out Stroker Ace, a purple ride for a part time driver country music legend.
The absurd State Fair Corn Dogs car. Also ran with Bryan, Jimmy Dean, and Rudy's Farm schemes in 1999. Pork anyone?
Woody Woodpecker car. What the.