A twenty-year tradition was renewed Memorial Day weekend on the grounds of Charlotte Motor Speedway. The Schaefer Racing Hall of Fame and Ring of Honor gathered once again for plenty of NASCAR racing, good times, great eats, renewals of friendships and cold Schaefer beer.
For many reasons - some known, some unknown - our numbers were down this year compared to prior years. Cuba, our 2010 Schaefer Hall of Fame inductee, had to work all weekend. This reality claimed not only himself but also several of his customer representatives who he hoped to host at the track. Even members of the military who normally drop by to hang with us were nowhere to be seen. Perhaps all have been deployed from places like Fort Bragg and Camp Lejeune. Though we may have been smaller in number, however, we were large in spirit.
Friday
After arriving Friday afternoon, one of the best sights for me was to see SHOFer Uncle D. return this year. Our Cleveland Curmudgeon, our master chef, our designated driver, our procurer of SHOF/SROH shirts.
After unloading cars and packing coolers, we headed for the World of Outlaws sprint car race at The Dirt Track at Charlotte Motor Speedway. On the way to the track, however, a monster afternoon thunderstorm flooded our tailgating area, unleashed a torrent hail on our trucks, and for the second year in a row washed out the night's event.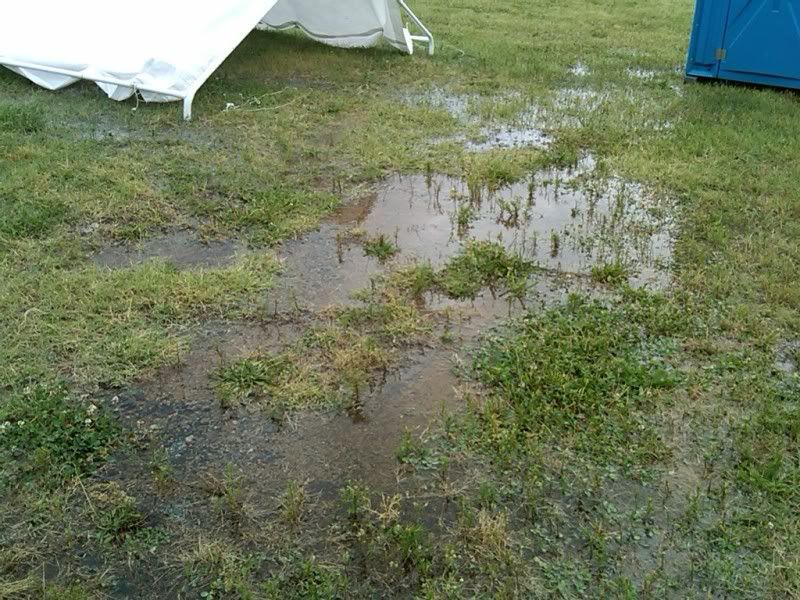 Saturday

After Friday night's rains, Saturday and Sunday were wonderful - wonderfully HOT. But for racing and tailgating, dry and hot is always preferable to rain.
SROHer Bruton joined us Saturday morning. We cheered at his arrival - partially to see him but mainly because he trucked many cases of Schaefer for us from south Georgia. To complement the Schaefer delivery, Bruton also brought some bottled Schlitz. We figured old school brew was deserving of an old school photo technique.
Late morning and early afternoon was filled with great food from Uncle D's grill, swapping of race stories, the arrival of SHOFer Rookie and packing coolers for the afternoon's Nationwide race. Matt Kenseth won the fairly uneventful Nationwide race.
Afterwards, we moseyed over to The Dirt Track to see the event postponed from Friday. On the way there, we shared a Schaefer with this nice couple passing through. For a moment though, we thought the late NASCAR driver
Bobby Hamilton
may have returned from the great beyond.
We've gone to the World Of Outlaws race for about the last 4 years or so. As someone who follows NASCAR fervently and other series such as Indy Car or F1 from a distance, I think I've got a reasonable handle on how a race event works.
But the whole WOO event loses me. They run a series of hot laps that apparently matter for fast time. Then they run a series of heat races where the top X number of finishers advance to the main event. Then I think they've got some sort of "hooligan race" where the castaways from the earlier heats have a second shot at the main event. For the A Main (?), they seem to line up based on those original hot laps vs. finishing order of the heats. Its just a big mystery to be watching it once a year. Plus after a day of consuming multiple Schaefers, thinking clearly is not one of my strengths.
But its racing so its all good. One car that caught my eye was driven by Donny Schatz. While not exactly day-glo red and Petty blue, seeing a red and blue STP race car on the track is still a very cool sight.
In the end, the event was won by Paul McMahon from Nashville by-cracky Tennessee! So in the end, I left happy with the victory by a fellow middle Tennessean.
Sunday - The main event
The most talented and Schaefer HOF innkeeper - and SROH member in her own right - Lanie free-handed a great banner for us to schelebrate our 20th year of this schilliness.
Monte Dutton - syndicated NASCAR beat writer, Sirius radio host, author, musician, and friend - hung out with us for a couple of hours to tell old school NASCAR stories, share a few opinions about new school racers, participate in our 20th Annual Schaefer Scha-LOOT toast, and play many songs. He sung many of his originals as well as covers of artists as diverse as Charlie Pride, Tom T. Hall, Marty Robbins, and Townes van Zandt. Before the race, he
filed a column
with his paper that discretely referenced our party.
SHOFer Rookie brought out his first-time-used, custom-built, parquet Schaefer cornhole boards. We have a ton of fun on Cup race day. But its also a time to get seriously competitive. The bar is raised with each year's cornhole games.
Here is the builder of the official cornhole boards of the Schaefer Schelebration, tournament commissioner, and Schaefer Hall of Famer Rookie presiding over the afternoon's tourney progress...
Eventual winner Will The Thrill coming at you with a magical toss.
As the tournament proceeded, things began to turn a bit weird. I didn't pretend to understand it - I merely tried to embrace and document it.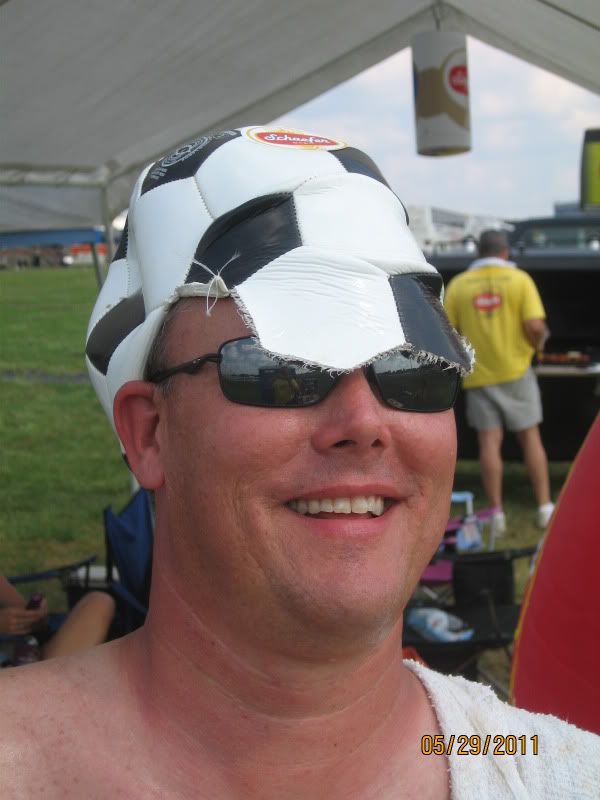 As happens each year, various folks joined us throughout the day - some for the first time and some vets. But with each arrival, all agreed to schare in the Schaefer experience. The most commonly uttered response as the first swallow of Schaefer passes their taste buds is always predictable: "Hey, its not that bad!"
Will The Thrill partnered with Havana Montana to claim the 2011 Second Annual Schaefer Racing Cornhole Tournament Trophy. Much like a wrasslin' tag team, the team was supposedly managed by SHOFer Uncle D. He claimed a nagging shoulder injury prevented him from full participation - yet he did want to participate in the victory ceremony. Havana did an exceptional job keeping the trophy in the family as her husband, SHOFer Cuba,
won it a year ago
.
After the awarding of the trophy, it was time to announce the 2011 inductee to the Schaefer Hall of Fame. With unanimity, it was decided to move Rev. Randy, Esq. from the Ring of Honor to a full-fledged Hall member - with all rights and privileges bestowed upon him.
Our tradition has been to give Rev. Randy the floor to eloquently say a few words about the year's inductee - whether he knows who its going to be or not. He was a bit surprised this year when he found out the praise he lavished on the 2011 inductee was actually about ... himself.
As race time drew near, I wanted to snap a pic of a special Schaefer Ring of Honor member. Jes is our only second generation member of the SHOF/SROH - being the son of SHOFer Padook. The Schaefer Hall of Fame is proud of him for his accomplishments to this point of his life. But our pride is going to another level as we've learned he will be reporting to Officer Candidate School for the United States Marine Corps this fall.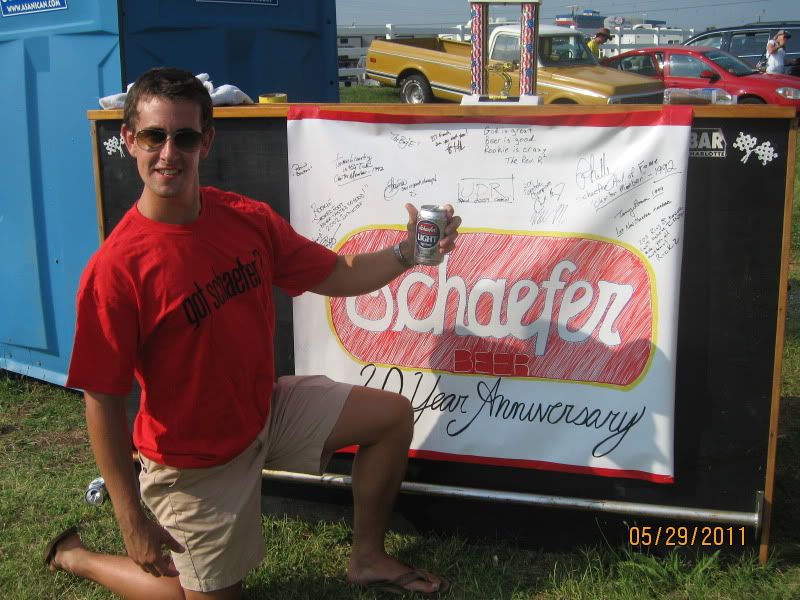 Jes - my man - we couldn't be prouder of you. Be safe and evangelize the Schaefer. Jes gets bonus props for the weekend as well. While cleaning out my garage a week before the race, I found a can of Schaefer Light under my work bench. I have no idea how long it had been there. Rather than throw it away, I simply brought it to the track and splashed it in the cooler. Without a question, Jes downed it.
Race time!
SHOFers toomuchcountry and Uncle D - thanks Lanie for the photo!
The Coke 600 is the longest race of the Sprint Cup Series. Its hard on the drivers and crews from a mental and physical standpoint. Its tough for the fans because of the heat and humidity and frequent stretches of the race without a lot of passes. In those instances, one's mind tends to drift elsewhere. We're pretty sure SHOFer Philly was caught pondering:
Hmm, should I pop a Schaefer ... or a Schaefer Light?
Charlotte has always been a track ahead of the curve with upgrading its facilities for fans. This year, the track debuted an unbelievably large and equally clear HD screen on the backstretch. The picture was spectacular - both during the daytime portion of the race and after darkness fell.
SHOFer Rookie is a huge Dale Jr. fan. When it looked as if he might break his long losing streak, he was on cloud 9. But then it happened. No more fuel, and he had to coast helplessly as Kevin Harvick streaked by for the win. Rookie's emotions turned dismal in the blink on an eye.
As a life-long Petty fan though, I was elated to see the 43 car of A.J. Allmendinger aboard the leader board early in the race. It didn't last. But as seldom as I've been able to see a competitive Petty car in person, it was still a great experience.
When the night was done, Richard Petty Motorsports' cars of Allmendinger and Marcos Ambrose finished 5th and 6th, respectively. Its been a long, long time since I've seen two Petty cars finish so well.
So, another chapter of the Schaefer Racing Hall of Fame comes to a close. As always, we had a monster time. Meanwhile folks, remember:
Schaefer ... Its not just for racing anymore.
Thanks SROHer Rick for the photo
TMC