Everyone knows about the dog days of summer. What you may not know is hot summers result in cool Schaefer times. After some great experiences in May through July, the Schaefer Hall of Fame and Ring of Honor raised the bar (and more than a few cans) during Scheptember. (Many celebrations happened in August too; however, I couldn't out a creative way to work it into the blog title without taking away from Scheptember.)
August
When I was in San Antonio, I paid an unannounced visit to the corporate HQ of Pabst Brewing - the parent company of Schaefer. (Yes, I realize this was technically late July vs. August. But I've already blogged about July and didn't include this story. So sue me.)
Pabst's corporate office is technically in San Antonio. The company moved there following its acquisition by Pearl Brewing. Then, Pearl was a San Antonio-based brewer. Today, its brewery and operations are no more. The remainder of Pabst's operations in San Antonio is limited to the
fun departments
like HR, accounting, some local marketing, and IT support. All of the execs, sales leadership, and marketing folks work in an office outside of Chicago. Yet - in the end - I was there. At the Pabst base camp - with my Schaefer. You know the old saying. Home is where you hang your hat.
Here is Schaefer Hall of Famer Cuba with Ring of Honor members Stephanie (L) and Havana Montana (R) at a Carolina beach. Lesson learned from this adventure? When drinking Schaefer, be sure to remove all Sharpies from your pockets before washing your shorts.
Keeping the SHOF race-centric, here is Philly enjoying some dirt tracking with Schaefer Light at Charlotte Motor Speedway's
Dirt Track
.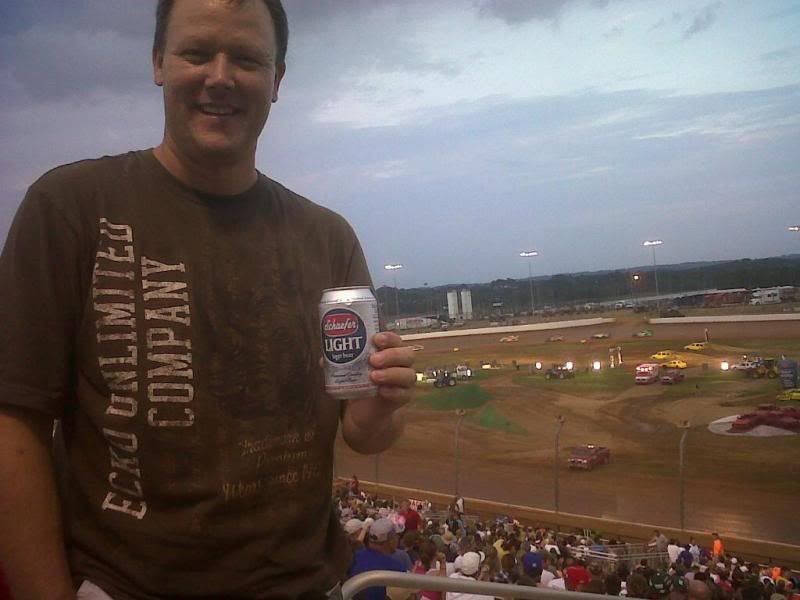 SHOFer Uncle D couldn't make it to the Coca-Cola 600 this year. But he made his presence known at the CARFAX 400 at Michigan Speedway. He also inducted his bud, John, into the Schaefer Ring of Honor. They also met a
Canadian
... drinking
Mexican
Corona beer ... at a
United States
NASCAR race. Its possible the SHOF will need the services of its legal counsel, Rev. Randy, Esq., to determine if some sort of Geneva Convention law was violated in all of that.
SHOFers Philly and TMC, SROH member Chet, and probationary SROH intern Wilbur (Philly's son) made the trek to Bristol for the legendary night race. One of our newest members, 200WINZ, was formally inducted into the Ring of Honor. And Philly and I were proud to bestow SROH honors upon Deirdre aka Koleslaw - a proud volunteer in the United States Navy. She plans to send photos for me to blog of her wearing the Schaefer colors when she returns to her next overseas assignment in 2011 - Afghanistan. God bless you Koleslaw. (For more details on the Bristol weekend, here are links to
part 1
and
part 2
.)
As Philly drove from North Carolina to Bristol, he passed by the legendary
North Wilkesboro Speedway
. Of course, in Wilkes County folks are known for sipping self-created alcoholic beverages with a kick far stronger than a tall-boy Schaefer.
SROH member Ron ensured his Schaef was well represented during an August trip to the beach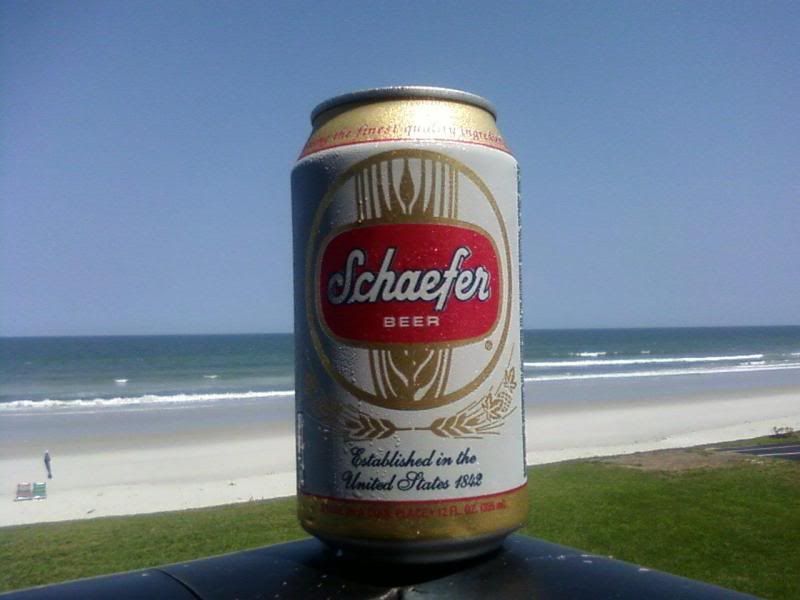 Cuba and Havana Montana wanted all to know nothing makes a couple happier than a night of cards and a cold Schaefer. Peace out.
When one is down to a single card in UNO, its time to begin celebrating...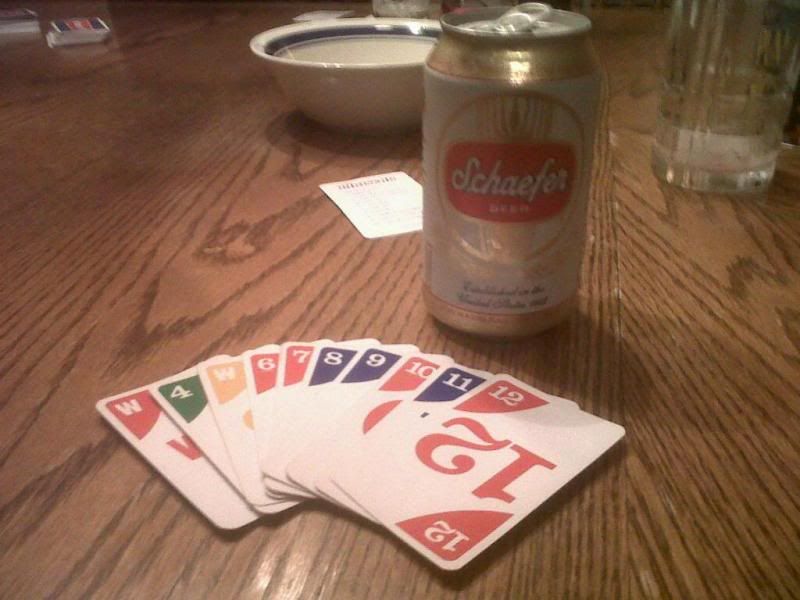 But if one calls UNO! when looking in the refrigerator for another Schaefer...
its time to send someone on a beer run.
The hot August days brought about warm memories with friends such as...
Friend of Philly on visit to Helen, GA.
Brother of Ron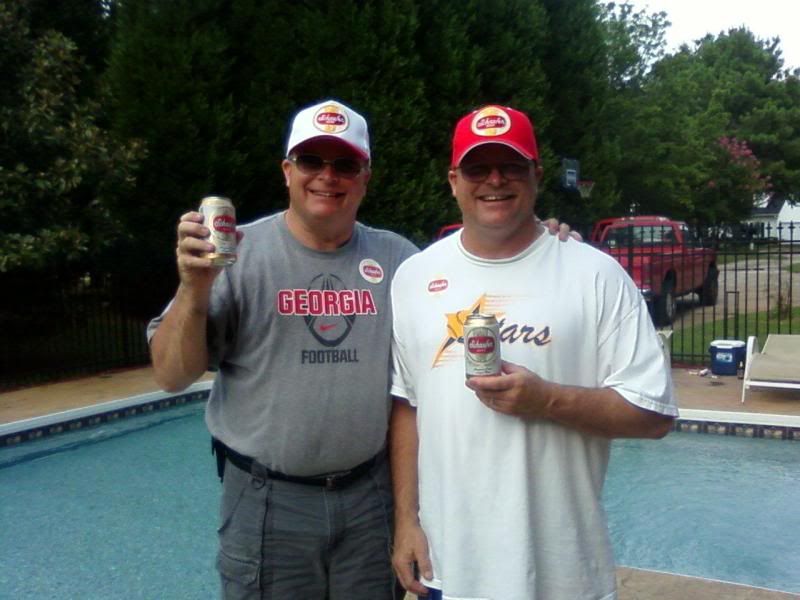 Friend of Ron - Da Murf!
Neighbors of Ron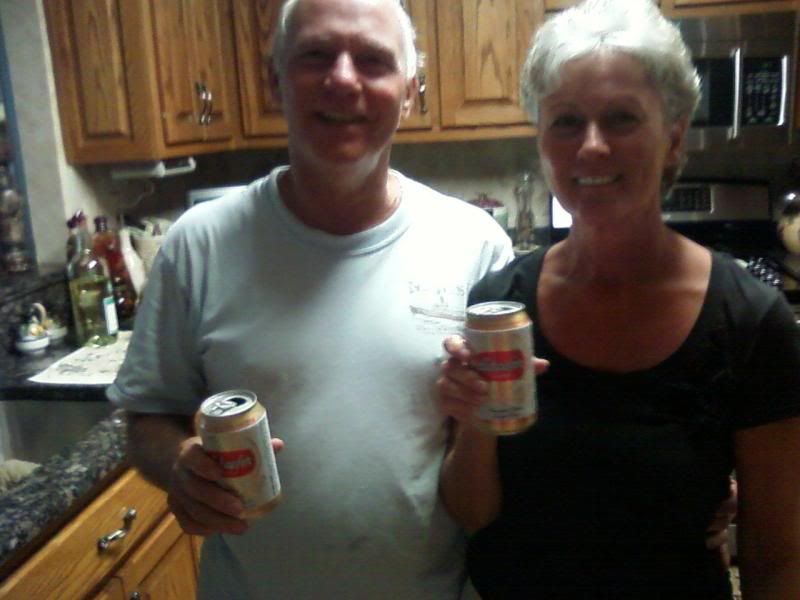 Lanie (R) and friend
Some who don't understand the phenomenon of the Schaefer experience choose to hate on it. They dismiss the SHOF/SROH as old timers drinking an obscure, out-of-favor beer. While the beer brand itself may be
legendary
, the SHOF is creative in its procurement, enjoyment, and promotion of it.
For instance, Philly is now the proud owner of "new" used race truck with a Schaefer-gold base coat of paint. Once he adds some red striping, it'll be race ready for the 20th Annual Schaefer Racing Hootennany in May 2011.
September
The calendar page may have flipped to the ninth month, but the hot temps remained for much of the country. No worries as the Schaefer schelebrations continued.
Ron went all photo artsy-fartsy on us with this creative shot at Atlanta Motor Speedway while there to enjoy the Emory Healthcare 500.
Question: What washes down hot wings better than a cold Schaefer? Answer: Well, duh. Nothing.
Ron and his family returned to the beach - this time New Smyrna Beach, FL - where Fort Schaefer was constructed. Some may view this creation simply as a sand castle adorned by a single Schaefer can atop it. To me, however, the build speaks metaphorically as the arms of the masses longing to secure their own Schaefer. Take
that
art interpreters.
Cleveland, OH's own SHOFer Uncle D and the recently SROH-inducted John went to Richmond International Raceway to enjoy some of the sights, sounds, and smells of the Air Guard 400.
New Jersey's SROH representative 200WINZ also made the trip to Richmond. But he focused just on the sights part by meeting Miss Sprint Cup (or is it just Miss Sprint? Sprint Cups?)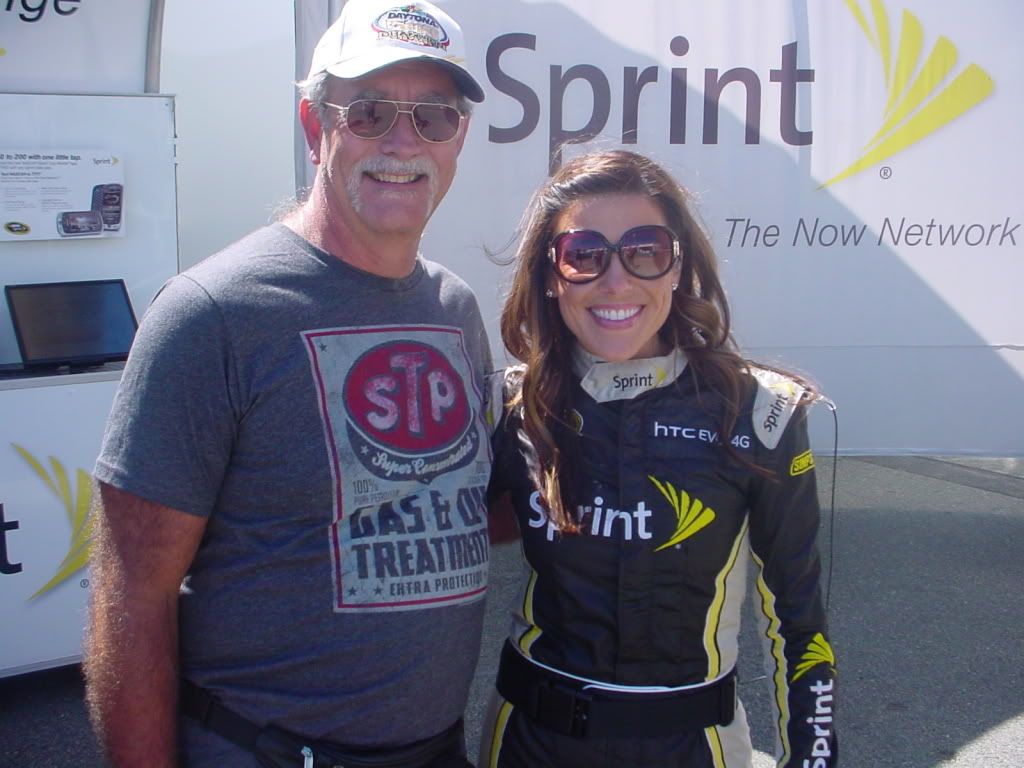 Shortly after the race ended and I had turned off the TV, my phone buzzed. 200WINZ texted me to say he and his buddies were singing the
Schaefer jingle theme song
back at his motorhome. I returned the text asking him to video it. He replied "call me and we'll sing it". So I did - and they did!
As an aside, the Schaefer Hall of Fame and Ring of Honor have had a fantastic year at the track in 2011. We've had representation at the following races so far this year:
Shelby American (Las Vegas) - Philly and TMC
All-Star Race - Philly and Rookie
Coca-Cola 600 (Charlotte)- Philly, Lanie, Rookie, Erin, Cuba, Havana, Stephanie, Padook, Ron, Rev. Randy, Monte Dutton, and TMC
Sonoma - Kristi
Coca-Cola 400 (Daytona) - Ron
CARFAX 400 (Michigan) - Uncle D. and John
IRWIN Tools Night Race (Bristol) - Philly, Chet, 200WINZ, Koleslaw, Kristi, and TMC
Emory Healthcare 500 (Atlanta) - Ron
Air Guard 400 (Richmond) - 200WINZ, Uncle D., and John
NASCAR Banking 500 (Charlotte in October) - Philly
With my race season in the rear view mirror, I find myself having to creatively expand ways to enjoy Schaefer the rest of the year. First up? Baltimore, as
previously blogged
.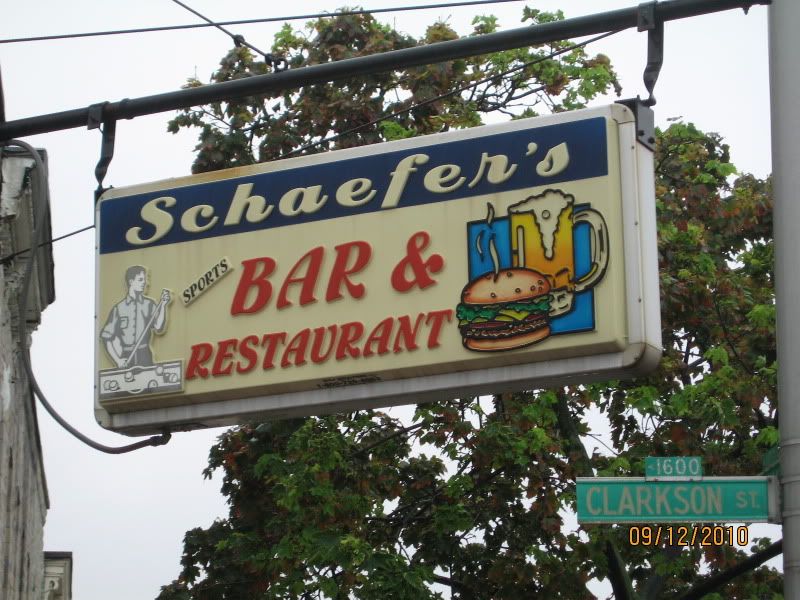 The summer of 2010 is now pretty much in the books. We have hit the double-digit months of the year. Its now time to turn our focus to autumn - and before you know it, winter. Ron is taking no chances with the looming cold winter, a predicted tumultuous series of November elections, and an uncertain economy. So as part of his home emergency preparedness plan, he loaded up on six cases of Schaefer in south Georgia to hold him over for a few
days
...
weeks
... months.