The 1979 Cup season ranks comfortably in the top five of all-time memorable NASCAR seasons. The season began with a Waltrip win on Riverside's road course in January, and then the entire nation seemingly took notice of the legendary finish of the Daytona 500.
Through ten races of the season:
Richard Petty won the Daytona 500 for the sixth time and notched his fifteenth Martinsville victory in the Virginia 500.
Darrell Waltrip logged two wins, and Bobby Allison banked three.
Cale Yarborough won at Richmond after two rough finishes at Daytona and Rockingham.
Buddy Baker recovered from a disappointing Daytona finish with a win at Atlanta.
Rookie Dale Earnhardt picked up his first career Cup win in at Bristol.
A roadie, two superspeedways, three intermediates, and four short tracks to open the season.
Ahhhhh.
After Bobby Allison captured his third win of the season at Talladega, the circuit headed to Nashville for the fifth short track race of the season.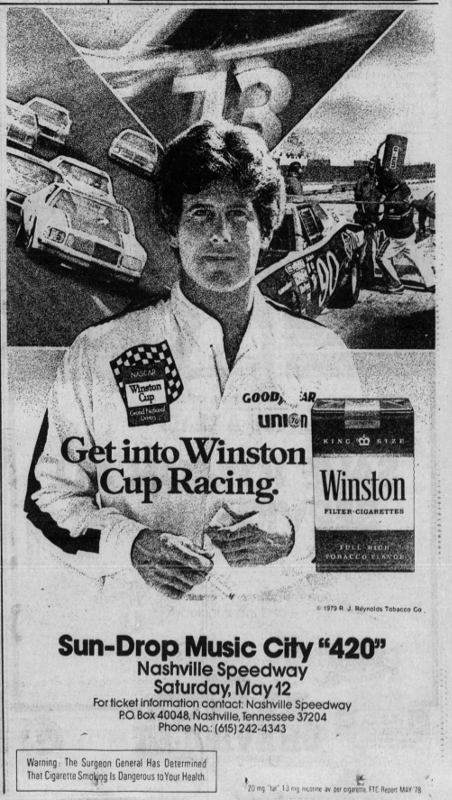 After years of being known as Fairground Speedways and Nashville Speedway, the track was re-branded as Nashville International Raceway by the track's new leaseholders and promoters, Lanny Hester and Gary Baker. The wording choice perplexes me to this day because the only thing
international
about Nashville in 1979 was the house of pancakes near Vanderbilt.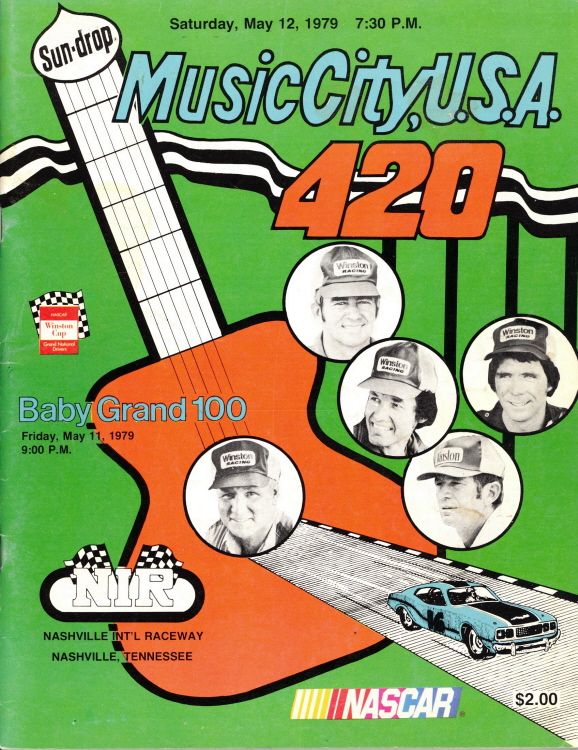 The Winston 500 raced with a full field of 40 cars. By contrast, 28 drivers answered the call a week later to
Gentlemen, Start Your Engines!
in Nashville - the second lowest car count of the season.
One driver who raced at Talladega but opted not to race at Nashville was independent Coo Coo Marlin. Coo Coo was a four-time Nashville late model champion and had raced in all but two of Nashville's Cup races since his debut Cup event in 1966. (His son Sterling raced his dad's car in the two races Coo Coo didn't start.)
The new promoters implemented a change to charge crew members a pit entry fee - including Sterling's crew at a late model race a few weeks before the 420. Coo Coo fervently disagreed with the new policy, took a stand, and and refused to race at his
home track
.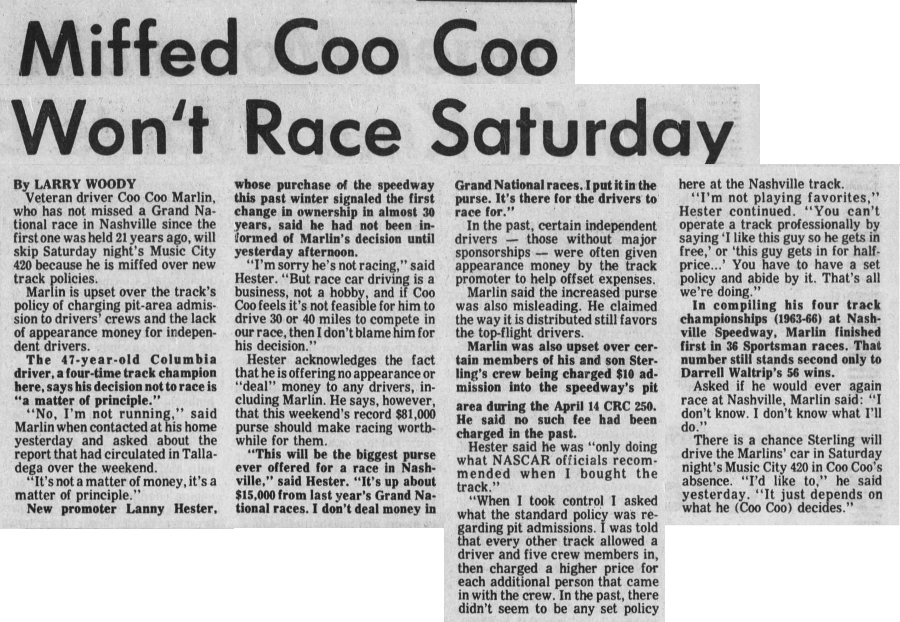 Source: The Tennessean
Coo Coo was peeved, but another local driver was relieved. Steve Spencer, the track's 1977 late model sportsman division champion, got the opportunity to make his Cup debut on his
home track
. Owner/driver Henley Gray put Spencer in his car, and Steve did an admirable job in his debut by qualifying 15th and finishing 12th.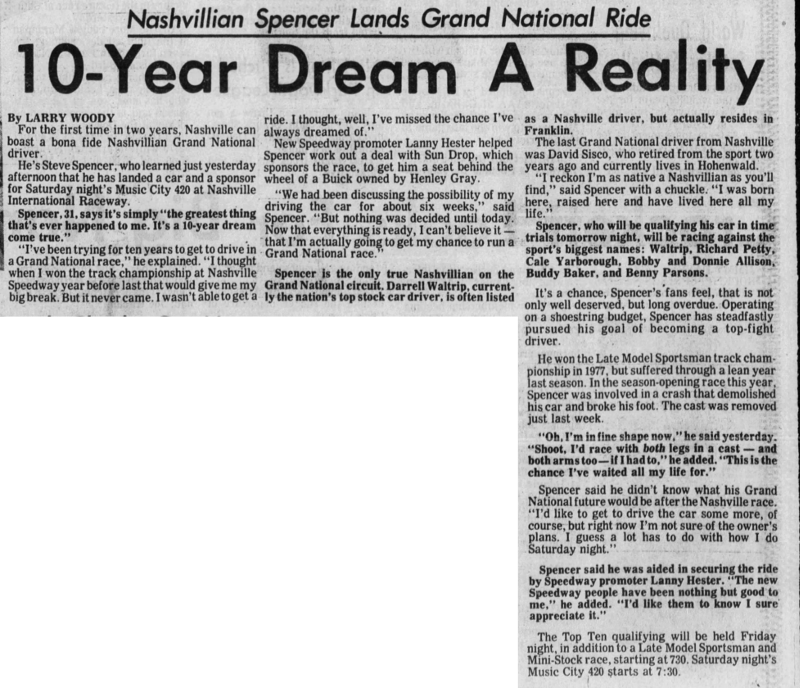 Source: The Tennessean
Spencer raced in seven more Cup events in his career, and he later became Sterling Marlin's personal pilot. His weekend was made a bit more memorable as he won the 50-lap late model feature following Friday night's first round of Cup qualifying.
Dale Earnhardt was already a raw but popular and promising rookie. He brought a fan base from both his father's legacy as well his late model experience on tracks in the Carolinas. (Hint to NASCAR: a return to supporting short track heroes will result in their bringing a fan base with them to trucks, Xfinity, and Cup.)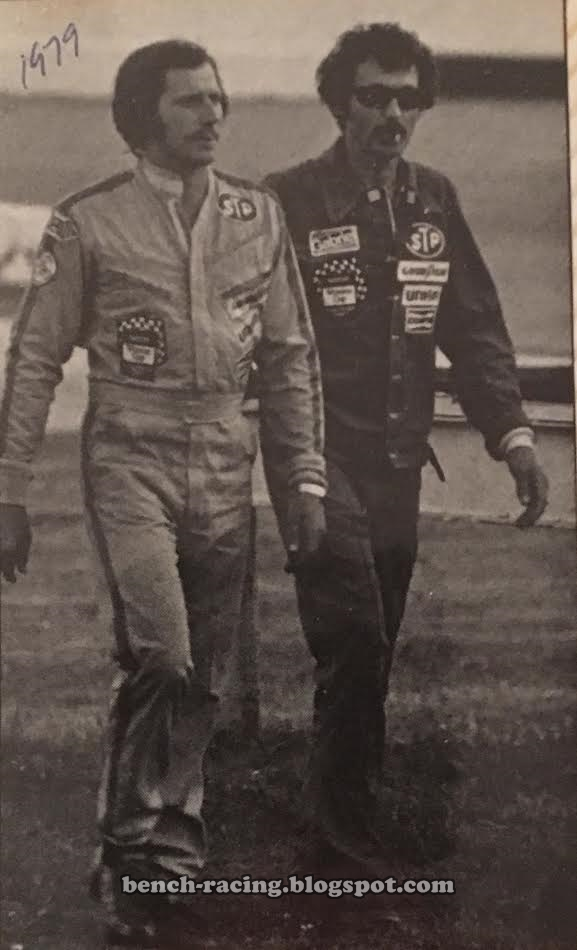 Earnhardt, however, was not the only promising rookie in the 1979 class. Other talents in what was arguably the most talented collective group of rookies in Cup history included Joe Millikan, Terry Labonte, and Harry Gant.
Joe Millikan had been tabbed as a
Petty protégé
. He grew up in Level Cross, worked for Petty Enterprises for the better part of ten years, and won Daytona and Talladega late model sportsman races in an STP sponsored Petty Dodge.
Millikan got his chance at the big time in 1979 by landing a ride with L.G. DeWitt whose team had won the 1973 title and 1975 Daytona 500 with Benny Parsons. Earnhardt nabbed a win at Bristol, but Millikan had been impressive as well in the early part of the season. His #72 Chevy unloaded quick off the truck, and Joe captured his first (and ultimately
only
) Busch pole award.
Source: The Tennessean
Flanking Millikan was Buddy Baker - an unusual qualifying spot for him on a short track. Baker was known as more of a superspeedway racer though he did win at Nashville in 1973 and Martinsville later in 1979. Waltrip, Cale, and the King rounded out the top five starters.
Cale and Bobby Allison tangled in February at Daytona, but they soon put the incident behind them. The fact both of them had wins on the ledger by the time Nashville rolled around likely helped ease things a bit.
Source: The Tennessean
Millikan leveraged his top starting spot when the green fell, and he led the first 31 laps. Unfortunately for him, that brief time out front was the highlight of his race. Engine woes forced him out of the race with a DNF after only 120+ laps.
Long-time independent driver J.D. McDuffie took the lead from Millikan on lap 32. J.D. had himself quite the career race that spring night in Nashville. Over the course of the race, he led 111 laps across the four times he found himself out front. The number of laps led was easily the highest he had in any of any of his 653 career starts
by a factor of 10
! Though he didn't win the race, he finished a solid 5th - his 12th and final career top 5.
Before McDuffie headed to the front, he tangled a bit with Yarborough. Cale lost a lap because of his spin, but he didn't hit the wall or otherwise damage his Olds 442. Adding insult to injury was a second spin in the first half of the race. But again, racing luck favored Cale as he managed to keep it out of the wall a second time.
Part of McDuffie's secret sauce was his McCreary tires vs. the Goodyears worn by other cars. His tires provided a speed advantage in the short run, but they had a tendency to fall off quicker later in a run.
The STP Monte Carlo was out front when McDuffie wasn't. Petty led a stretch of 100+ laps in the middle stages of the race. Knowing McDuffie's McCreary tires wouldn't last as long, the 43 seemed to be in good position to capture the trophy.
Because of his need for new tires, J.D. surrendered the lead to Petty with just under 150 laps to go. Petty led the next 61 laps before
officially
losing the lead to Yarborough in a controversial turn of events.
During his final stop, Petty got tangled up a bit on pit road with Benny Parsons in his #27 M.C. Anderson Chevy. The King did a half-spin on pit road and had to straighten up to complete his stop. But the Dale Inman-led crew completed their service and sent the King back on track as the leader.
NASCAR ruled, however, that Yarborough had unlapped himself and taken the lead from the King during the 43's pit road bobble. After the race, Petty insisted he had not lost the lead to Cale and believed he was the winner of the race. Bobby Allison - in a rare moment of unanimity with Petty - agreed Petty won with Allison as the second place finisher.
But...NASCAR maintained its position and insisted Cale had made up his lost laps, passed Petty, and led the remaining laps to the checkers. Yarborough returned to Timmonsville, SC with yet another Nashville trophy as Petty and Allison scratched their heads.
The win was Cale's third in a row at Nashville and seventh in a 13-race stretch. The race was also the 27th time Petty and Cale finished in the top two spots.
Source: The Tennessean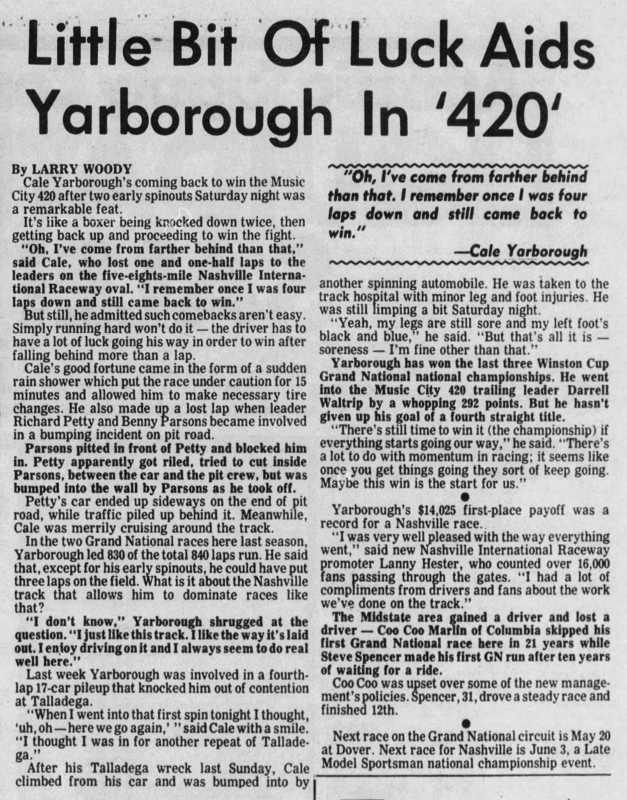 Source: The Tennessean
TMC