When NASCAR, Daytona International Speedway, and Anheuser-Busch monkeyed yet again with the rules for the Bud Shootout, one of the new rules for 2010 allowed former winners of the race to enter.
Among others who became immediately eligible for NASCAR's prime-time "We're back!" race on national TV was Ken Schrader. I like Kenny a lot because of his low-key, yet knowledgeable involvement with the sport.
Beyond his on-track talent, the best skill Ken has consistently shown over the years is his ability to draw sponsors with products that simply can't be good for you. Combining them all would seem to suggest folks should hang the nickname "Gluttony" on him.
For Saturday's night's Shootout race, Schrader was hired to pilot the #82 Red Bull Yota because Scott Speed wasn't eligible for the race - yet goodness knows Red Bull needed more exposure.
Going back to Kenny's start in the Cup series in the mid 1980s and working our way forward, let's have a look at some of his sponsors.
Junie Donlavey's #90 Ford - Sponsor: Red Baron frozen pizza
Hendrick Motorsports #25 Chevrolet - Sponsor: Kodiak smokeless tobacco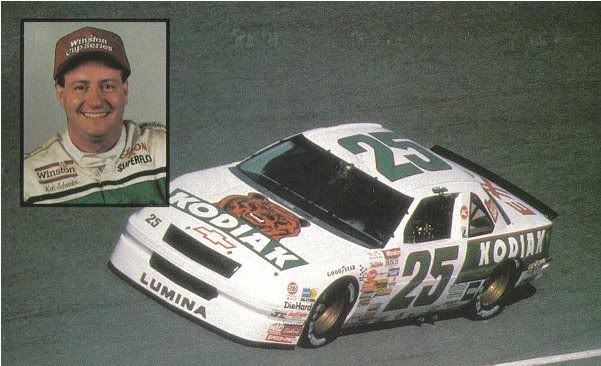 Hendrick Motorsports - Sponsor: Budweiser, The King of Beers (as it was still known back then)
Andy Petree's #33 Chevy - Sponsor: Skoal smokeless tobacco (props to K-Schray for double-dipping on the chew sponsors!)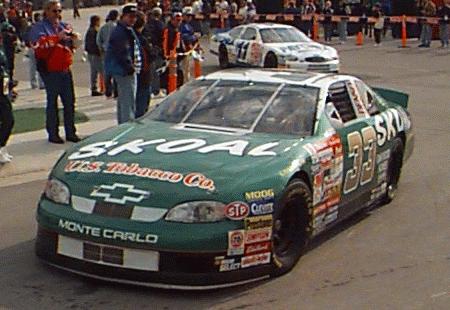 Wood Brothers' #21 Ford - Sponsor: Little Debbie snack cakes from Collegedale, Tennessee (Oooh boy, I sure do like those oatmeal creme pies and banana twins though. Yum.)
MB2 Racing (co-owned at the time by Nelson Bowers from Chattanooga, TN) - Sponsor: M&M's candy
BAM Racing - Sponsor: Schwan's home delivery frozen foods
Now, don't me wrong. I'm not blogging as a prude who dines only on organic vegetables and free-range chicken. I have used - and will continue to use - products from Schrader's sponsors far more frequently than I'll purchase DuPont industrial products or a FedEx overnight shipping service. Its just that Kenny's entry in the Shootout caused me to reflect on all the "sin products" he's pitched over a 25 year career. *Burp* Excuse me.
Disclaimer: Because our blog is named Bench Racing from the Volunteer State, I had to name-drop the Tennessee cities where I could. I figure you'll understand.
TMC