August 5, 1962: In his second start of the season in a Petty Plymouth, Jim Paschal wins for the second time. Starting third, Paschal wins the Nashville 500 on a hot summer afternoon at Nashville's Fairgrounds Speedway. Teammate Richard Petty finished second.
...Paschal's smooth and steady pace netted a four lap victory in the sweltering Nashville 500.

The 35 year-old High Point, NC veteran poked the nose of his Petty Engineering Plymouth into the lead in the 203rd lap and was never headed in the wreck-marred 500 lapper. Three caution flags for a whopping 108 laps kept the winning average speed down to 64.469 mph.

Johnny Allen started on the pole for the third time in his career and led the first 46 laps. Petty and Paschal traded the lead for the rest of the race except for a 12 lap stint led by Buck Baker's Chrysler. Tire problems foiled Allen. A blown tire sent him to the pits while leading, which gave the lead to Petty. Allen got back out on the track and was hustling to make up lost time when another tire blew, sending his Holly Farms Pontiac into the wall.

Wendell Scott broke a spindle on lap 256 on his Chevrolet and ripped out 20 wooden fence posts. The caution flag was out for almost a half hour while track maintenance workers repaired the retainer barrier.
I found it interesting how times have changed. Rather than display the red flag and pause the race until track repairs could be completed as is often done today, NASCAR opted to have the drivers circulate under caution for what must have been a ridiculously agonizing 30 minutes. When the race resumed and the checkers fell, Paschal had led a whopping 307 laps of the race. Petty paced the field 135 laps, and Allen led his 46 laps to match his car number.
was
reported in virtually every paper of the nation on August 6, 1962, was the
death of America's premier sex symbol
of the day.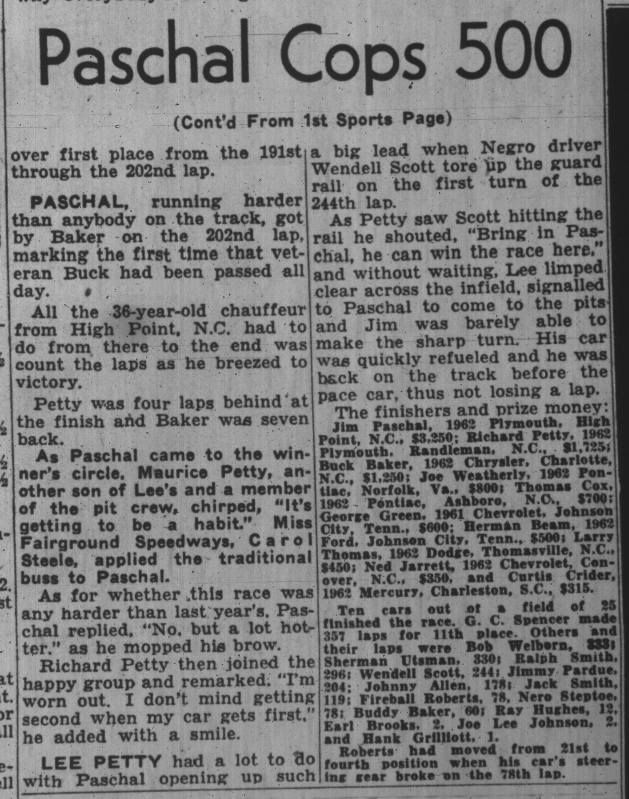 Credit: The Tennessean
After winning the pole and leading 46 laps, Johnny Allen was likely frustrated with his tire issues and his DNF - especially with the muggy, middle Tennessee heat. But a month later in the Southern 500, I'm guessing Allen would have taken Nashville's 90s over the heat he endured at Darlington.
TMC