September 8, 1957: Starting 2nd in his #42 Oldsmobile, Lee Petty leads 46 of 200 laps and wins the 100-mile race on the half-mile, asphalt Asheville-Weaverville Speedway.
NASCAR Hall of Famer Cotton Owens started fourth and was the stud of the show. He led 131 laps, but he crashed and finished 16th in the 20-car field. Another NASCAR HOFer, Buck Baker, qualified third and finished second. Baker later raced in six races for Petty Enterprises in the first part of the 1964 season.
Retired Charlotte Observer motorsports writer, ThatsRacin.com contributor and author Tom Higgins
wrote about his memories
of the 1957 A-W race.
On September 8, 1957, I covered the first race I ever saw, a 100-miler at Asheville-Weaverville Speedway. I arrived at the rustic track well before race time and, although nervous, decided to walk along the "garage area" behind the pit wall to introduce myself.





Among the first I met were Lee Petty and his sons, Richard and Maurice. Their cousin, Dale Inman, also was helping them work on Lee's No. 42 blue Olds, which was to win the race.





Although busy, they took a minute or so to welcome me to the sport, destined to become our lives. I was struck by the friendliness of the Pettys, and others that day, including Rex White and Marvin Panch.





Who would have imagined back then that someday there would be a NASCAR Hall of Fame? And that with the election of Maurice, the first engine builder to be chosen, all four in the Petty quartet would be in it?
Perry Allen Wood succinctly summarized the race in
Silent Speedways of the Carolinas
:
Californian Bill Amick put his Ford on the pole and led the first nine laps before giving it up to Cotton [Owens] for 130. Owens was looking like a winner when a tire popped on lap 141 and he stuffed the Pontiac into the fence for the day's only caution. Amick, [Buck] Baker, and [Lee] Petty swapped the lead until the laps ran out and Lee and his Olds were leading ... The race took less than 90 minutes. ~ p. 221
Though not related to the Asheville-Weaverville race, the article does reference another story with a Petty connection. A tragic one, yes - but an historical one nonetheless. A hat was passed at Greensboro's short track to collect a few dollars for the family of Bobby Myers. The father of long-time Dale Earnhardt crewman Danny 'Chocolate' Myers, Bobby Myers was killed six days earlier in a crash during the Southern 500 at Darlington while piloting a white #4 Petty Engineering Oldsmobile.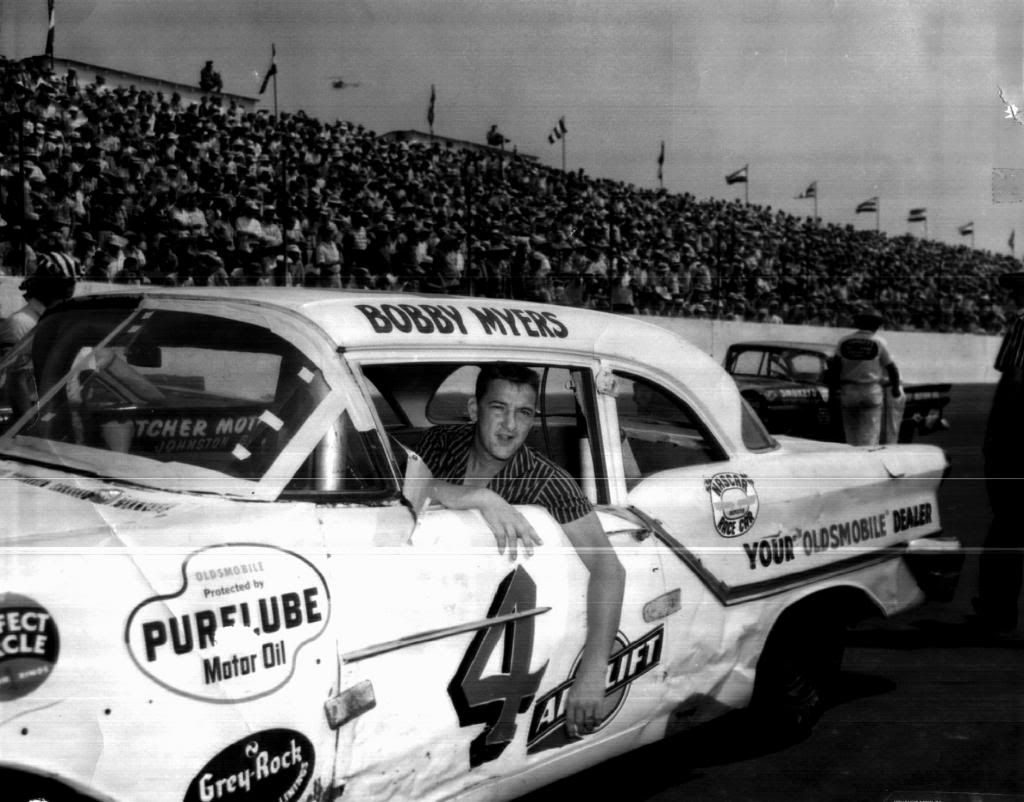 Final photo taken of Bobby Myers courtesy of Randy Myers
Three-wide racing from the jump begins around 11:45 of this video. Beginning around 14:45, Fonty Flock spins in turn 1. Myers tragically drilled Flock and flipped several times. Myers passed away a couple of hours after the accident at a local hospital. From its opening until today, Myers' death remains one of only two at Darlington. (The other was Buren Skeen in the 1965 Southern 500.)
TMC