October 20, 1957: Driving a #88 Petty Engineering Oldsmobile, Billy Myers wins a 200-lap, 100-mile convertible race at the half-mile, dirt Wilson Speedway in Wilson, NC. Myers had a six-year career in NASCAR's Grand National and convertible divisions. He was the uncle of Danny 'Chocolate' Myers, long-time crew member for Richard Childress Racing.
Perennial contender in the convertible series, Bob Welborn, won the pole position. Myers started fourth in the 19-car field. Gwyn Staley started seventh in a Chevy convertible owned by Julian Petty (Lee's brother, Richard's uncle).
In his book,
Rumblin' Ragtops - The History Of NASCAR's Fabulous Convertible Division
, Greg Fielden writes:
Billy Myers of Germanton, NC drove the Petty Engineering Oldsmobile to a well earned victory in the 200-lap convertible race at Wilson, NC.

Myers outran Possum Jones in the late race showdown to win the $900 first prize. Paul Goldsmith came in third, and Bob Welborn clinched the 1957 convertible championship by taking fourth. Fifth place went to Glen Wood.

Myers averaged 60.050 MPH on the half-mile dirt track. ~ pp. 81-82
Glen Wood is still alive and well in 2013. Over the decades, he had great success first as a driver and then as a car owner with his brother Leonard. Both Glen and Leonard are now in the NASCAR Hall of Fame.
While I don't have a photo of Myers at Wilson, his 88 Petty Oldsmobile likely resembled this die-cast version. Several drivers piloted the convertible in 1957 including Bill Lutz, Johnny Dodson, Julian Petty, and Ralph Earnhardt.
Staley finished 8th, one spot better than he qualified. Ken Rush and Darel Dieringer, who at one point in their careers drove a Petty car, finished 13th and 16th, respectively.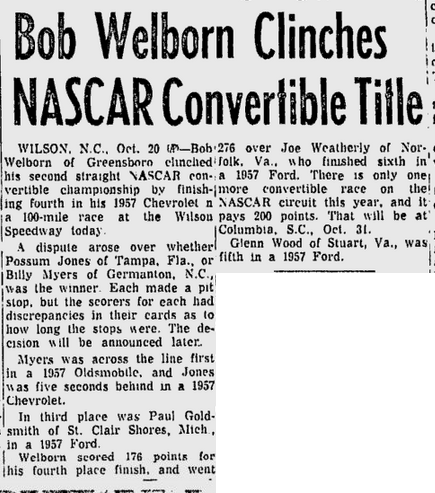 Source: Spartanburg Herald via Google News Archive
TMC