Generally speaking, there is such a thing as an "insurmountable lead" in football, basketball, hockey and baseball. I've been to events where folks head for the exits well before a game is officially over.
I've also seen folks leave races early with the belief that the winner is a foregone conclusion because of his dominance. I'm pretty sure I've only left one race before it was declared official - and that was because of rain. We rolled the dice the rain would continue, but it didn't. I want to see the official end of a race because too many times things have happened with the checkers in sight.
One such day - before my era as a race fan - was May 19, 1974 at Dover Downs International Raceway.
Future NASCAR Hall of Famers claimed the top 4 starting spots for the Mason-Dixon 500. David Pearson won the pole with Richard Petty alongside him in second. Cale Yarborough laid down the third quickest lap, and Bobby Allison timed fourth.
As an on-going goodwill gesture by NASCAR to acknowledge the country's
energy crisis
, 10 percent of the race was cut. The first 50 "laps" were not scored, and the 500-lap race (now 450) officially began on lap 51.
Pearson leveraged his top starting spot to lead the first 18 laps. Cale then asserted his dominance in the race by leading the next 179 laps. The next 100 laps was a back-and-forth effort between Cale and the King.
As the race hit about the two-thirds mark; however, the #43 STP Dodge Charger seized control. Petty re-took the lead on lap 341 and found his groove. Corner by corner, lap after lap, the King hit his marks and let everyone know the win was soon to be his. I have to believe many non-Petty fans headed for the parking lot to get headstart on the traffic.
But then...
With less than four laps to go and a comfortable lead, the Maurice Petty-built engine in Richard's Dodge went POOF. Cale slipped by to take the lead, and Pearson also passed the 43 to move into second. In a flash, it was Yarborough's #11 Junior Johnson Chevy claiming the trophy vs. Petty's Dodge that finished third despite not completing the final two laps.
Cale in victory lane...
Even
Stock Car Racing
magazine knew Cale inherited the win. Yet as is frequently the case in racing, the adage "It's better to be lucky than good" prevailed.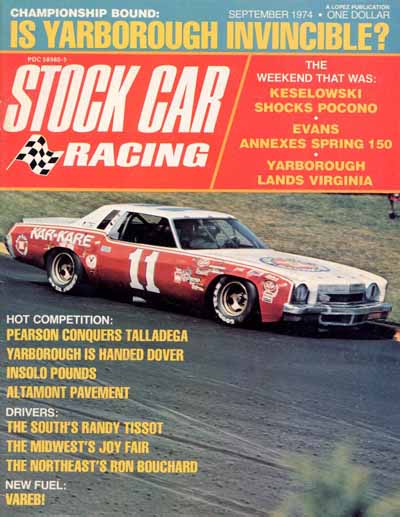 TMC