The first couple of Mötley Crüe albums were instant, hair-metal classics. Then commercial success set in, and we got schlock ballads such as
Home Sweet Home
.
Speaking of Home Sweet Home, the PR machine of NASCAR's multiple teams, sponsors, and media partners seem hellbent on forcing upon us the schlock idea every driver must have a home track.
At one time, one could argue this was a truism. Drivers who started their careers in late models on the bullrings of America often found themselves back at that track in a next-level NASCAR ride.
Some of those tracks included places such as:
Fairgrounds Speedway - Nashville
Birmingham Speedway
Hickory Motor Speedway
Soldier Field - Chicago
South Boston Speedway
Myrtle Beach Speedway
McCormick Field - Asheville, NC
Bowman Gray Stadium - Winston-Salem, NC
Piedmont Interstate Fairgrounds - Spartanburg
Stateline Speedway - Busti, NY
NASCAR itself promotes a number of home tracks that host annual racing schedules under NASCAR sanctioning - none of which currently host a Cup race.
Matter of fact, I can't think of any race on NASCAR's top
three
series' schedules held at a track that also hosts a regular slate of racing for the locals. On the Cup side, I believe the last "home track" to host a Cup race was Nashville - and that relationship ended in 1984.
The
home track
branding has progressed from illogical to silly to now absurd.
I understand NASCAR wants to showcase the expanded range from which it now draws its drivers.
The Busch brothers are from Vegas
Denny Hamlin is from Virginia
Carl Edwards is from Missouri
Jimmie Johnson is from California
I was elated when Richard Petty Motorsports visited victory lane again in July 2014 when Aric Almirola won the rain-shortened Coke Zero 400. But I hung my head when I read Daytona was his
home track
simply because it was a two-hour drive on I-4 from his Tampa home.
On Friday before qualifying for the 2015 Michigan race, Richard Petty Motorsports tried to have us believe Ohioan Sam Hornish, Jr. claims Michigan Speedway as his
home track
.
Jimmie Johnson raced off-road trucks before jumping into a Busch Series car in 2000. He didn't bang around on Saturday nights at California Speedway.
But what really blows my mind is that JJ's crew chief, Chad Knaus, apparently has a
home track
of his own: Chicagoland Speedway.
Dale Jr.'s
home track
is obviously Kannapolis Motor Speedway. Right? Wait. I'm pretty sure Cup ... and the X-Series ... and the trucks do not race in Kannapolis - and never have. So I guess it makes perfect sense Jr.'s home track would be Charlotte Motor Speedway an hour or so down the road. Hold on a sec - but then wouldn't that be the case for
everyone
who lived in the Charlotte / Lake Norman corridor?
Ahhh. Richmond International Raceway. Home of the multi-time track champ Denny Hamlin. No? Well, maybe he was a multi-time
winner
on those sweltering summer Saturday nights at RIR. Didn't happen either? Hmm. Hamlin began racing at the 3/4-mile Richmond track only after he joined Joe Gibbs Racing.
Oh Little Joey - ye Logano of Connecticut well-heeled lineage. Did you realize the 2015 Daytona 500 winner proudly claims New Hampshire Motor Speedway as his home track? Never mind JoLo - like Denny at Richmond - didn't race on the surface of his
home track
until joining Joe Gibbs Racing.
Tony Stewart's
home track
is of course the Brickyard. Why? Because he is from Columbus, Indiana - an hour south of Indy. And because he is among the double-handful of NASCAR drivers who have raced in the Indianapolis 500. What other reasons do you need?
Matt Kenseth claims Madison International Speedway in Wisconsin as his
home track
. What a prepost... Oh, never mind. Kenseth is a former track champ at MIS so this one is actually legit.
Jersey boy Martin Truex, Jr. is unique in that he has at least two home tracks according to the lemmings:
Dover because Delaware is a few hours from Jersey.
Loudon because well ... you get the picture.
Even Busc ... I mean Nationw... err X-Series drivers get a home track. Chris Buescher's: Texas Motor Speedway. Number of races on the track: five.
Home tracks aren't limited to just drivers. Teams - corporate entities - equity ventures - apparently claim them too. Roush Fenway Racing's home track is Michigan. I'm not exactly sure why. I'm pretty sure Roush Fenway didn't grow up racing dirt late models or quarter-midgets. Perhaps the company's corporate charter is registered in Michigan. Umm, somehow I doubt that too.
Furniture Row Racing is based in Denver, Colorado. Their home track - logically of course - is Kansas Speedway. Wait. What?? Yes, it seems because NASCAR no longer sanctions a race in Colorado that FRR claims the next closest track: Kansas Speedway. Yes, the track that is 600 miles away with zero attachment to the team's owner, crew or driver gleefully raises its hand and proclaims "Yep, that one's ours!" I think whoever came up with that connection inhaled way too much on a trip to Boulder.
Is the home track phenomenon limited to NASCAR? Absolutely. Positively. Not. Even the straight-line crowd gets to cling to a track they never ran as their racing careers evolved. Take Antron Brown from the NHRA for example...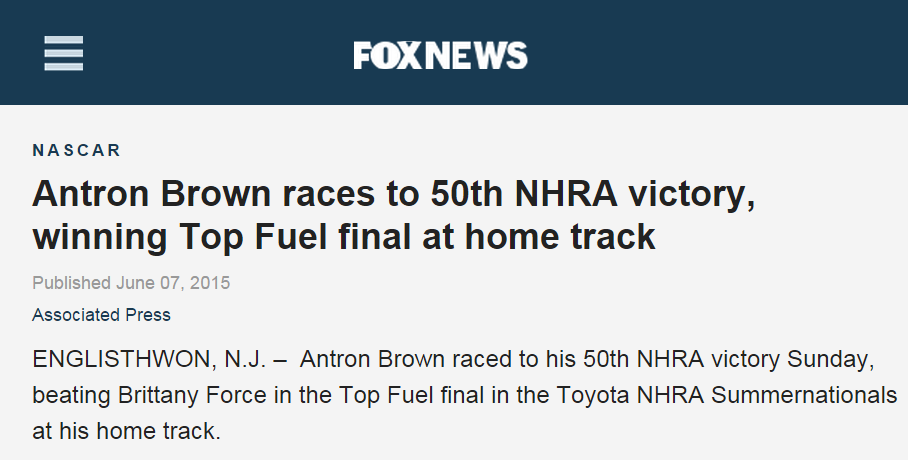 I expect the
home town
nonsense to continue. If you read it on Twitter, hear it on TV, see it in article, etc., feel free to borrow King Arthur's great line in replying to the individual.