Richard Petty raced in 60 Grand National / Cup races at Bristol from its opening in 1961 through the King's retirement in 1992. Sixty! Many might suggest Bristol wasn't of Petty's better tracks because he didn't rack up as many wins as he did at places such as Wilkesboro, Martinsville and Daytona.
Yet from 1961 through 1965, he averaged an 8th place finish. Excluding a couple of DNFs, he averaged about a 4th place finish. The 43 just had a tough time in the early to mid 60s finding victory lane at the East Tennessee half-mile.
Petty and the rest of the GN crowd got another shot at a Bristol win in the Volunteer 500 on July 24, 1966.
When Bristol opened in 1961, Curtis Turner had recently been sentenced to a lifetime ban from NASCAR by Bill France, Sr. Interestingly, the
lifetime
punishment lasted only about four years (a different story for a different post). Turner raced a few times in late 1965 after he was reinstated plus a few more times in 1966. As a Bristol rookie, Turner claimed the pole in first round qualifying.
In the late 1950s and early 1960s, Turner was a Ford man in NASCAR's Grand National and Convertible divisions. When he returned, he drove a little bit of everything - Ford, Mercury, Plymouth and even Chevrolet.
Just because Pops won the pole didn't mean all doubt was erased by those in and around the garage area. No one was quite certain who owned Turner's Chevy. The records suggest owner Toy Bolton entered the car. Bolton was the owner of record for a number of drivers for about 125 races from the early to mid 1960s. The car was also believed to have been previously owned by Smoky Yunick - which raised the eyebrows of many.
Adding to the intrigue was the work on the car done by Turkey Minton, one of Junior Johnson's mechanics. Junior and his right-hand man, Herb Nab, lurked near the car during the weekend leading many to believe Junior actually owned the car. Imagine if such a scenario arose today in an era of Twitter and too much cable TV pre-race coverage.
David Pearson, in Cotton Owens' #6 Dodge, qualified second alongside Turner. Petty and Paul Goldsmith made up row 2. Former Petty driver Jim Paschal and Sam McQuagg qualified fifth and sixth, respectively.
Buddy Baker started the race in Emory Gilliam's #00 Dodge. He had interesting sponsorship from a Tennessee gubernatorial candidate - not a
lady of the evening
. John Jay Hooker was a lawyer, a businessman, and a career political gadfly. Hooker was running for Tennessee governor in 1966. Baker didn't win the race - nor did Hooker win his.
Turner put his top starting spot to good use. He may have been a track rookie and a bit rusty from a few years away from NASCAR Grand National racing. But he adapted quickly to Bristol's asphalt and led the first 80 laps.
Goldsmith then went to the point to nearly match the number of laps led by Turner.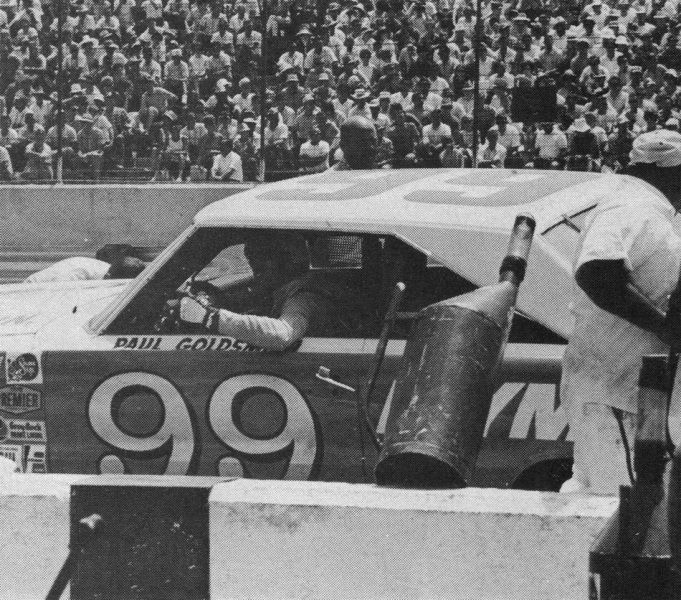 Courtesy of Ray Lamm
Richard Petty then got by Goldsmith and settled into a dominating rhythm. He led lap after lap, and he put the field one or more laps down. But all was not well inside the 43. Petty began developing some significant pain with his neck, but he stayed on the track and in the lead.
Paschal fell out of the race a few laps shy of 300 when the engine in his Plymouth went south. He stuck around the track, and the Petty crew brought him to their pit stall about 100 laps later. Petty was able to pit for the driver swap, and Paschal was able to belt in and return to the action without losing the 43's lead.
When Lee Petty was critically injured in February 1961, his racing career essentially ended. Richard was not yet an established winner though he did pick up a few wins along the way in 1961 through 1964. Jim Paschal was hired by the Pettys in 1962, and my opinion is his multiple wins over the next three seasons helped keep the team in business. Consequently, Paschal was the logical choice to put in Richard's car when his neck discomfort became too much to handle.
Paschal kept the lead, but the 43 Plymouth started giving up a little bit each lap as the race near its conclusion. Goldsmith's Plymouth was the only other car in the lead lap with the 43. He was hauling the mail and began chipping away at the lead lap by lap over the last 50 laps of the race.
With five laps to go, Goldsmith got the opportunity he needed. He made the pass on Paschal and led the final laps to take the checkers.
Goldsmith picked up his ninth and final career GN win. It was also his 3rd win of the season across a wide variety of tracks - Daytona, Rockingham and Bristol.
For the second time in three years, Petty watched helplessly as a Bristol victory slipped through his grasp with just a few laps to go. Lee Petty was mad at the loss. He wasn't mad at Goldsmith for winning or Paschal for bringing home the 43 in second. Instead, he was angry at RICHARD for having exited the car.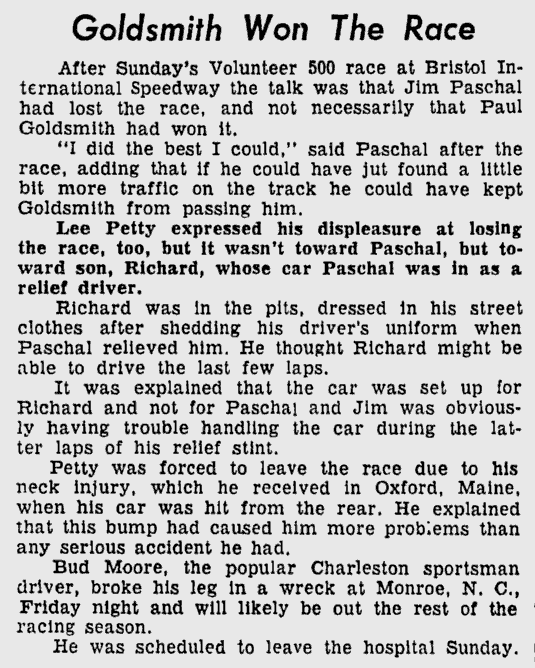 The King finally did notch a Bristol victory in the
1967 Volunteer 500
. He nabbed two more in 1975 when he swept the
Southeastern 500
in March and the
Volunteer 500
in November.
TMC