The next-to-last race of the 1971 season for NASCAR's Grand National drivers was the Wilkes 400 at North Wilkesboro Speedway on November 21. The race was originally scheduled for September 19th.
The Grand American cars were lighter and smaller, and many believed they had an advantage on the short tracks. As an offset, the GA teams were required to use narrower tires and only allowed three crew members over the wall on a pit stop.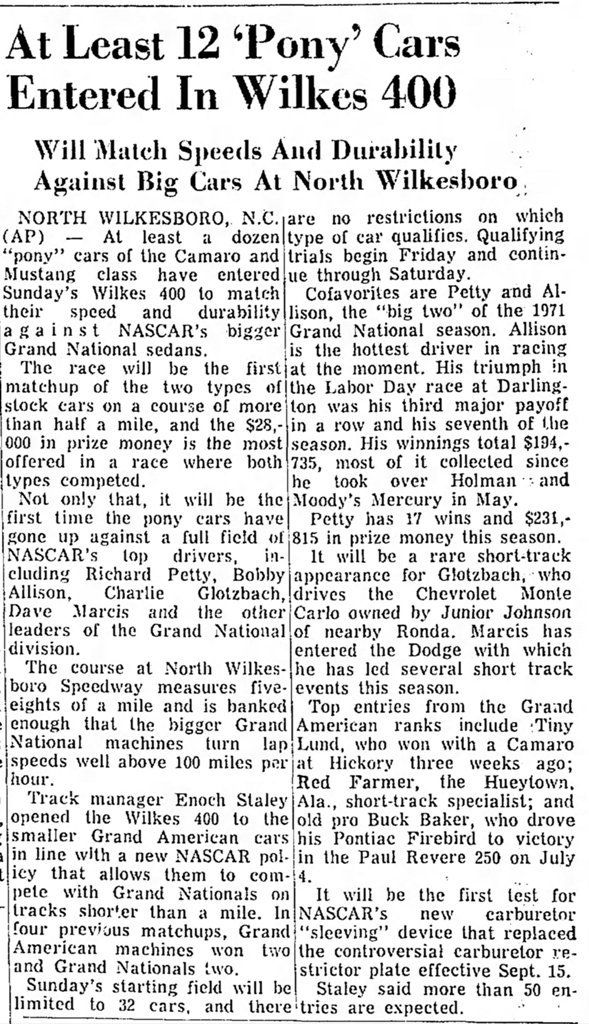 Source: Danville Register
Chargin' Charlie Glotzbach won the pole in qualifying driving a full-size, Richard Howard-owned Chevrolet. Rain arrived on race day, however, forcing a postponement until Halloween, October 31.
Remarkably after Glotzbach's second top qualifying run at the track in six weeks, rains arrived yet again. The star-crossed race was postponed a second time until November 21.
Finally
, the weather cooperated on the third attempt. Fortunately the rains stayed away, and qualifying and the race were completed in their entirety.
The qualifying times were tossed after the first attempt at the race in September. After the October postponement, drivers and teams were given an
option
in November: stand on the October time or qualify a third time.
The second place starter was Richard Petty in his full-size Plymouth with third going to Bobby Allison in a full-size Ford. Richard Brown and Dave Marcis rounded out the top five starters - both in GN cars. The highest qualifying Grand American entrant was Tiny Lund who started sixth in his a Ronnie Hopkins-owned Camaro.
Though the rains did not return, early winter temps did. It would be a cold, windy, fall day when the drivers finally took the green. Glotzbach led the first 41 laps before yielding to Bobby Allison for six laps. Then Petty went to the point where he remained until lap 74.
The next few laps saw a tussle between Allison and Tiny Lund with each taking a brief turn out front. On lap 79, however, Ol' Blue returned to the front. Petty put his Plymouth out front again and began to pull away as he frequently did at Wilkesboro.
With only 50 laps to go, however, Petty's Hemi inexplicably broke a valve spring while holding a two-lap lead. He was able to continue, but his lap times slowed dramatically. And the field was in hot pursuit.
On lap 360, Glotzbach caught Petty's ailing Plymouth to take over the top spot after having unlapped himself. But while looking out his windshield, he also had to keep an eye on his mirror. Tiny Lund, who at one point had fallen back by four laps to the leader, had made up his laps and was pushing his Camaro towards the front.
With five laps to go, Tiny shoved his #55 Pepsi Camaro by Glotzbach and took the checkered flag after building a six second advantage.
Tiny reveled in the victory and quickly brushed off the criticism by some who claimed the smaller Camaro had a distinct advantage. Junior Johnson noted after the race a piece of Glotzbach's rear-end suspension broke with 10 to go. If another few laps had been needed, Charlie would probably have lost the right rear wheel. Instead, he was fortunate to end up with his second place finish. The King salvaged a third place finish even after the disappointment of losing what seemed to be a
book-it
win.
Grand American
Mustang in July 1971 is
not
credited as a GN / Cup win.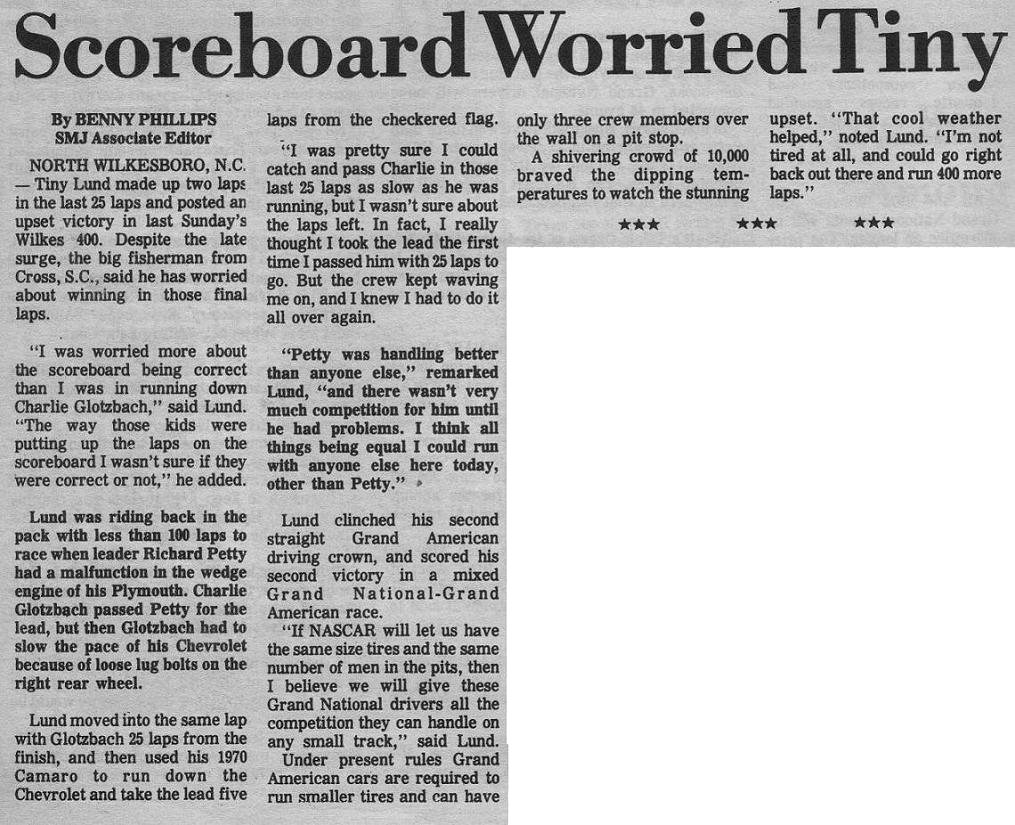 Article courtesy of Jerry Bushmire
Three weeks later, the 1971 season concluded at the short-lived Texas World Speedway. With the first ever Winston Cup title secured at Richmond the week before Wilkesboro, the 43 Plymouth did at Texas what it often did so well most everywhere else:
win
.
TMC