With the state of North Carolina being such a hot bed of NASCAR racing since its formation in the late 1940s, one would think the capital of the state be the site of several races. As it turns out, however, the state fairgrounds in Raleigh only hosted three Grand National (later Cup) races. The first was won by Junior Johnson in 1955. The third one - and final GN race run on dirt - was the
Home State 200 on September 30, 1970
won by The King, Richard Petty. (Raleigh Speedway, a one-mile paved oval, hosted seven GN and three convertible races in the 1950s.)
The middle one at the fairgrounds - the North State 200 - was run June 26, 1969. Bobby Isaac won the pole, one of
nineteen
top sports he earned in 1969. David Pearson qualified alongside Isaac. Neil 'Soapy' Castles, the King and James Hylton rounded out the top five starters. Though 24 cars took the green, the starting top five was about the extent of star power for the race.
And among the top five, Pearson was in a league of his own. He owned the night. The wire service race report noted Pearson led all but two of the 200 laps on the half-mile dirt track. Other sources note Petty was credited with leading sixteen laps. Two, sixteen, whatever. In the end, the lap leader discrepancy had no effect on the domination of the race.
The only bit of drama took place with about 20 laps to go. Pearson's Ford started belching smoke from a failing engine and slowing. Petty sensed blood in the water and gave chase to catch and pass the ailing car. Instead, the King took it too deep into the number one corner. His 43 Ford blew the turn on the half-mile, and he lost a couple of laps as tow trucks assisted him in getting back into the flow of the race.
1
Though Petty didn't present much of a threat to Pearson, the race was the 35th time the duo finished one-two.
If Pearson's ailing car provided the drama, Isaac's race provided the dark comedy. After winning the pole, his night went a little something like this:
Laps led: zero.
Isaac mistimed a pit stop as a caution flew resulting in the loss of a lap to Pearson.
He was black flagged following a pit stop because his crew failed to replace the gas cap after refueling.
His #71 Dodge developed ignition issues resulting in two more stops.
With 70 laps to go, Isaac's night mercifully ended after losing his brakes.
Despite the DNF, Isaac still finished 10th because more than half the field was already out of the race!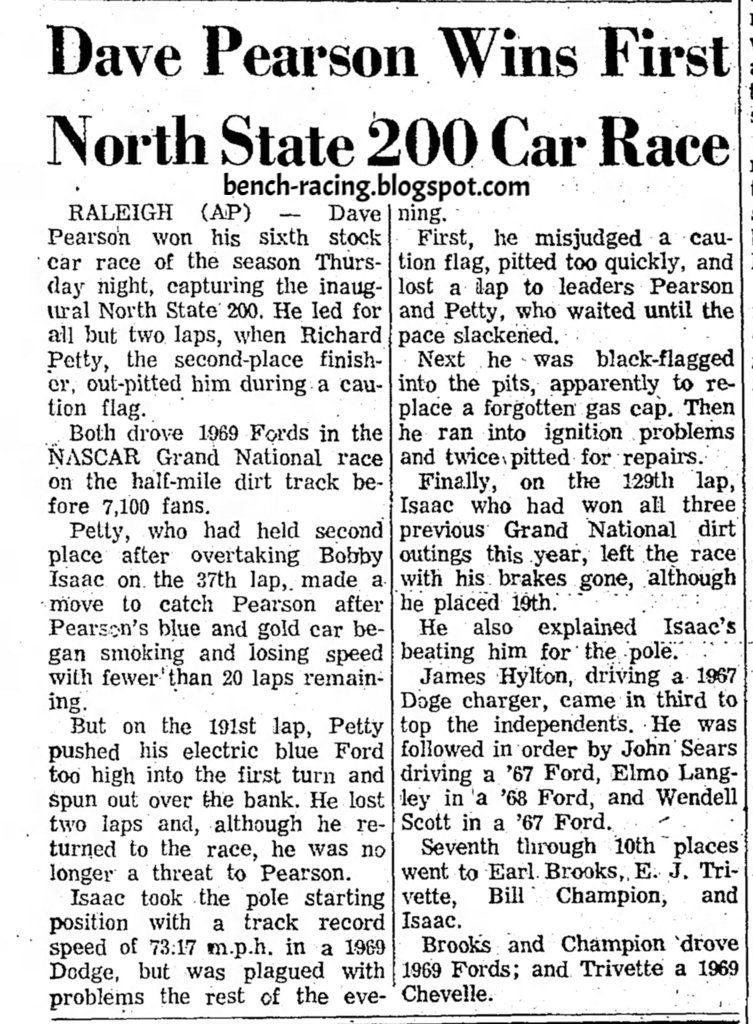 Source: The Robesonian
1
Credit to Greg Fielden's
Forty Years of Stock Car Racing: Volume 3
TMC