The Wilkes 400 at North Wilkesboro Speedway on October 5, 1969, was the 47th event of a 54-race season schedule!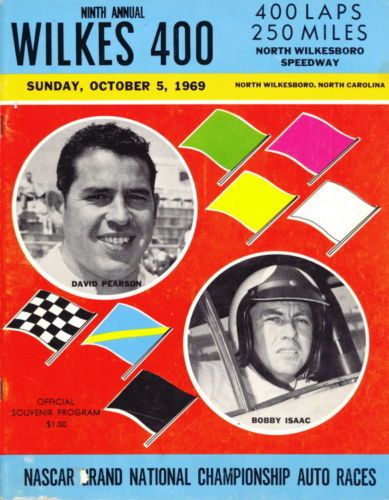 The race was originally scheduled for September 21st - the Sunday after the inaugural GN race at Alabama International Motor Speedway, known today as Talladega Superspeedway.
When drivers associated with the Professional Drivers Association loaded their cars and opted not to race in the Talladega 500, Bill France Sr. ran the event anyway with a patchwork of largely independent drivers.
Afterwards, however, France wanted to make sure a similar situation would never happen again. NASCAR revised its driver entry forms to include provisions for guaranteed participation. Wilkesboro track owner Enoch Staley cancelled all the submitted entries for the Wilkes 400 and requested new ones. The race date was moved to October 5th to allow time for the new entries to be submitted and processed. (The next race after Talladega was on the following Thursday night at Columbia Speedway. It was held without any driver protests and without the revised entry form.)

Source: Statesville Record and Landmark
NASCAR Hall of Famer Bobby Isaac won the pole when the drivers arrived at Wilkesboro in October. The race was the sixteenth of nineteen times Isaac nabbed the top starting spot in 1969. David Pearson in his Holman Moody #17 Ford qualified on the front row alongside Isaac. Richard Petty and Buddy Baker made up the second row. Richard Brickhouse (the winner of the Talladega race) rounded out the top five starters.
When the green flag dropped, Isaac let it me known he could go fast for more than just one lap. He pulled the field around the track for the first quarter of the race and then some. Petty then put his Petty Blue Ford (yes, a Blue Oval) into the wind. He took the lead from Isaac and began his domination of the race.
After leading a stretch of 260 laps, the King was seemingly on his way to third consecutive Wilkes 400 victory...until. With only 13 laps to go, Petty's comfortable half-lap lead over second place Pearson was negated by a jerk who lobbed a bottle onto the track from the grandstands.
Petty's lead was erased because of the caution. As the race returned to green, Pearson made his way past Petty's 43, led the final four laps, and stole the win. Coincidentally, Petty won the
Old Dominion 500 at Martinsville
over Pearson a week earlier in an almost identical situation.
The race was the 39th of 63 times Petty and Pearson finished in the top two spots. Interestingly, the two drivers finished 1-2 in the 1969 championship standings as well - the only year for them to do so. Pearson's Wilkesboro win secured him his third GN title which tied him at the time with Lee Petty.
Source: High Point Enterprise
TMC