Schaefer co-founder Philly and I flew to Manchester, New Hampshire on a Friday morning in July 2005 for a great weekend culminating in the New England 300 Cup race at what was then Bob Bahre's New Hampshire International Speedway.
We dropped our bags and keys after a rental car's drive to our hotel on the outskirts of Boston. The hotel shuttle guy dropped us at a nearby T station, and off we headed to Fenway and uncertain destinations afterwards.
A co-worker and I did a similar trip two years earlier. In 2003, he and I got a pair of BoSox v. Toronto Blue Jays tickets at less than face from an angry young lady. She was livid because her boyfriend hadn't showed or called. She sold us the tickets for $25 each, we thanked her and bought her a drink, and grinned all the way to our seats.
Philly and I weren't quite as fortunate in 2005. One, the opponent was the New York Yankees. Two, we didn't cross paths with a scorned Bostonian female. Despite holding out until the bottom of the first, street prices didn't flex down much. We begrudgingly parted with a hundred bucks each ... and then some, but we were about to experience Red Sox vs. Yankees in
Fenway
.
I'm no baseball fan, but I truly dig a baseball park experience. The game itself was a blowout with the home team winning 17-1. But to be in the park and soak in all the animosity the Boston fans for their New York rival was surreal to say the least.
Leaving the park, we decided to clear our heads a bit by walking to Back Bay and beyond. We made our way to the obligatory tourist trap of the Cheers bar, formerly known as the Bull and Finch Pub.
With nowhere else to go until mid-morning Saturday, we asked the waitress to keep bringing 'em until it was near time for the final T run for the night.
A good time was had - and Philly was particularly generous. On a return trip from the john, he stopped by the bar and bought two nice, ornate steins for us. Philly's goal is to spend ZERO on race trips so this was an extremely kind and unexpected gesture on his part. (Plus he was already over budget with his Fenway spend.)
The waitress finally said "OK, you've got about 15 minutes to make the final T for the night." Somehow we paid her and got directions to the subway station.
After dropping our tokens and bumbling down the stairs, there sat the T with the doors open. We prided ourselves on a job-well-done. Maximum enjoyment time on a Friday night
before
race weekend. But the doors didn't close. With it being the last train of the night, we surmised the operator was holding it a bit longer for the extra stragglers.
Suddenly, standing wasn't good for Philly.
Philly: I gotta take a leak man.
TMC: No way. The subway is about to leave.
Philly: I'll never make it to our stop. I'll be right back.
And boom off he went. I knew our stop, but I wasn't sure if Phil remembered. He could hail a cab if necessary, but I'm not sure he could provide a cogent address. He fortunately made it back in time before the doors closed, and I immediately declined any intel as to where he watered the concrete flowers.
We made it to our stop, lumbered to the top of the stairs, plopped on the curb, called the hotel, and sighed as we waited for the hotel shuttle.
Then ever so calmly, Philly said simply "Well. Damn."
What??
"Remember when I went to take a leak? Well, I took the steins with me. And when I zipped and walked, I reckon I forgot to pick 'em back up."
- - - - - - - - - -
The recently retired Tony Stewart won the Cup race in dominating fashion. The race was the second and final time I saw Smoke take the checkers.
And though Philly may have lost his newly purchased steins, at least he didn't present the winner of a 300-mile race with a 400 flag.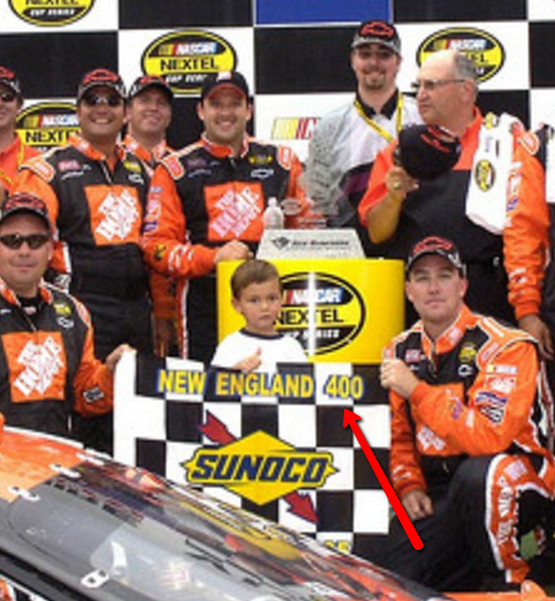 TMC