All true Petty fans, most NASCAR fans, and even several racing novices know Richard Petty won his first of seven
Daytona 500s in 1964
. He started from the front row alongside Paul Goldsmith and went on to dominate the 500.
A somewhat hidden piece of history, however, is how the front row was determined that year. Goldsmith and Petty laid down the quickest laps with their Plymouths and newly unveiled Hemi engines during qualifying on Friday, February 7. Prior to 1964 and in each year after 1964, the top two speeds guaranteed the top two starters for the 500.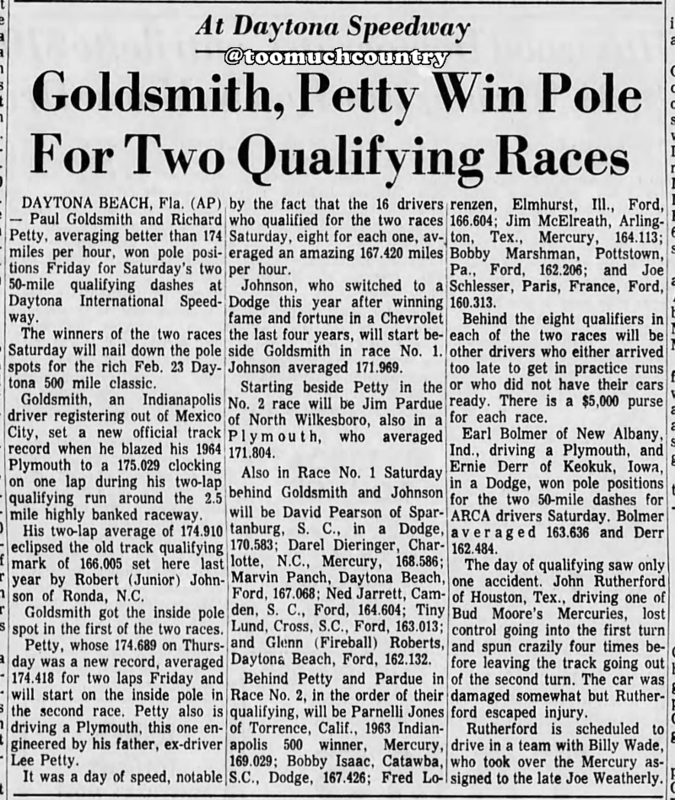 Source: Asheville Citizen-Times
A new wrinkle, however, was added in 1964. The odd and even numbered qualifiers from Friday raced in twin 50-mile races on Saturday, February 8. The winners of the two races secured the top two starting positions. Goldsmith and Petty won their respective twin, so it worked out that the two quickest cars
did
earn the front row. Had the duo NOT won their races, however, they would have had to earn their spots in the traditional 100-mile twins held a few days before the 500.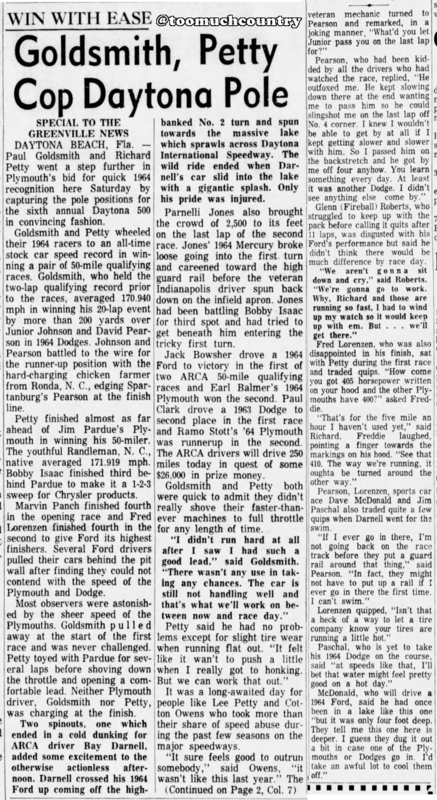 Source: The Greenville News
Though the 100-mile twins counted in the pre-Winston era as official races, the 1964 50-mile pole races did not. (Nor did other Daytona 500 consolation and Firecracker qualifying races held between 1959 and 1967.) So add another win to Richard's list of Daytona accomplishments - especially when the media compares Earnhardt's Clash, twins, IROC, and other non-GN/Cup Daytona wins to the King.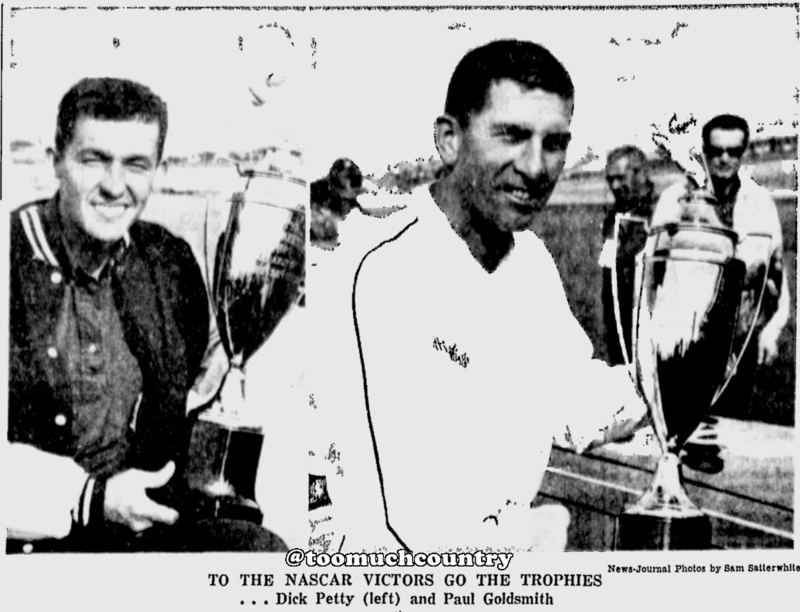 Source: Daytona Beach Morning Journal
In his 100-mile qualifying twin, Petty ran out of gas coming to the checkers allowing Bobby Isaac squeak by for the win and Jimmy Pardue in second. If someone other than Isaac had won the 50-mile race, King may well have started 8th vs. 2nd in the 500. With Petty's domination in the 500, however, it likely didn't matter where the 43 started - though his number of laps led may have decreased by a couple.
TMC