My first car was a Dodge Dart. My wife drives a Dodge Grand Caravan. I drive a Dodge Dakota. Some of my favorite race cars were the big-bodied Dodge Chargers of the mid 1970s. But I'm not a Dodge loyalist - its just worked out that way.
Dodge is in a world of hurt in NASCAR. They have been heading this way for some time, but I'm not sure they've even hit rock bottom yet.
So I find this Scene Daily article (
Dodge has smaller Sprint Cup lineup, 'high hopes' for 2009
) more than just a bit funny - especially this quip.
"You want to have a portfolio of drivers that can at any given time deliver a top-five or a victory," said Mike Accavitti, director of the Dodge, Chrysler and Jeep brands. "We feel with the lineup that we have remaining that we can do that. … The seven cars that we have – or eight cars or six cars or whatever it ends up to be – will be sufficient."
What??? Let's review shall we the line-up as we think we know it heading into the season.
#2 - Kurt Busch
#12 - David Stremme
#9 - Kasey Kahne
#10 - unknown - likely to be filled with one of those baseball-like "player to be named later" guys
#19 - A.J. Allmendinger, supposedly
#43 - Reed Sorensen, supposedly
#44 - unknown - former #45 team of Kyle Petty - rumored to be Chad McCumbee - but likely shelved
#77 - Sam Hornish, Jr., supposedly - unless he returns to IRL
This
is the line-up "of drivers that can at any given time deliver a top-five or a victory"?
This
is the juggernaut that's ready to take on the A-teams of Hendrick, Roush, Gibbs, and Childress? It'll even be a challenge for this bunch to consistently beat the B-teams of Yates, Chip-N-Dale, or Red Bull. And on most Sundays, I'm afraid they may be beaten by fellow C-teams like MWR, Furniture Row, and whatever other one-off, rag-tag teams show up from time to time.
I'm beginning to believe Accavitti is the second coming of Jeff Spicoli with the role of Mr. Hand played by Chrysler CEO, Bob Nardelli.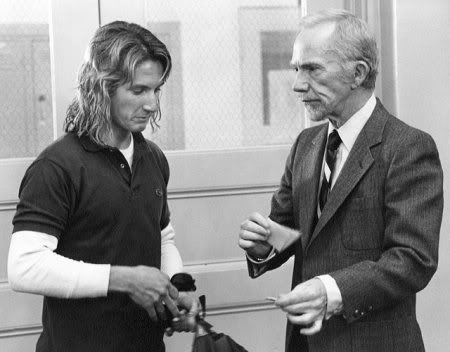 TMC