Prior to this week, I've only visited the city of Baltimore one time - about 7 or 8 years ago, I stayed near Johns Hopkins, and it rained during much of my stay. Not a memorable trip. But this week I returned to Baltimore with a zero-based opinion and a Schaefer-themed agenda.
As my trip date grew closer, my research about Schaefer intensified. I learned a couple of Schaefer-related facts before arriving:
A longtime political fixture as Baltimore mayor, Maryland governor, and state comptroller was William Donald Schaefer. WIN!
Fellow Schaefer Ring of Honor member, Bill Combs, tipped me off to Muggsy's Mughouse as a place serving Schaefer. I tweeted Muggsy's owner, Danny, and he said he indeed offered Schaefer. WIN!
Another Schaefer - Mike Schaefer (unrelated to the former mayor/governor) - is running for county sheriff. I guess I'd vote for him if I lived there.
I specifically took an earlier flight last Sunday to walk the half-mile or so from my hotel, watch some NFL at Muggsy's, meet Danny, and toss back some Schaefer. Unbelievably, the place was
CLOSED
- on opening day of NFL season! Incredible.
But - as the late, great Paul Harvey always said:
now stay tuned...for the rest of the story
.
I had another ace up my sleeve, and it paid big dividends. A few months ago when I knew I would be in Baltimore, I found a
2008 Baltimore Sun
article about a bar appropriately named Schaefer's Bar & Restaurant. It turns out Schaefer's was only about another half-mile or so from Muggsy's. Not a bad Sunday afternoon stroll.
I admit I wrestled with the decision to walk there. With Muggsy's, the neighboring liquor store, and even a corner market all closed on Sunday, I began to doubt if Schaefer's would be open. But as fellow SHOFer Philly has taught me over the years,
there is magic in believing
. So off I went.
I found the place easily and immediately bonded with the couple of regulars in the place including one Bud drinker named Leroy. I learned the bar was founded by a married couple named Schaefer. The waitress showed me a glass used to hold swizzle sticks with an etching of the Schaefers. I tried to talk her into giving it to me - but no dice. Schaefer's also has the 2nd oldest liquor license in all of Baltimore.

Incredibly, however, Schaefer's Bar didn't have Schaefer beer! The waitress said she'd never even heard of it which crushed me to the core. So I had a Miller High Life as my fall back. And then I tried my first ever Natty Bo - a National Bohemian made by Heileman Brewing.


However - NattyBo is only 3 degrees of separation from Schaefer.
NattyBo is a product of Heileman
Heileman is owned by Pabst
Pabst owns Schaefer.
One of the neat things I learned from the Sun's article and immediately spotted as I walked in was all of personalized dollar bills taped to the wall and mirror behind the bar. I found the bill for the article's writer Sam Sessa. He marked his "EBSS" - short for Eccentric Billionaire Sam Sessa, his life's goal. After getting to know a couple of new friends, I asked if I could leave my own version and they responded "absolutely!"
As I was working on my Natty Bo, the bar's owner came out to meet me. Just that quickly, I guess word got to him a stranger was in the Schaefer bar, wearing a Schaefer shirt, asking for Schaefer beer, and defacing a dollar bill with Schaefer Hall of Fame. Craig was super from the moment he introduced himself. He said he used to drink Schaefer when he served in the merchant marines years ago. He also said I was the
first person
to come into his bar and ask for it.
He showed me around the place a little bit - including a newly painted floor in the back of the place painted to resemble the Ravens football field. Green hardwood "turf", yardage markers, the Ravens logo in the end zone, and even yellow plastic goalposts.
After telling Craig a brief rendition of our Schaefer Hall of Fame story, he then blew me away with his next statement. He planned to buy his supply of booze, beer, and food on Monday in anticipation of a large crowd for the Ravens v. Jets Monday Night Football game. He offered to buy me however much Schaefer I wanted and sell it to me at his cost.
I tried to politely decline saying I wasn't sure I could make it back to Schaefer's on Monday or tote a bunch of beer the one mile or so back to the hotel. He said he'd drive me back to my hotel. The answer then became easy: two 30-packs please.
So Monday after lunch, I slipped away for a bit and returned. I was greeted by a regular named Bo. As I strolled in, he sensed who I was. "Hey, are you dat little guy who wanted da Schaefer?" I responded "Yes sir. That would be me. My name is Tick. What's yours?" With a handshake, Bo and I sat down to wait for Craig to return. He then pointed and said "Well, there it is. Is that what you wanted?"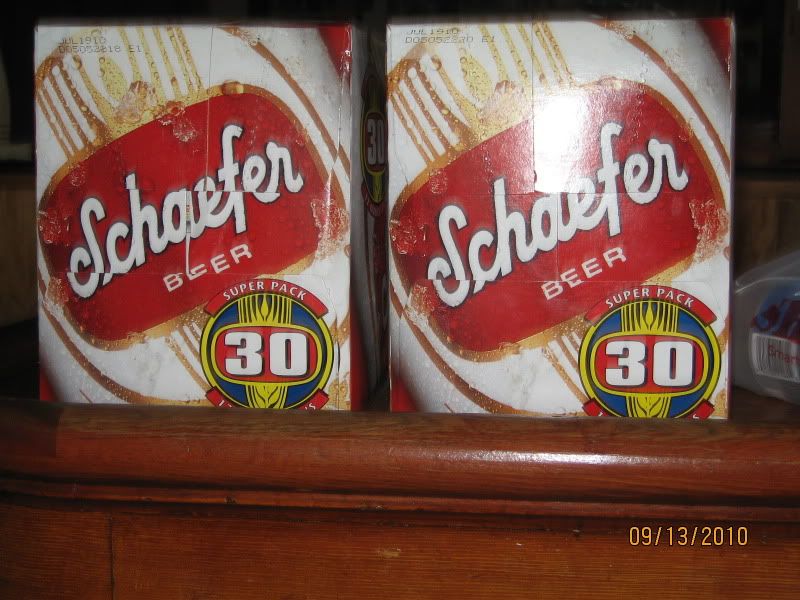 I now had my beer, but I was also ready to return to my hotel to get back to business. But Craig was still out running errands. So I talked to Bo some more. And then Terry - who spoke a bit like Boomhauer from King of the Hill except with a Mid-Atlantic accent. And then some guy Terry called Hammerhead arrived. Then Terry told a bunch of jokes. Most of them were old. Some were new to me. All of them were offensive, but I felt obliged to at least chuckle a bit. At least he was an equal-opportunity kind of guy as no group escaped his attempt at humor.
I then asked the waitress if she'd take my picture holding the beer under the Schaefer's bar sign. She couldn't seem to get the sign, beer, and me all framed in the viewfinder without standing in the middle of road risking her life. So Bo came to the resue. He offered to pull his pick-up truck with sweet, purple flames up to the curb and let me stand in the bed. I nearly laugh-snorted Natty Bo through my nose at the silliness of the situation but also at the genuine hospitality of these local folks who had quickly accepted me as one of their own.

Shortly afterwards, Craig returned, he gave me a lift, and to the 12th floor I went with 60 brews. Immediately, six of them went to the mini-fridge.

(As an added nugget to this part of the story, I e-mailed Sam Sessa at the Baltimore Sun to tell him his 2008 article prompted my visit to Schaefer's. He forwarded my message to Erik Maza, another Sun writer, who a day later gave me a bit of shout-out in a follow-up to the 2008 article.)

I was in town with a friend/business associate. We were scheduled to make a conference presentation on Tuesday. Right before "showtime", it seemed appropriate to crack a couple of the chilled cans and head to our appointed room. When the presentation was complete, we returned to resume with a second...and a third.

We then strolled the short distance to Camden Yards to watch the Baltimore Orioles destroy another bird team, the Toronto Blue Jays 11-3. As the game was clearly in hand for the local good guys, I turned to my friend in the top of the 8th and said "ya know...we
could
check out Muggsy's one final time."
So we did. Sure enough as promised, $2 Schaefer cans were available for us. Sadly, the place was dead and Danny wasn't around. Apparently everyone was still recovering from Monday night's Ravens win, and Danny was visiting the opening of another local establishment. Yet, WE were there.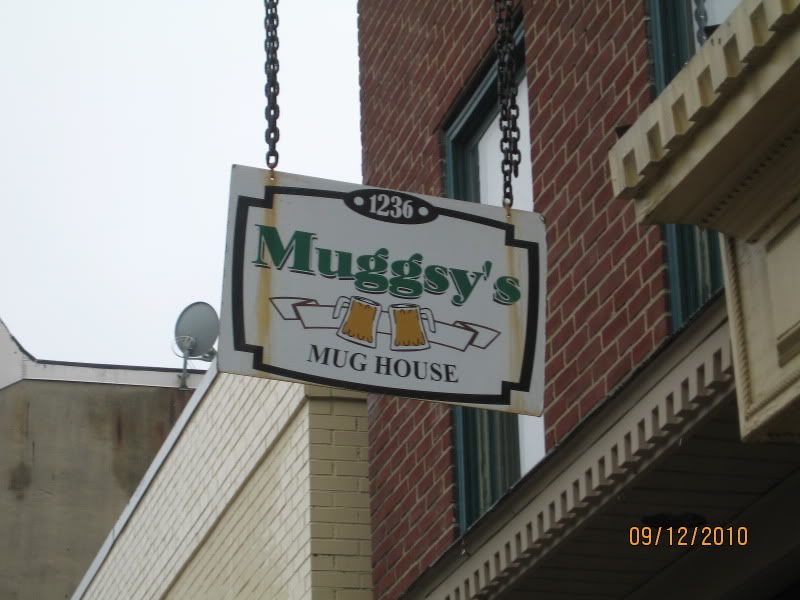 Another successful Schaefer Hall of Fame outing in the record books.
TMC