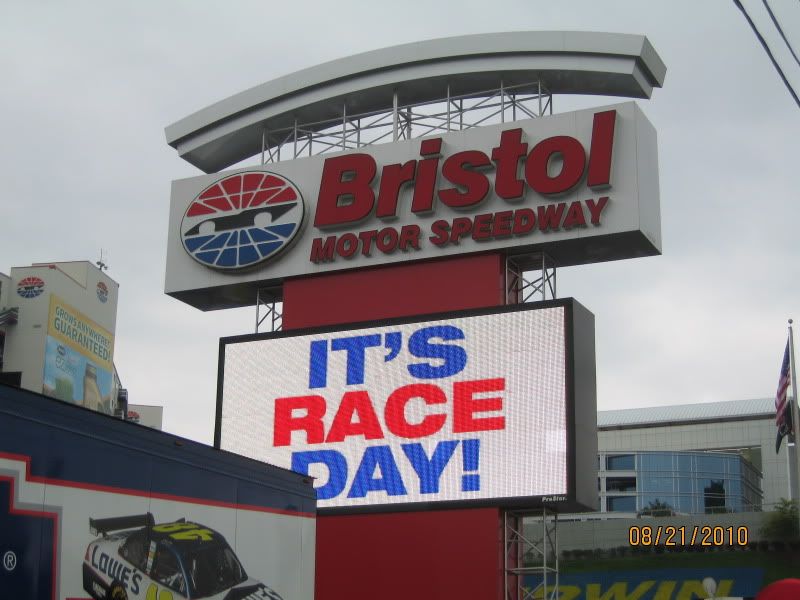 After collapsing on my cot at 4AM, it was time to get back up and at 'em around 8AM. Slowly but surely - one by one - about a dozen of us stumbled out of campers, tents, the "garage", and backs of vans and trucks to greet the dawn. She had arrived around 6AM and cleared her throat to announce the day. But all of us night owls bellowed a collective "screw you!" and slept a couple of hours more. Inevitably, the brightness and warmth of the morning won, and we had no choice but to arise.
After a breakfast of a
Clif bar
, a bottled water, and a
Goody's
, I was as good as
new
...umm...a pair of Goodwill, bell-bottom corduroys - functional but not very appealing.
About mid-morning, two of us decided to take a stroll to take in the sights, sounds, and smells of other campers, souvenir trailers, concession stands, etc. I downed a Schlitz to get the morning rolling and declared I was back in the game.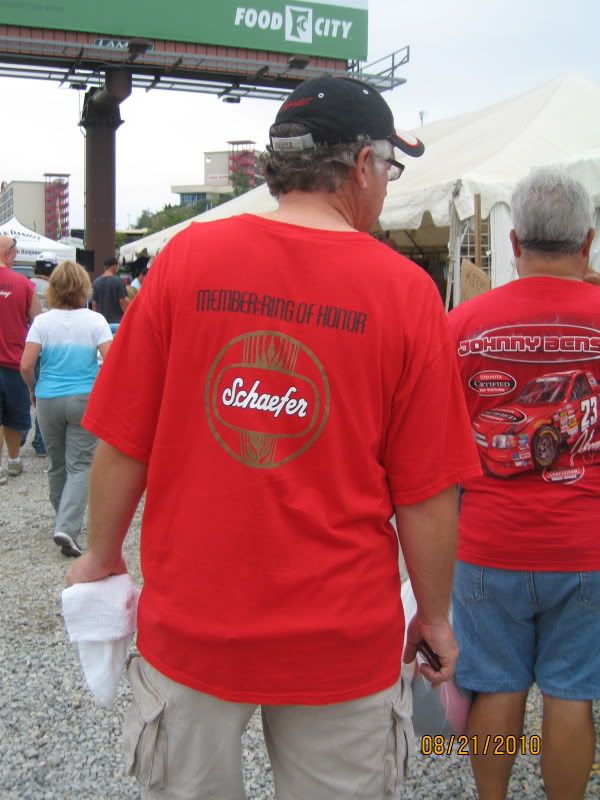 As Chet and I strolled souvenir row, I noticed something interesting. When SHOFer Philly and I went to the Vegas race in February, Danicamania was all the rage. She had exactly one NASCAR race under her belt at that time - the Daytona Nationwide race. The hype was pegging the needle for her Vegas Nationwide start, and the fans responded in kind by congregating around her souvenir trailer.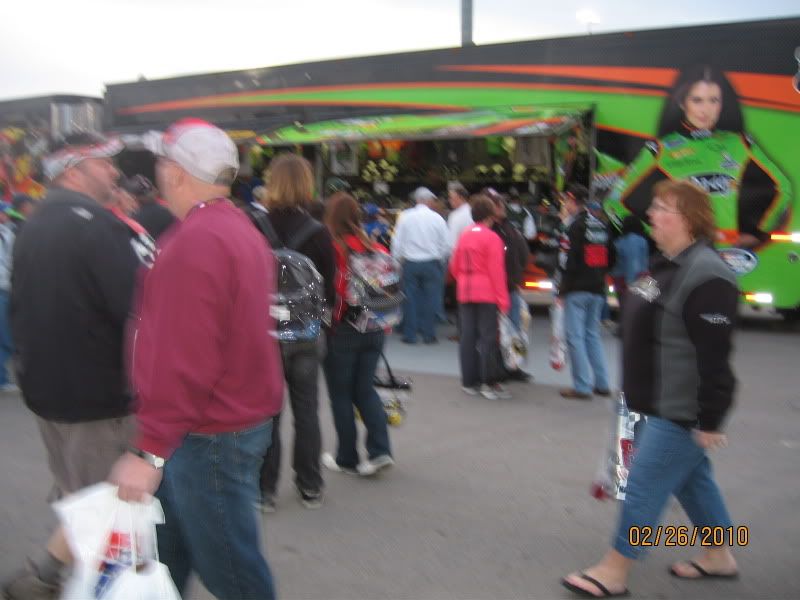 Six months later - with an average finish of around 30th - in NASCAR's second tier series - in an area of the country where fans really know their racing - in cars fielded by JR Motorsports/Hendrick Motorsports, the bloom seems to have fallen off the rose. Tick, tock, tick, tock, BUZZZZZZ - OK Danica, your 15 minutes are over. You are free to go now. Thanks for playing.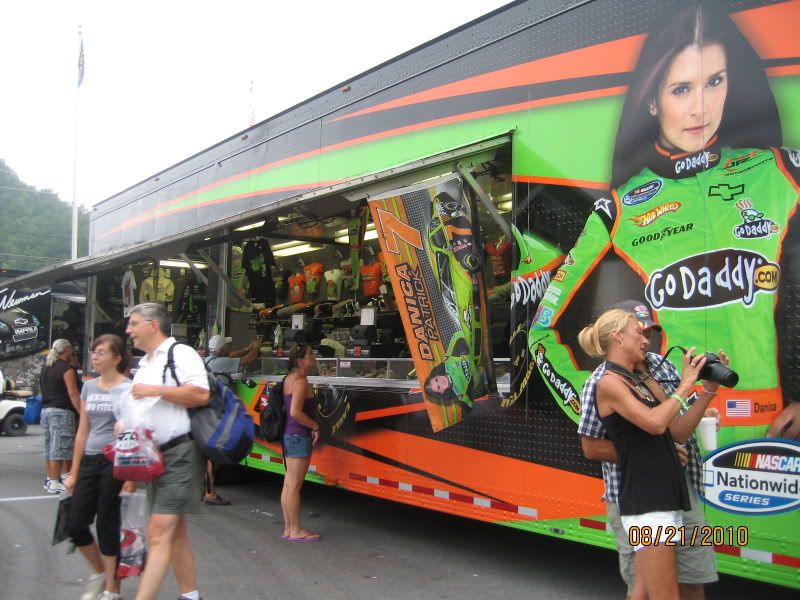 We found this doozy - an inflatable pool with a sign saying "its not rude to swim in the nude." The pool earned bonus points for the fan. As if the pool water wasn't going to be cold enough on its own, blowing a continual supply of cool, night air on the swimmers would have been an extra nice touch.
We took a moment to ask this group of
rednecks
...fine, upstanding, middle-aged, over-weight fellows if they'd had any takers. When informed they'd had a few "customers" on Friday night, we told them we'd perhaps pay them a visit after Saturday's race to see if additional inebriated, interested cuties were taking the
Nestea plunge
. We did. They weren't. Sigh.
Rain arrived right about the point at which we reached the furthest distance we planned to walk. Slowly at first. Then steady. Good news: I had rain ponchos. Bad news: They were packed in my gear box back at the camp site. We tried waiting it out under the protection of a couple of souvenir tents, but we could tell the rain had set in for a while.
So back we trudged. Though the rain dampened our clothes, it did not dampen our spirit. Talking a little bench racing from the back of my truck and sharing multiple Schaefers with friends seemed to make the rain just drift away.
A man has time to think...and time to simply goof off while waiting out a rain delay. Silly ideas like this one just seem to pop in my head - taking a picture of the dominant beers of the weekend.
One, the former official beer of NASCAR and the other, the current official beer of the Schaefer Racing Hall of Fame and Ring of Honor.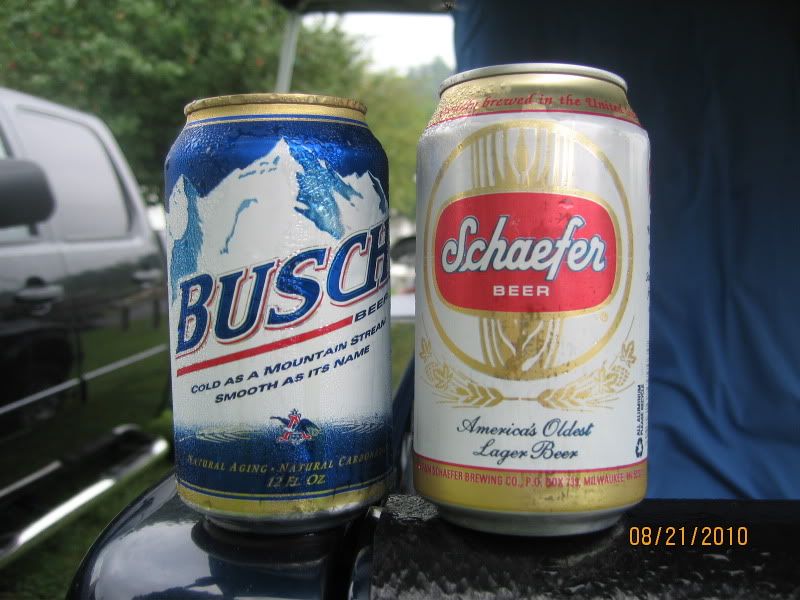 By mid afternoon, the rain was gone. The sun returned which naturally led to the trackside debut of the sunny-yellow, Schaefer Hall of Fame t-shirts! Delivered in June and worn a few times to non-racing events, it was finally time to christen the shirts on a race weekend.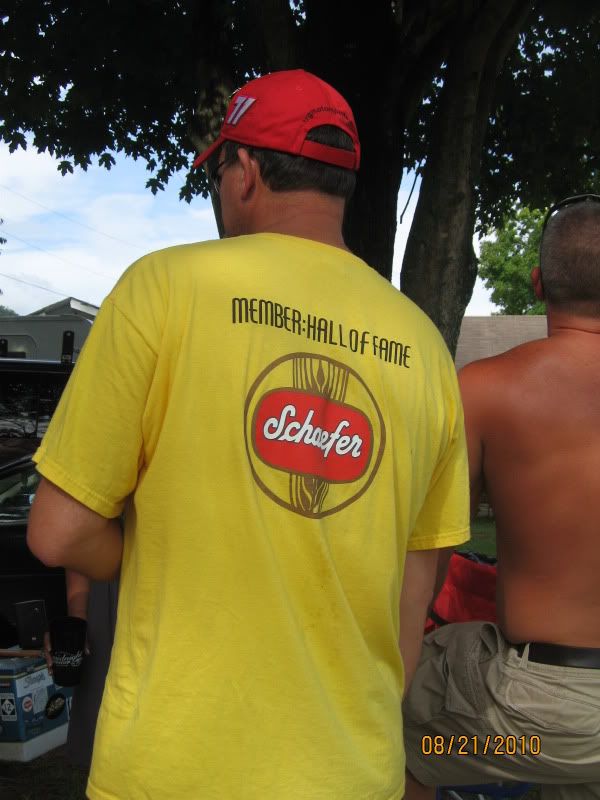 Have you ever seen a finer collection of folks? Three SHOFers - Philly, TMC, and Uncle D via stand-in (thanks Tank - no one can even tell the difference!) and recent SROH inductee Chet complemented this pic well I think.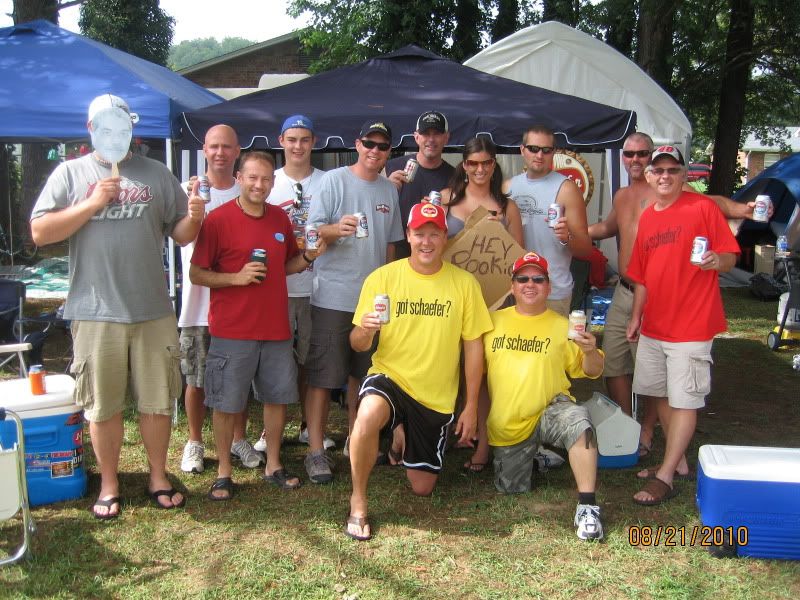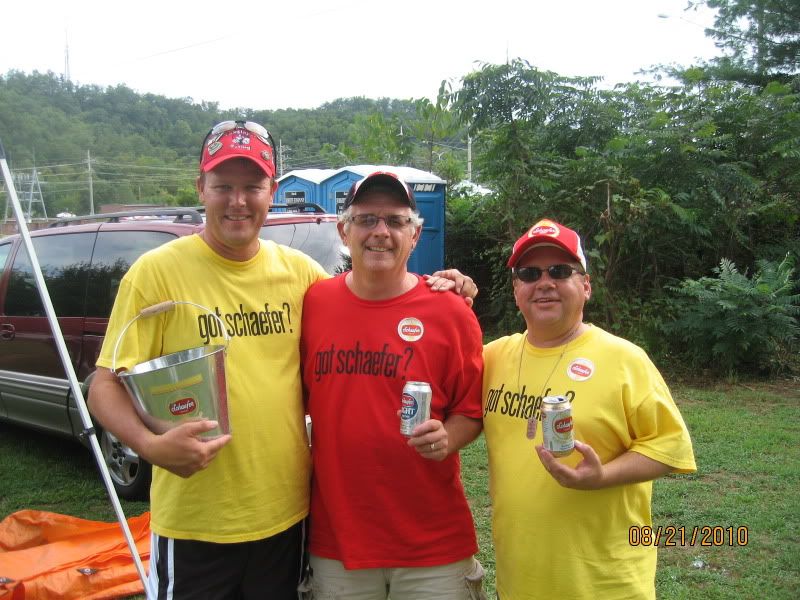 It was about time to get in race mode. Coolers were packed and iced. Scanners were fastened to belts. And a couple of plates of fantastic, slow-cooked North Carolina barbecue, fresh Ohio roasted corn, and barbecue slaw were scarfed down.
With race night excitement beginning to build, we set out for the track. When we got within sight of the track, we met a first-timer and his girl. They were trying to take a picture of themselves with their phone, and I offered to take it for them. Striking up a conversation, we learned it was their first time at a race. He also said he'd never had the pleasure of enjoying a Schaefer. When we told them a brief rendition of the story, he exclaimed "That's cool! My mother's maiden name is Schaefer." Folks, you just can't make up encounters like that.
We got to our seats in time for many of the driver introductions (a roar for Brad Keselowski - just because he called Kyle Busch an ass? really?). As I sat there laughing at the driver intros - or maybe at the fans responding to the driver intros, my eyes wandered around the track. One thing about Bristol that's special to me is the grandstand section names.
Daytona named many of its grandstands after pioneers of the sport and drivers before my time: DePalma, Roberts, Lund, Oldfield, Weatherly. Talladega named many of theirs based on nearby communities and men who helped build the track: Anniston, Lincoln, Gadsden, O.V. Hill, and Moss Thornton. Many other tracks have Petty and Earnhardt stands. But Bristol's stands are named for drivers from
my
era: Petty, Pearson, Allison, Yarborough, Waltrip, Wallace, Kulwicki, and Earnhardt. Its hard for me to imagine a time when a track will have stands named for Gordon, Johnson, Stewart, Busch, Hamlin and Edwards, but maybe they will.
Once the intros were completed, I was snapped back to reality by the playing of the one song that makes me grit my teeth perhaps like none other - Lee Greenwood's
God Bless The U.S.A.
Look, I love this country passionately. I'm so grateful and sometimes moved to tears for the men and women who defend it. And there are plenty of traditional, patriotic songs I enjoy. But that one song, ARGH. It. wears. me. out. Fortunately, the song was just a recorded version covered by someone else. Thank goodness Lee himself wasn't there to sing it; otherwise, I might have had to beat a path to the john.
Gentlemen, start your engines! Folks, there is nothing like it. I've followed racing for over 30 years. I've loved it, and at times I've grown disenchanted with it. But when I return to a race track, see the military fly-overs at the end of the National Anthem, and hear the drivers fire 'em up, NASCAR gets its hooks right back in me.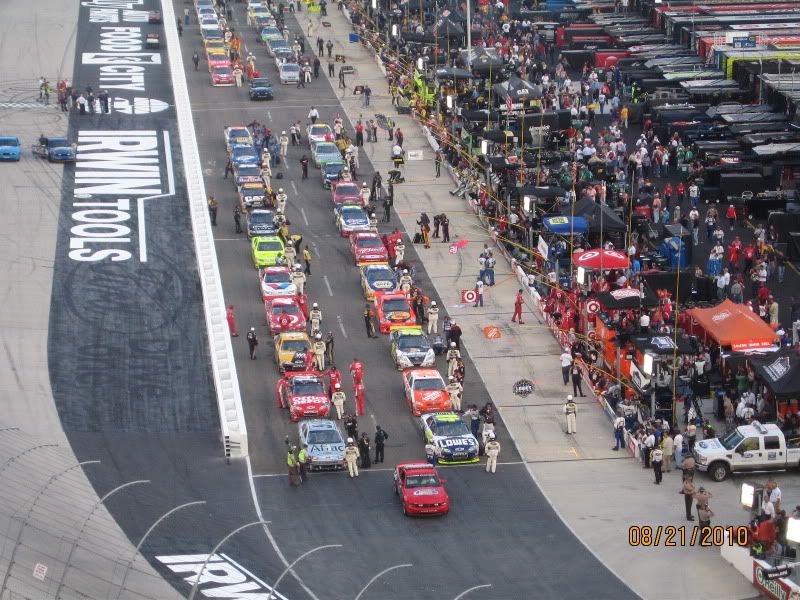 I grew up in the 1970s and early 1980s going to Saturday night late model races at Nashville Speedway. Occasionally, I got to attend a Winston Cup 420 lap race. But Nashville only sat about 16 thousand people or so. My jaw still drops when I look around the colossal Bristol venue and realize it can seat 10 times that many.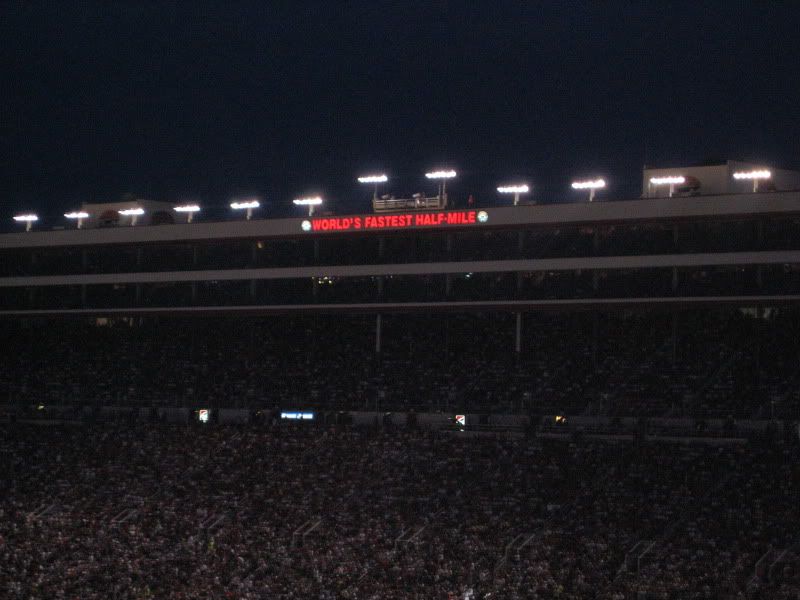 Unlike Friday night's race, the Cup race wasn't as nearly as exciting. It was largely a race of two halves. Jimmie Johnson dominated much of the first half of the race. But with a "that's racing" accident, he cut too closely in front of Juan Pablo Montoya and took himself out of the race. From there, Kyle Busch took over and was for the most part unchallenged the rest of the way.
One driver I obviously wanted to see run well was A.J. Allmendinger in Richard Petty Motorsports #43. Twice this year I've seen him run the red-white-blue, Mark Martin-throwback, Valvoline colors. And twice, he, the team, and the car have run like crap. The car was embarrassingly bad - as were the calls from the pits - as was A.J.'s attitude on the radio. I've seen plenty of bad runs by 43 since Richard stepped aside in November 1992. But with A.J., I thought they were turning a corner to see better days with racing more like Bobby Hamilton days instead of the Jeff Green era. Hopefully, I'll see more positive days than negatives ones now that he's signed a two-year contract extension to be The Man for RPM.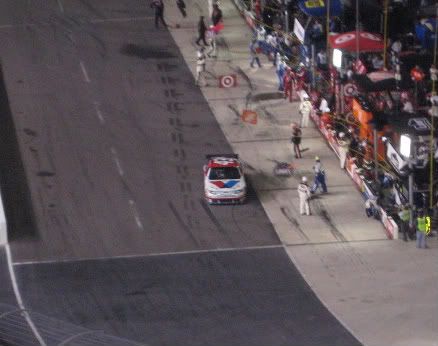 Two drivers tried to play the spoiler role. David Reutimann mixed it up a bit with Kyle, but he was outmatched under the hood and behind the wheel. Nonetheless, a second place finish by a driver I thought would be washed out to sea two years ago was a great night for him. Jamie McMurray also have KyBu a scare late in the race, but he peaked too early. After earning a stunning win in the Daytona 500 and a convincing win in the Brickyard 400, a short-track win in the Bristol night race would have been icing on the cake in what has already been a career year for Jamie. But...it didn't happen.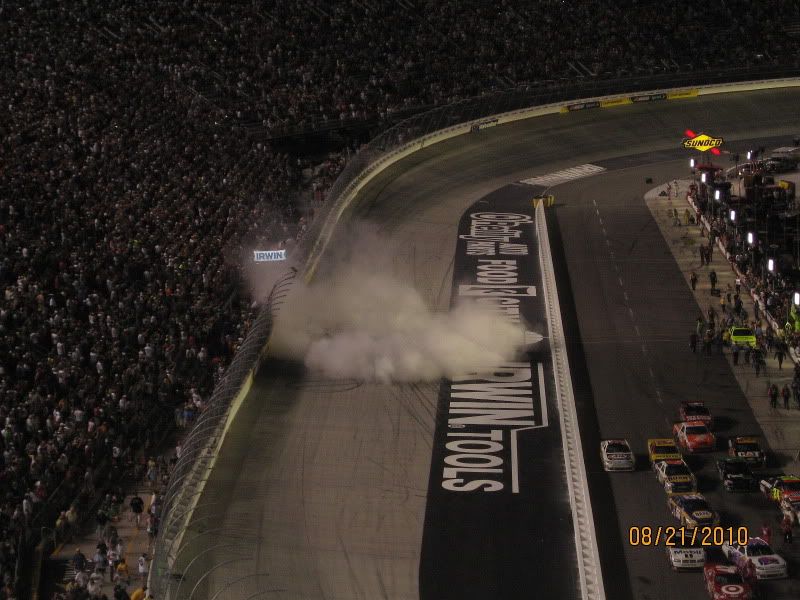 Frontstretch.com's Matt McLaughlin referred to KyBu's trifecta as a
statistical fluke
. I get what Matt is saying. Few have even attempted the triple - much less pulled it off. So Busch's triple win weekend is likely more trivia than history. Perhaps its in the same category as Chip Ganassi's fake "triple crown" wins earlier this year made up on the spot by the ESPN crew. Nonetheless, Kyle's wins didn't come easy. They came from a lot of solid preparation, skill, and luck.
Because of who he is, a chorus of boos rained down on him. Not me - I did the Wayne's World "I'm not worthy" bow. You don't have to like the guy, but you do have to respect him.
We made our way back to our campsite, one that woefully needs a solid nickname. The races may have been over, but the party was just beginning. Many of the guys had been in Bristol since Wednesday. They'd been to the truck and Nationwide races and to qualifying. But when it came to the Cup race, they watched it on TV from the comforts of a lawn chair with a fully chilled Igloo chest just an arm's length away. Even though we were tired from the walk to and from the track, they were still charged up for one final night.
The grill was re-ignited, and tunes were cranked for another late nighter. The speakers strained to blast yet another run through a limited country music playlist. I couldn't begin to count how many times we listened to David Allan Coe and
Family Tradition
by Hank Jr. I had three separate playlists on my iPod ready and raring to go, but our hosts seemed content with what they had. So who was I to argue?
They get on me wanna know Hank why do you drink? Why do you roll smoke?
As with Friday night, the stroke of midnight disappeared like a fart in the wind. As we enjoyed the wee hours of Sunday morning, the wind picked up. Around 3:30, heavy rains returned pretty much ending the evening.
I headed to my cot knowing (1) I needed some sleep for the drive home and (2) I'd likely not get it with the Chinese water torture being delivered to me by our leaky garage. Eventually, I drifted away and was awakened around 7AM by Chet who was ready to hit the road. I was soaked, chilled to the bone, and curled in the fetal position, and my mouth felt like it had been packed with dryer lint. But he was right - we needed to load up and make tracks for home.
I'd be remiss if I didn't toast a Schaefer to Van, our weekend host, and Chad, the camp cook. We didn't know either of these guys before our arrival but departed as friends. Thanks guys for another great weekend of race memories.
TMC