October 5, 2010, for the most part will be just another day. A Tuesday - no holidays, no quarter-end financial date, no tax filing date, just another work day, and just another school day. Not the beginning of a long weekend or the end of one. Its not even humpday.
In researching the day, October 5 has had only a smattering of what I'd call memorable events. Some of the ones I found unique are:
1902 - Wiry-haired Stooge, Larry Fine, is born.
1921 - The World Series is broadcast on radio for the first time.
1925 - WSM-AM radio begins radio transmissions from Nashville, TN. The call letters stood for We Shield Millions - the marketing tag line for the station's owner: National Life and Accident Insurance Company. A couple of months later, WSM aired the WSM Barn Dance - which later became known as The Grand Ole Opry.
1962 - The Beatles release "Love Me Do".
1962 - Michael Andretti is born.
1965 - NHL great Mario Lemieux is born.
1969 - Monty Python's Flying Circus begins airing on BBC.
1969 - Tom Dempsey from the New Orleans Saints kicked a 55 yard field goal - unheard of in that era. A season later, he kicked a 63-yarder. That record still stands and has been matched by only one other kicker.
While October 5th trivia is unique but a bit limited, the date is a good 'un for Petty Enterprises history.
1957 - Lee Petty

wins

a 200 lap race at Southern States Fairground, a half-mile dirt track in Charlotte. The picture below shows Lee leading the last race run at the track in 1960 - where Richard won his first of 200 Grand National/Winston Cup wins.
1958 - Lee Petty

wins

at Salisbury Speedway in North Carolina. Two Chevrolet entries owned by Lee's brother/Richard's uncle, Julian Petty, and driven by Roy Tyner and Ken Rush finished 5th and 9th, respectively. (Rookie Richard finishes 22nd in a Petty Oldsmobile numbered #2.)
1963 - Richard

wins

at Tar Heel Speedway in Randleman, NC. Bob Welborn finished 3rd in a second Petty #42 entry. This race was the third and final GN race at the track, and all of them were held in 1963. Plymouths fielded by Petty Enterprises won all three races - the first two by Jim Paschal and the third one by Richard. For an interesting story about Tar Heel Speedway's history, read this excerpt (PDF) from Perry Allen Wood's book, Silent Speedways of the Carolinas.
1968 - Richard finished 3rd in the Augusta 200 at Augusta (GA) Speedway. OK, so a Petty car didn't win on October 5th for a change. But a top 5 on

any

day is a great day.
1969 - Richard finished 2nd to rival David Pearson in the Wilkes 400 at North Wilkesboro. Yes, these were the days before the explosion of cookie-cutter intermediate tracks that bumped tracks like Wilkesboro off the schedule.
1975 - Richard

wins

his 12th race of the season, the National 500 at Charlotte Motor Speedway. Despite running well and Petty Enterprises cars winning races at Charlotte with other drivers, Richard struggled to "close the sale" at the track himself until 1975. Finally, he nabbed the World 600 in the spring and backed it up with the second win in the fall event.
1980 - Kyle Petty - a second year driver still with rookie skills - finished 9th in the National 500 at Charlotte driving an all-red STP Petty Chevrolet Monte Carlo. His top 10 finish, while not a win, was a notable finish considering how Kyle tried to knock the wall down during qualifying for the World 600 in 1979. He qualified for the fall 1979 race. In 1980, he scored a pair of top 10 finishes at Charlotte - a nice recovery considering his less-than-stellar debut at the track.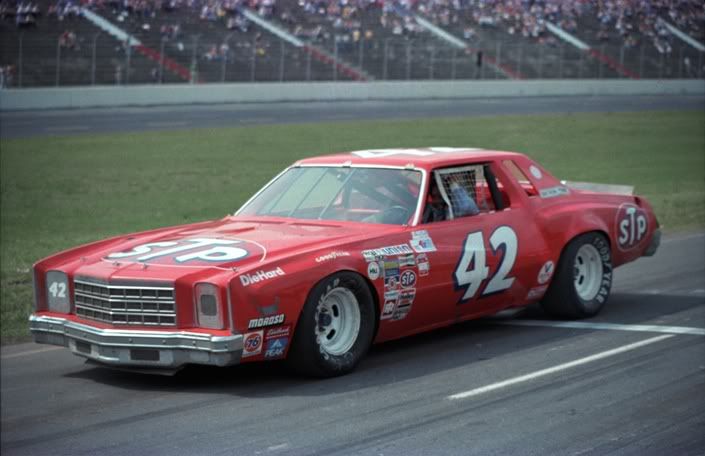 1992 - Like his dad, Kyle got around North Wilkesboro really well. However, UNLIKE his dad, Kyle never took home hardware for his efforts. On this day, he finished 3rd in a

caution-free

Tyson Holly Farms 500 at North Wilkesboro. (Richard finished 27th in his final race at Wilkesboro.)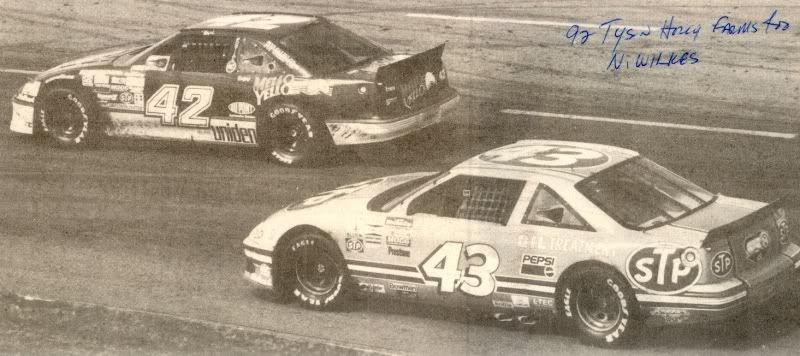 2008 - Bobby Labonte finished 6th in the Petty Enterprises/Cheerios #43 Dodge in the AMP Energy 500 at Talladega. The King was known for his wins at Daytona - both in the 500 and the Firecracker. Lee Petty and Pete Hamilton also scored victories for the team on the Daytona and Talladega superspeedways. Otherwise - especially after Richard's retirement as a driver - Petty cars didn't have much to show for their efforts on the big tracks. So for Labonte to score a 6th place finish, that in itself is a notable achievement.
TMC