The Cup guys are finished with Texas Motor Speedway. Other than learning Jimmie Johnson won, I have no idea how the race unfolded as I didn't watch it. Why? Because my sights - as are those of the teams - are set to the southwest at Phoenix International Raceway.
For representatives from the Schaefer Hall of Fame, its five days to go. Four of us will arrive Friday, November 8th. The Four Horsemen of the Hall. Wait. (Hmm, maybe it will be the four asses. I'll have to check my notes.) Regardless... Philly,
Rookie
, Uncle Dave and yours truly will soon arrive in Arizona.
The track is about to celebrate its 50th anniversary year beginning with next weekend's races. Coincidentally, the Schaefer Hall of Famers will be celebrating the 50th anniversary year of Philly's birth beginning the same weekend!
Please comment if you have any Phoenix must-do's:
Best taqueria
Top sports bar
Great tailgating location
Must eat restaurant
Ideal place for local music on Friday or Saturday night
Meanwhile, here are the top five racing reasons I'm jazzed about this trip 5 days before we arrive.
Number 5:
Atlanta, Bristol, Charlotte, Darlington, Daytona, Dover, Homestead, Indy, Kentucky, Loudon, Michigan, Martinsville, Richmond, Rockingham, Talladega, Texas, Vegas.
What's missing from this list of tracks visited by representatives from the Schaefer Hall of Fame? PHOENIX! We've never been - and the track will soon be added as a notch on our gun.
Number 4:
Alan Kulwicki - The 1992 Winston Cup champion - Underbird - scored his first career Cup win at Phoenix in 1988 in the track's first sho'nuff Winston Cup event! Fellow SHOF co-founder Philly and I were fortunate to see AK:
start from the pole at Atlanta in 1991 in his first race with Hooters as his sponsor
win on a cold, blustery day at Bristol in 1992 - one year before he was killed in a plane crash, and
his calculated run to the championship in the 1992 Hooters 500 at Atlanta.
Going to the track where
Kulwicki
won his first Cup race in the
track's
first Cup race will be special.
Number 3:
Kyle Petty. So many folks know of Kyle as a talking head on FOX Sports and the guy who only replies to hate-tweeters. Few contemporary fans know of his racing legacy - and sadly fewer even care to learn about him. Kyle wasn't as prolific a winner as King Richard or many other drivers for that matter. But he piled up a ton of starts and top finishes with esteemed teams such as Petty Enterprises, the Wood Brothers, and SABCO.
His racing skills were really on display during the early to mid 90s with SABCO Racing. In 1997, he left SABCO and returned to the family team...sort of. He formed pe
2
, a satellite team of Petty Enterprises, and raced with Hot Wheels as a sponsor - a natural racing sponsor if there ever was one. In November 1997, Kyle made a milestone start - his 500th - at Phoenix.
Number 2:
Bobby friggin' Hamilton.
Misery. That was October 1983 - October 1996. Thirteen years without the 43 in victory lane. The shine of the King's crown was no longer as bright, and he eventually called it a career at the end of 1992. Drivers who followed him including Rick Wilson, Wally Dallenbach Jr. and John Andretti couldn't quite get it done. But then Petty Enterprises latched onto Bobby Hamilton - from Nashville, TN no less - to pilot the 43. In his second season with the team,
Bobby returned the 43
to its rightful place in victory lane. And he did so by winning the Dura-Lube 500 at Phoenix.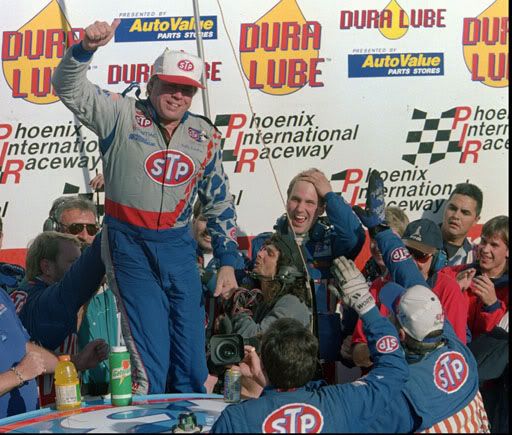 Number 1:
The 43 rises from the ashes. Richard Petty won the
1977 Firecracker 400
at Daytona. As a fan (and I'm sure RP as a driver), I had no way of knowing that would be last victory for a good stretch of time. The King claimed no additional wins in the second half of 1977. In 1978, he raced the albatross Dodge Magnum for about two-thirds of the season with limited success and zero wins. As the season entered its final triad, Petty Enterprises joined the GM crowd and fielded STP #43 Chevy Monte Carlos for Richard. Still, he remained winless in Cup competition. After the season-closing race at Ontario, the Petty team went to Phoenix for a Winston West race. And there, the losing streak ended. It wasn't an official Cup win - but it was a victory nonetheless.
He banked the momentum; had some off-season surgery; returned in 1979 to win the Daytona 500 as Cale, Bobby and Donnie fought; and eventually defeated Darrell Waltrip to claim his 7th and final Winston Cup title. I truly think the Phoenix win helped the team get off the schnide and believe it was again possible to win as a team.
Photo courtesy of Ray Lamm
TMC