Bobby Isaac was inducted into the NASCAR Hall of Fame in January 2016. Isaac won the 1970 NASCAR Grand National title and 37 GN/Cup races. He won 19 pole positions in 1969 -
nineteen
! Having an upfront starting spot should have tee'd him up for more success that year than he actually accomplished. His 19 poles were combined, however, with 19 DNFs along with a gaffe or two by his team.
Augusta Speedway in Georgia had a record of holding some really great races. As the 25 cars checked in to compete for 200 laps and 100 miles in the March 16, 1969 Cracker 200, fans anticipated another great show.
Richard Petty arrived wearing a patch over one eye as though he should be
sailing, sailing over the bounding main
rather than preparing to race for 200 laps. He injured his eye in an accident at the Petty shop and was told by the doctors to keep the eye covered for a period of time.
Isaac won the pole in the K&K Insurance Dodge. Pirate Petty started second in his #43 Ford, and David Pearson timed third in the Holman-Moody Ford. Dave Marcis qualified fourth in the Milt Lunda Dodge, and James Hylton lined up fifth in his own Dodge.
The race had only two leaders. Bobby Isaac led the first 119 circuits. Pearson then took over on pit stops and led the remaining 81 laps. Isaac's pit stop was rough. The 71 team took 28 seconds to change two outside tires as the crew had difficulty with the change. Isaac's pit woes went from bad to worse. NASCAR black flaggged Bobby as soon as he returned to the track because his gas cap was loose.
By the time the pitting disaster was concluded, Isaac was almost two laps behind. He went on a rampage with the rapid red Dodge; however, and he made up the time to get back on the lead lap. In the end though, Isaac ran out of laps and couldn't catch the winner Pearson and second place Petty.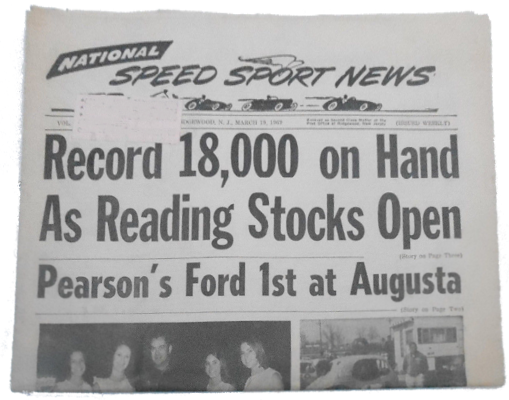 The race was the 32nd of 63 times that Petty and Pearson finished in the top two spots.
Thanks to Tim Leeming of RacersReunion.com for the assist in composing this post.
TMC