NASCAR's 1976 Winston Cup season opened in January with the road course race in Riverside, California. Nashville Speedway's weekly series didn't kickstart its new year, however, until mid-April. The Winston Salute To America 200 was slotted for Saturday, April 17, 1976.
The race attracted a few of the big dawgs of the day such as 1975 national LMS champ L.D. Ottinger, future Cup winner Neil Bonnett, Cup regular Donnie Allison, 1972-1974 NASCAR Late Model Sportsman champion Jack Ingram...
...and Midwestern hotshoe Bob Senneker. His car didn't exactly match the look and configuration of most LMS entries. But hey, he towed all the way from Michigan, was a proven winner in his area of the country, was making his first Fairgrounds start, and had a last name that rhymed with WINneker. So they let him race! OK, I made up that part about the rhyming name.
The 200 was also a homecoming of sorts for Dave Sisco and Darrell Waltrip, two Cup drivers who were also Fairgrounds champions earlier in their careers. Waltrip's Nova carried the colors of his new new Cup sponsor, Gatorade. Nashville fans got their first opportunity to see the colors live on DW's late model. They saw them again about three weeks later when Waltrip raced his DiGard 88 Monte Carlo in the Music City 420 Cup race.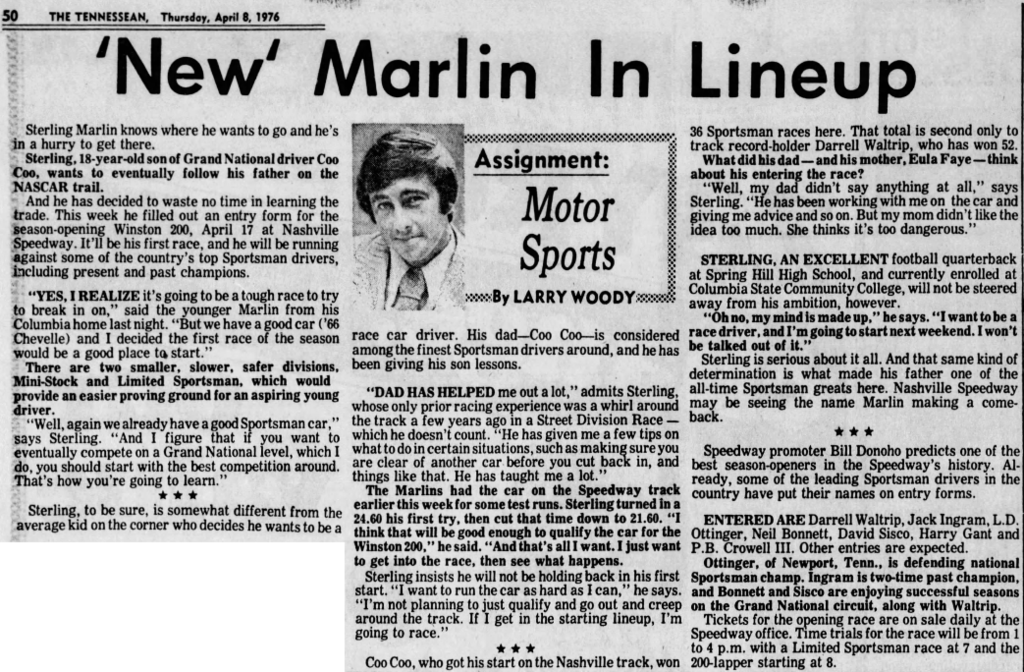 Source: The Tennessean
any
change these days triggers a social media outcry. But one change in 1976 even had the
competitors
chirping.
NASCAR implemented a rule change for LMS teams at short tracks. Rather than using air guns, crews were required to use manual lug wrenches. NASCAR's position was the change would help level the playing field on pit road as well as reduce operating expenses a bit for the teams. The new rule, however, was met with almost universal derision.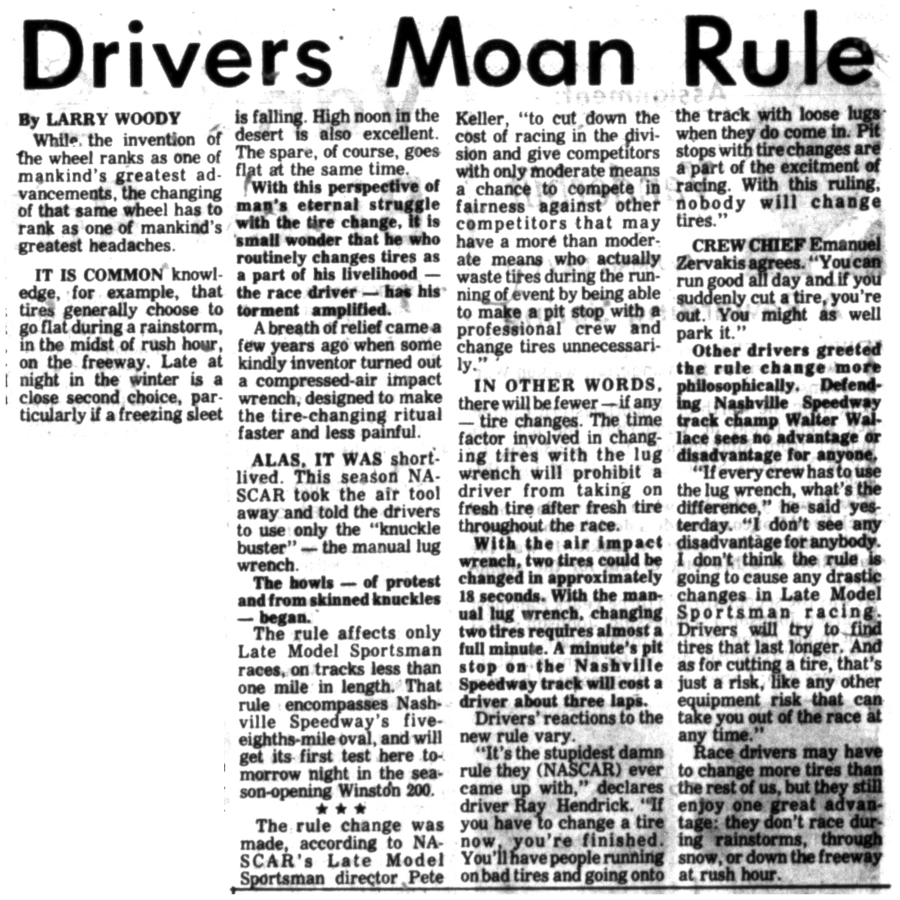 Source: The Tennessean
Ottinger captured the pole in his #2 Chevelle. Senneker lined up alongside him in his interesting looking car. When the green flag fell, Ottinger got the hole shot and paced the field for the first 10 laps.
Ottinger's luck went from good to bad to worse. After leading early, he faded back and lost a lap during a pit stop. With 30 laps to go, he pounded the wall as he tried to get back on the lead lap. He was able to continue, but then his fuel pump broke fifteen laps later. His wrecked ride caught fire, and he was finally and mercifully done for the night.
As the laps continued, Senneker built a sizable lead - even after late cautions resulting from Ottinger's incidents. His car developed an ignition issue with three laps to go, however, and he began slowly limping towards the finish. At first it was thought he may have been out of fuel; however, he later noted it was his electrical system that had simply laid down on him with victory in sight.
With Senneker's fade, Donnie Allison roared past him in his #8 Nova to claim the win. Allison sported 88 on his car to match the number he
used
to race in Cup. He was fired by DiGard in 1975 and replaced with Waltrip. Both showed up at Nashville with 88 on their cars. With Allison being a late entrant, his car was scored as the single-digit #8.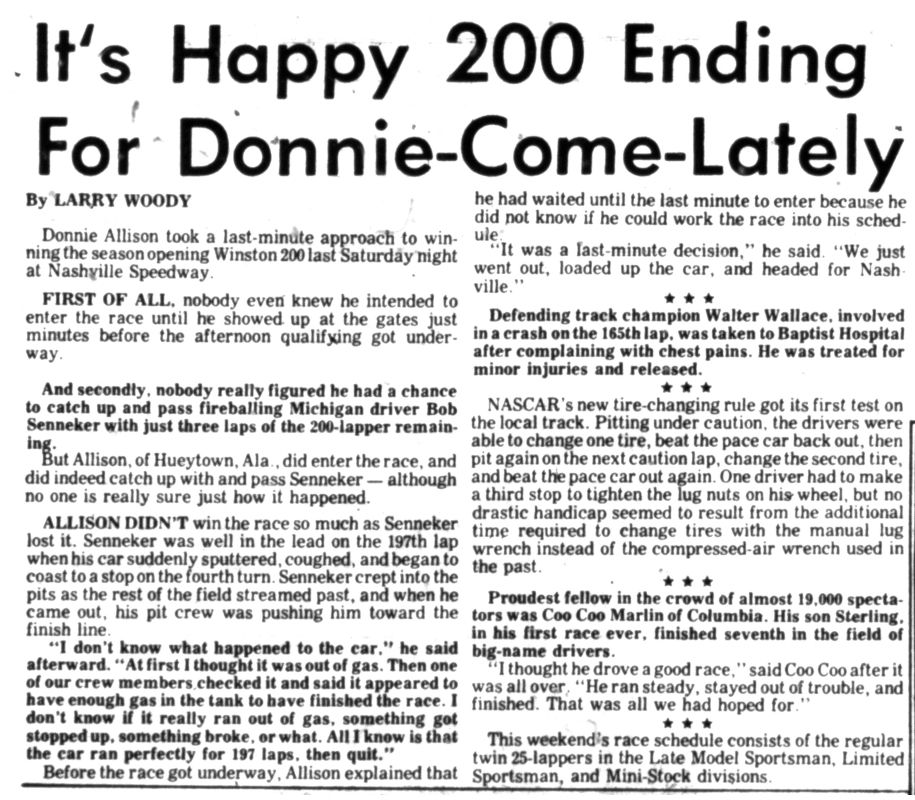 Source: The Tennessean
Nearly 40 years later, Marlin's passion for racing still burns. Though no longer a Cup driver, he is a fixture at the Fairgrounds racing regularly in the once-a-month Pro Late Model division.
Special thanks to Russ Thompson for providing several photos and a few trivia nuggets for this post.
TMC