Richard Petty ripped through the 1975 Cup season like a Ginsu knife through a mater. He nabbed 13 wins as well as his sixth championship. The Petty Enterprises / STP team had every reason to believe they'd keep the mojo rolling in 1976.
David Pearson notched 18 wins for the Wood Brothers' famed #21 team over the two-year stretch of 1973-1974. He
only
won three races, however, during 1975 in the Purolator Mercury. The team was ready to prove the single digit number of wins was an anomaly vs. the new norm.
Cale Yarborough began 1975 as his third season with Junior Johnson's Chevy team. Like Pearson, he bagged a double-digit number of wins in 1974 - but slipped to
only
three victories in 1975. Cale, Junior, and Herb Nab were ready for another shot at knocking King Richard off his throne in 1976.
The Winston Cup drivers rolled into North Wilkesboro in early April for the Gwyn Staley 400, the seventh race of the 1976 season.
the
story line of the season to-date was the amazing finish between Richard Petty and David Pearson in the Daytona 500. Pearson backed up his superspeedway Daytona win with two more victories at Riverside's road course and then at Atlanta.
The King rebounded nicely from Daytona. The crew thrashed on the wrecked 43, towed it to Rockingham two weeks later, and celebrated as Petty won the Carolina 500 in the rebuilt Dodge. Dave Marcis nabbed a win at Richmond, and Cale put a whuppin' on the field at Bristol.
Wilkesboro was slotted as the third short-track event in the first seven races of the season. The scarce number of short track races now compared to the abundance of them then has robbed today's fan base of some legendary racing facilities, rivalries, and driver skills.
On race day, a thunderstorm kept many folks in their cars and trucks until closer to race time. Once the weather moved to the east, folks headed for the gates. Track employees were stubbing tickets as quickly as they could. Assisting them was NASCAR's president, Bill France Jr. - on his birthday no less!
Prior to the start of the race, track officials recognized Wilkesboro legend, former driver, and car owner Junior Johnson by renaming a new section of backstretch grandstands in his honor.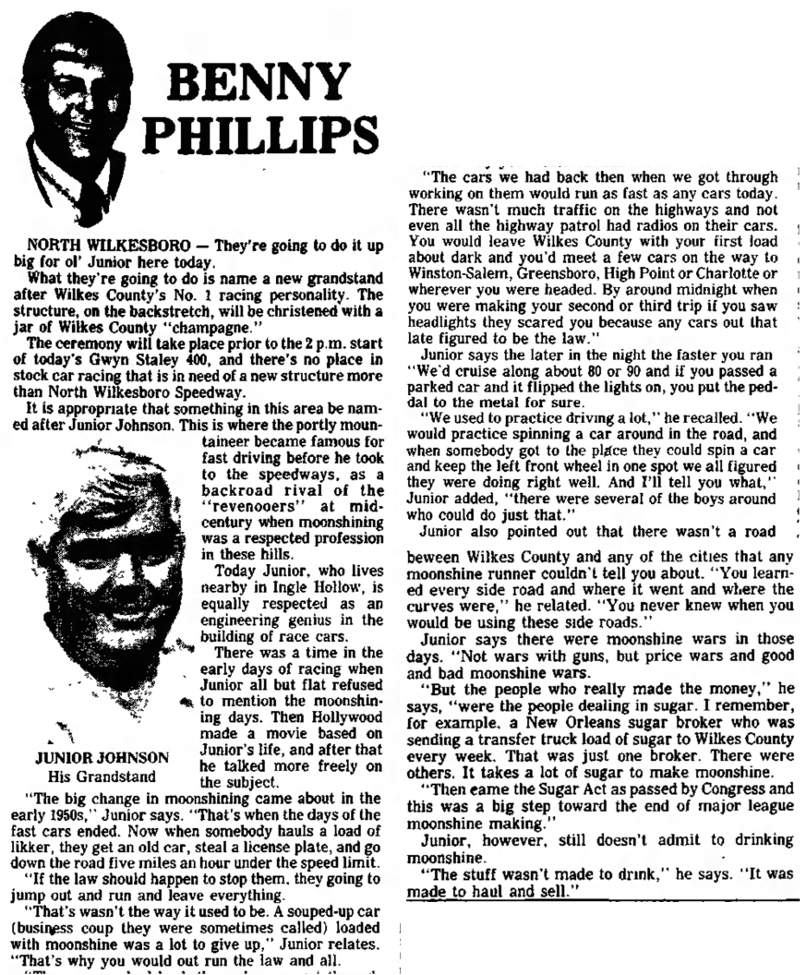 Source: High Point Enterprise
Petty started seventh in his rebuilt Dodge and was still sporting the beard he'd grown to commemorate America's bicentennial.
Parsons got a good jump at the green and led the first dozen laps. Yarborough then took the lead and dominated the rest of the way. He
allowed
Parsons to lead another dozen or so laps and spotted the 43 the lead for about a baker's dozen of his own. Otherwise, it was all Cale all day. He punished the field and won by a full lap over second place Petty.
TMC