With apologies to Julie Andrews' tune from
The Sound of Music
.
NASCAR silly season bores me anymore. Especially this year since my favorite 43 team is in the mix but
for all the wrong reasons
.
So I thought I'd instead focus on some of my favorite paint schemes from over the years. As we near the end of 2008, "best of" and "top ten" lists tend to dominate the landscape in the week between Christmas and New Year's Day. Letterman also has his nightly Top Ten list, and I'm a big fan of his. So I'll start with...seven. Not sure any of these qualify as "best of", but 7 doesn't have a magic ring to it when it comes to NASCAR. It represents the number of championships won each by Richard Petty and Dale Earnhardt. The number also signifies the number of Daytona 500 wins by Richard Petty. (Good thing I didn't use the # of D500 wins by Earnhardt as my basis because I'd only be able to share ONE picture.)
Disclaimer: I've tried to focus on paint schemes used on a regular basis vs. those used once or twice.
In order to draw out the suspense, here we go in reverse order. (drum roll please).
#7 - Smokey Yunick-prepared cars. Officially, he prepared Pontiacs, Chevelles and Ford Torinos. Maybe others too. But with the way he poured over the details and modified the bodies of his entries, no one can say for sure what he put on the track. Here's one of his #22 Pontiacs driven by Fireball Roberts. Later, he entered his patented black-and-gold colors on #13 cars - immortalized of course in that award-winning race movie,
Talladega Nights: The Ballad of Ricky Bobby
.
#6 - Cale Yarborough's Busch beer sponsored Olds 442 from 1979-1980. Other than his 3 consecutive championships, Cale is perhaps best known for wrecking this beautiful car on the last lap of the
1979 Daytona 500
along with Donnie Allison.
#5 - Tim Richmond's early season Folger's Coffee scheme from the early part of 1986. About a third of the way through the season, the team began using regular white letters vs. the black-backed gold numerals. It changed the whole look for the worse, but apparently it was a good change for him. After the change, he ripped off seven wins in the second half of the 86 season.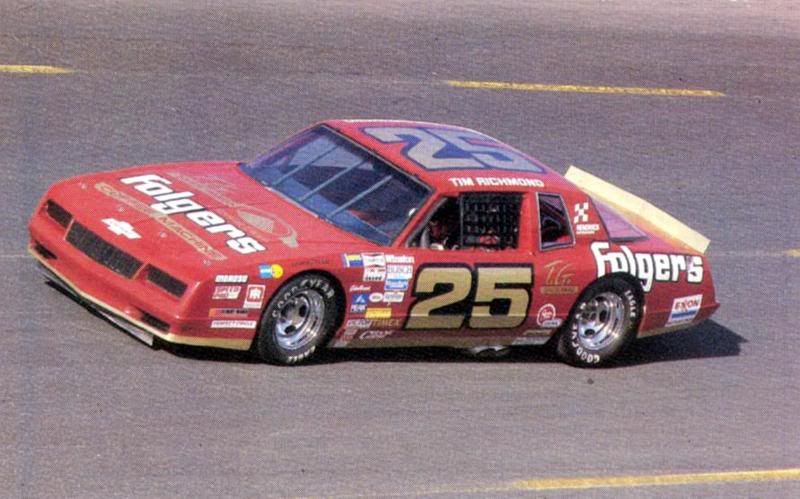 #4 - Darrell Waltrip's original Budweiser sponsored Chevy from 1984.
#3 - Bobby Allison's Miller High Life Buick from 1988. He won the Daytona 500 in 1988, and his son Davey finished 2nd. His career was violently ended at Pocono that same year when he spun and was t-boned in the driver's side.
#2 - Davey Allison's original Havoline Ford from 1987. He ran the same scheme at the Daytona 500 but without the sponsor name or logo because the sponsorship deal wasn't finished. It was, however, completed by the time they got to Talladega in the spring for the Winston 500. First I watched as Bobby Allison tore the fence down. And then I watched as his son, Davey, won his first ever Cup race.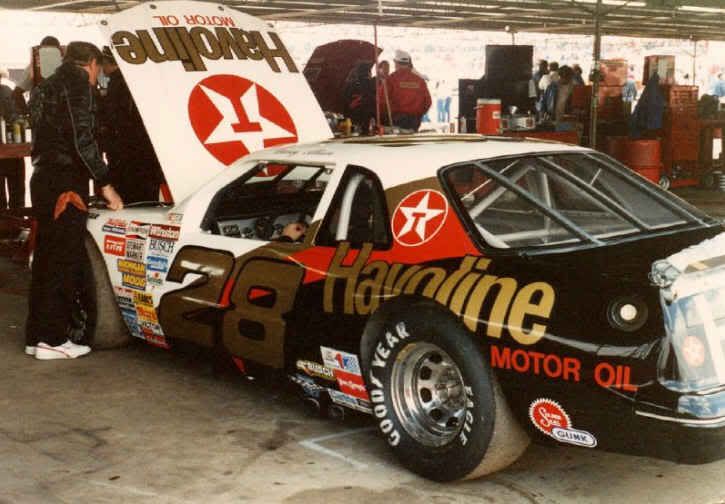 #1 - Richard Petty's STP Pontiac in which he won his 200th race at the 1984 Firecracker 400 in front of President Ronald Reagan.