Now where was I... Oh yeah!
Green Flag, Green Flag
I think I got ahead of myself in part 1. I was in the Big Sleazy, New Orleans, the back half of last week. I got back into town late Friday night, kissed the kids & put them to bed, packed a few remaining things, and bedded down for a few scant hours of sleep.
The rooster crowed as my wake-up call at 4:30 in the blessed AM. I did my perfunctory 3 S's of the morning, met the race weekend crowd, and we were on the road by 6 AM for a quick 5 hour jaunt to Bristol. Upon arrival, the aforementioned Schaefers were cracked and hoisted. A good time was to be had by all - but little did we know HOW good a time.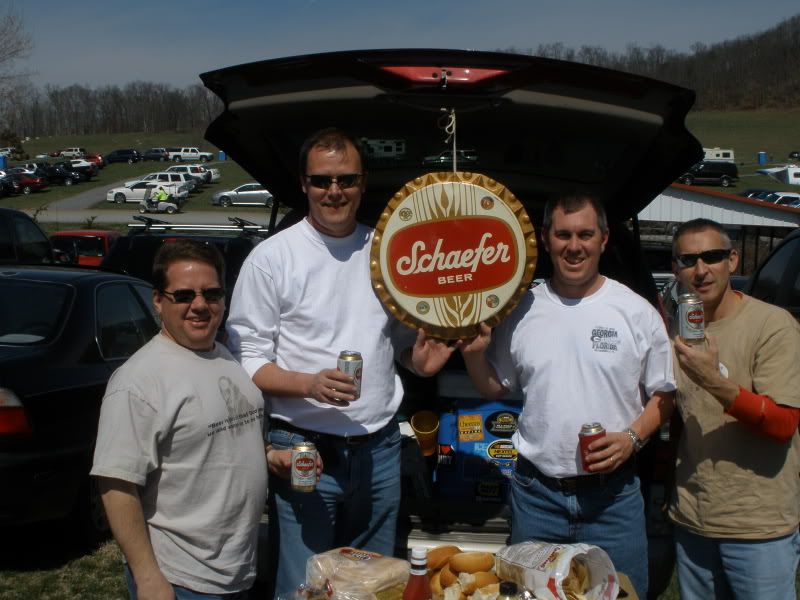 The Schaefer Hall of Fame signature sign - autographed on the back only by the chosen few who choose to begin their race weekends by drinking a Schaefer first, have gone to more than a handful of races, know that Jeff and Robby Gordon aren't related, and are committed to a full fun day.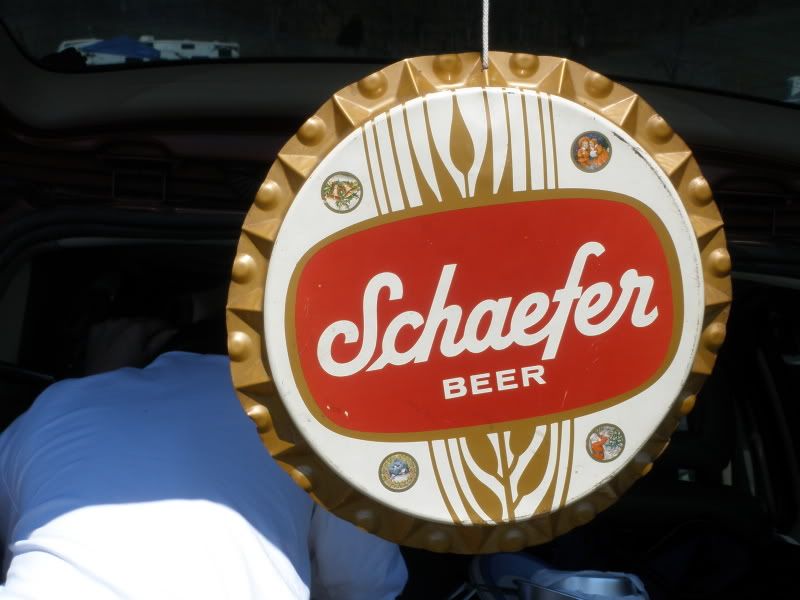 The rest of what turned out to be a 22 hour day for me went something like this:
Schaef > Brats > Coors Light > Nationwide Race > Coors Light >
Old Timers Race > Outback dinner > Fosters > Holiday Inn lounge >
Some kind of cold brew...and Jaeger >
Negotiation with the race buds with local pizza delivery guy >
Ride with the pizza guy to Bristol area sports bar > beverages > cab to hotel >
Indecipherable text message to race bud with hotel key...who was standing 3 feet away >
Deep slumber at 2:30 AM
A Great View of Thunder Valley
Fantastic shot of the whole track. Thanks Rookie for sharing this pic - and the Schaef pics (and brews too). Too bad you had to sit at 37,000 feet and wear an oxygen mask to snap it.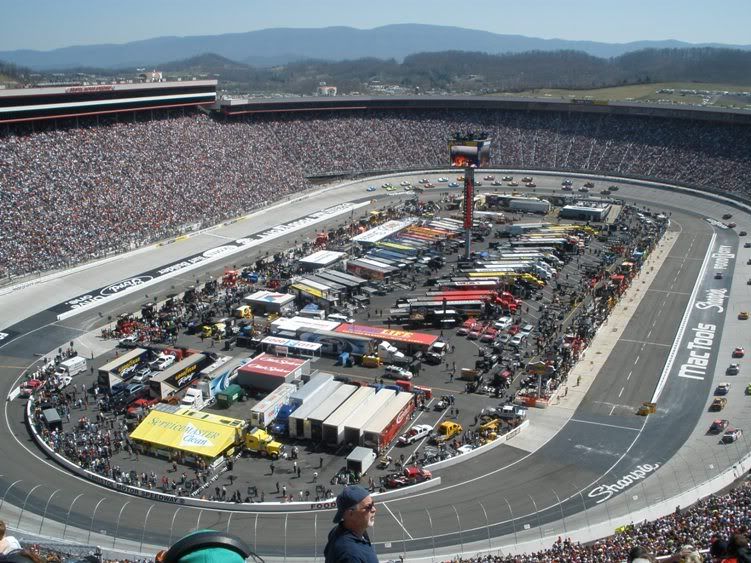 Race Notes
Kyle Busch acknowledged in the post-race press conference that he challenged his crew to man up on the final pit stop and not let him down like he felt they did in Saturday's race. I was scanning him a bit on Sunday, and his words were "OK ladies, let's not f*** it up on this one."

Just a bit different

than he chose to spin in to the press.
Shrub was in his own ZIP code Sunday. I was amazed and disppointed how many of the major teams failed to bring their A game - Dale Jr, all the Rouskateers, the RCR triumverate,

Travis Kvapill did all he could at one point during the race to give Golden Corrall all the exposure he could. He raced Shrub hard for about 15 laps - even to the point that Kyle's teammate Denny Hamlin closed quickly and at one point even almost wrecked Kyle. I don't particularly care about Travis one way or the other, but its been sad to see the rapid decline of the famed 28 team.
The shelving of the 28 team may be just the beginning. The overachieving 44 team of A.J. Allmendiner was only slated to run 8 races. But with A.J.'s fine run at Daytona, the team earned enough jack to keep them in business through the 600. After that, its anyone's guess what will happen. But its going to be a true shame if a team in the top 20 as A.J. is now can't get corporate backing to go further than one-third of the season.

Race News
Mark Martin - So he says he wants to return full-time in 2010. Please, make it stop. He's been a bust this year. I don't lay all of it at Mark's feet. The current 5 / former 25 team has been a cursed dog for decades. Rather than state the obvious, I'll simply quote Matt McLaughlin's skewering comment:

"Apparently, Mark Martin would like to compete again full-time in 2010. Color me surprised. Cue up that old Lynyrd Skynrd LP, because I'll take the word of a liar…one more time. Don't get me wrong; Martin is a class individual, and his name belongs on any top 5 list of the greatest drivers never to win a title alongside Junior Johnson and Tim Richmond. But I feel he owes anyone who bought his "Salute to You" retirement gear what seems like a decade ago a refund."
Finally, I read where Papa Rick has given the vote of confidence to keeping Dale Jr. paired with Tony Jr. This - after Jr. intimated that the

media

was causing high stress levels and underperformance on the team by constantly harping on the 88 team's finishes. Please Jr, spare us all. Are you talking about the same media who turned out in droves to see you leave DEI and again when you chose to sign with HMS? The same media who follow you around and treat you like a rock star and not ask any really tough questions about your racing career? The same media who keep a camera constantly trained on you during a race to replay whatever may happen during the 3 hours of the race? The same media who don't even raise the question of why a random caution is thrown giving you the lucky dawg as soon as you go down a lap?
On to Martinsville. Wish I was going.
TMC