For about the last 30 years, Richard Petty has consistently said he refuses to run alcohol-related sponsors on his cars out of deference to his mother's moral objections to booze.
He said he wouldn't contract with such a company to be his primary sponsor nor would he run a contingency decal. As a result, pole wins by Bobby Hamilton and John Andretti way back when resulted in their being ineligible to run the Bud Shootout back when it was fielded by prior season pole winners because the pole-winning car had to display the Bud decal.
However, the King's no-hooch position was not absolute (no pun intended). Here he is runing the 43 at Bristol in 1980 with a Busch beer decal prominently displayed on the front fender.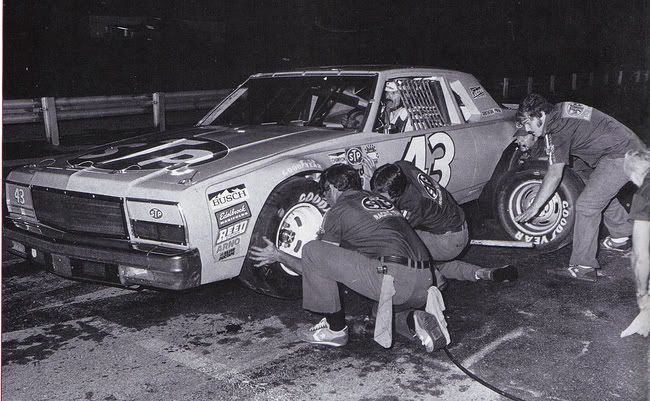 When Richard retired at the end of 1992, Petty Enterprises changed the car number to #44 for one season and hired Rick Wilson (ugh, that hurt to type that...) for the unenviable position of replacing the King behind the wheel. Once again, a brew brand from the St. Louis brewer was displayed right below the A pillar.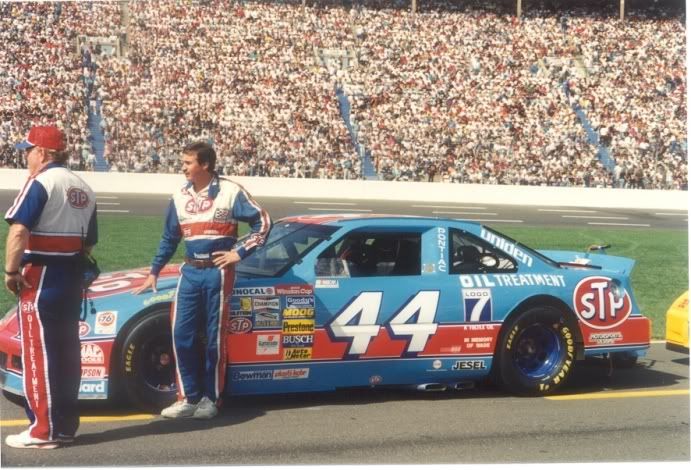 Even when Petty Enterprises merged with Gillett Evernham Motorsports in January 2009, Richard reiterated his stance about having alcohol associated with the Petty name. This from
ESPN
...
Petty also demanded that Budweiser, which sponsors Kasey Kahne's No. 9 car and had logos on the other GEM cars prior to the merger, not be on the 43 or 44 to uphold a family tradition of not being associated with alcohol-related sponsors. "My mother would come back and haunt us home," Petty said of what would happen if Budweiser showed up on either car.

So while Bud (or a Coors Light pole award) decals won't show up on the 43 or 44, apparently its OK for the Petty name to be on the Bud hauler.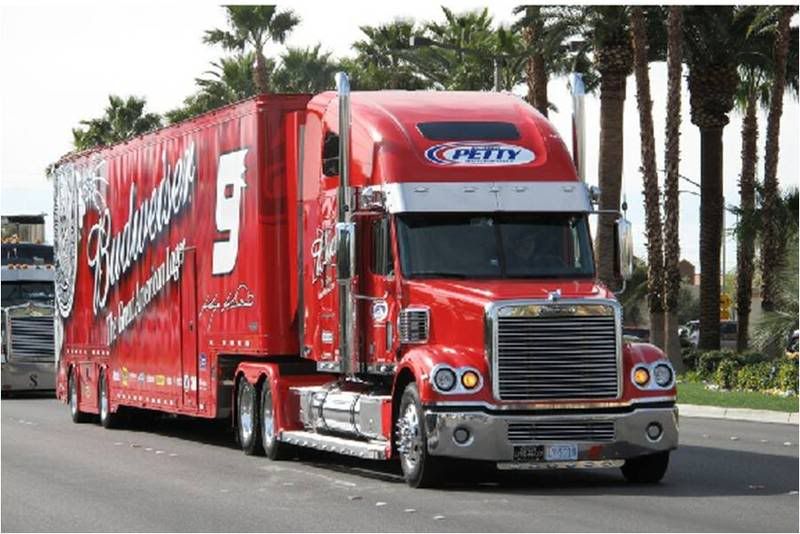 So I had to chortle heartily when Richard Petty Motorsports unloaded the #44 of A.J. Allmendiner at Las Vegas this weekend adorned with the colors of Harrah's Casinos. Look, don't get me wrong. I'm no moralist. I drink a bit, and I've spent a few nights in Vegas. (However, to be candid, the only real gambling I do regularly is my 22 mile daily commute amongst drivers with cell phones and lipstick tubes.) And I've been a Petty fan since the mid 70s so I'll give the King a pass on just about anything.
But I think the inherent contradiction of his not wanting to have alcohol sponsors yet accepting gambling dollars is funny. Perhaps his mother didn't like drankin' but wasn't opposed to rollin' dem bones, doubling down, splitting her aces, or a late night round of Texas Hold 'Em.
TMC