Yesterday, January 19, 2010, was kind of a weird day in the annals of Petty racing. The announcement during the NASCAR media tour wasn't earth shattering. As a matter of fact, it was pretty much old news. Richard Petty Motorsports announced it had formally finalized its "merger" with Yates Racing. (I'm still not sure how the contribution of Yates Racing to RPM equals a merger. Seems to me it was more of a bailout for them. But whatever.)
Two surreal elements about the news for for me were:
the King had a sudden family situation he had to attend causing him to miss the presser and
the presence of Paul Menard sitting on stage wearing a Petty-emblazoned shirt. Has it come to this? To get sponsor money, the Gillett/Petty contingent had to sink this low? Soulpatch Paul may well end up making former Petty drivers such as Rick Wilson and Buckshot Jones look like HOFers.
(Photo from Lynne Allmendinger's
TwitPic
.)
But that was January 19. Its done and over with. On to January 20th and the rest of the season. which brings me to this entry.
An even bigger press conference was held 364 days ago that
did
make me sit up and take notice. On January 20, 2009, Richard Petty announced the merged Gillett Evernham Motorsports and Petty Enterprises teams had been named Richard Petty Motorsports. Petty Enterprises was no more.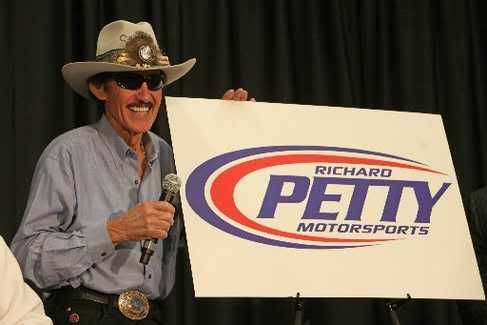 To give you an idea of how far back the Petty organization goes, here are a couple of additional January 20th Petty-related trivia items:
January 20, 1974 - Hershel McGriff raced a 2nd Petty Enterprises #04 Dodge Charger to a 10th place finish in the Winston Western 500 at Riverside. Richard finished 2nd in the race. (Ignore the photo caption. That is
not
Chargin' Charlie Glotzbach in the 04.) For those unfamiliar with McGriff, here's some context for you:
He raced in the first Southern 500 at Darlington in 1950.
He raced at Portland International Raceway in Juy 2009 - at age 81!
'nuff said.
January 20, 1963 - Jim Paschal, in a 2nd Petty Plymouth, loses a wheel and barrel rolls over the fence in the Riverside 500. Fortunately, he wasn't injured badly and returned to run several more races for the Pettys - and won his share of them.
TMC