A two-year, multi-person, arms-race search for an elusive photo of a Schaefer beer sponsored NASCAR ride culminated in finding one last summer. Cooperation came from a fellow searcher/friend, racing history writer/blogger Rick Houston, and long-time NASCAR car owner D.K. Ulrich. I
blogged about it
, and the story of our successful search for a picture of Al Loquasto's #99 Schaefer Buick was featured on Rick's website,
StockCarHistoryOnline.com
.
Based on what I had learned about Schaefer's limited involvement with Loquasto's career including their one Cup race sponsorship of him, I thought our search was complete. Wrong.
A couple of months ago, another friend e-mailed me to say he'd scored a picture of a
second
Schaefer-sponsored car. I wasn't willing to believe it at first because I thought our research was thorough. But the pics tell the story. The Pontiac Grand Prix was driven by Joe Ruttman in the 1989 Daytona 500. Chuck Wellings is listed as the car owner. His only other race to field an entry was the 1990 Daytona 500 - again with Ruttman.
As the first picture shows, Joe almost never made it to the big show. He tangled with Mark Gibson in the #59 and spun during his 125-mile qualifying race. But he recovered well enough to finish 9th and comfortably earn a transfer spot to the 500. From there, Joe went on to finish a respectable 13th.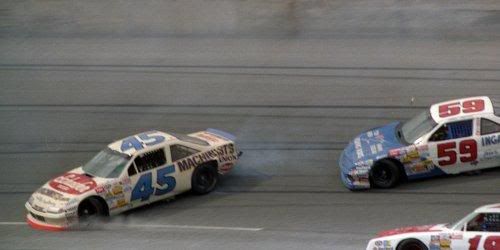 After the first picture was found, once again the hunt was on for more photos. This time the search didn't take near as long as it did for the Loquasto car. A couple of my fellow Petty fan brethren responded within just the last couple of weeks with a video capture of the rear of the car and a full-blown, high-resolution side view of the car - including a great view of a completely laid-back spoiler and the use of Hoosier tires.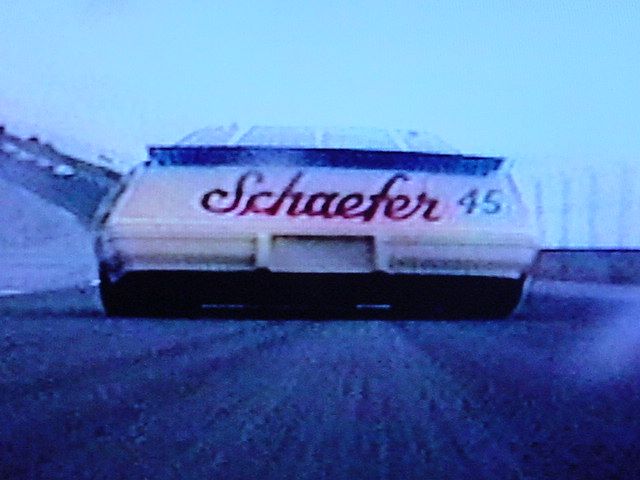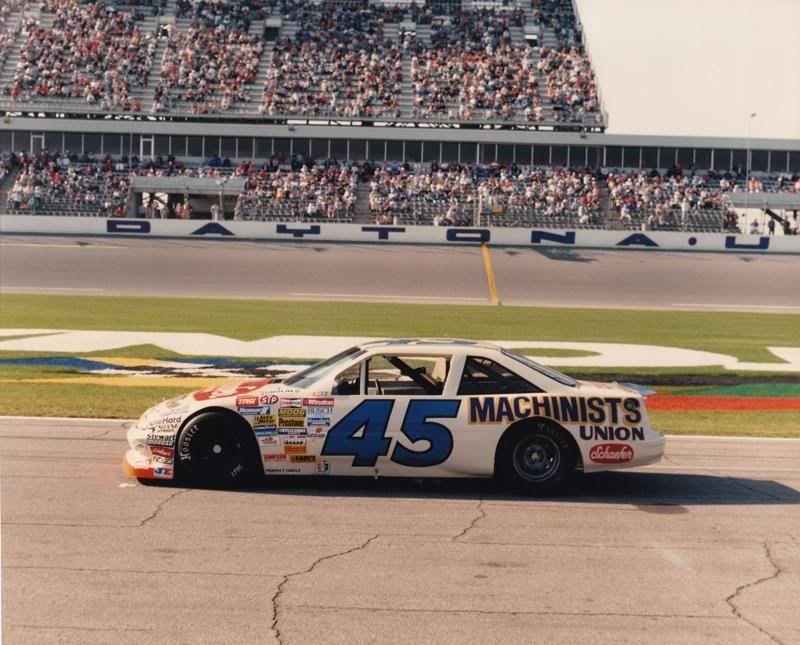 Even though Schaefer was scattered, smothered, and covered on the hood and the rear panel, the "official" sponsor of record appears to have been Machinist's Union. All the sources we searched leading to the finding of the Loquasto/Schaefer car didn't turn up this additional car because the union sponsorship prevented a successful Google search for Schaefer.
While I am pleasantly surprised to locate yet another Schaefer car, I'm even more pleased it was Joe Ruttman who piloted it. I had the opportunity to meet Joe at Nashville Speedway back in my teenage days when he drove the Levi Garrett Chevy for owner Ron Benfield. No question about it - the photos of the Schaefer car are far more flattering than the look of my youth.
TMC