In 2009,
Richard Petty's Audio Scrapbook
was released - a 4 CD, 4 hour narrative of the history of NASCAR, Petty Enterprises, and Richard Petty. Petty's cousin and long-time crew chief Dale Inman sat in on the story telling sessions. The long-time voice of MRN Radio, Barney Hall, moderated the script.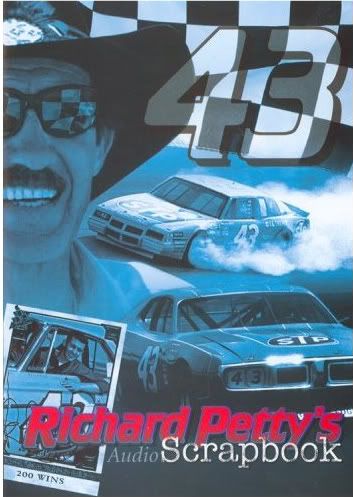 As a Petty fan, I wanted to get the CDs as soon as they were released. But I was patient and added the scrapbook to my Amazon wish list. Sure enough, my mother bought it for me for Christmas. God bless her.
If you aren't familiar with the King - particularly his way of speaking - the first thing the listener has to do is simply get used to listening to him. Even after being a fan of his for over 30 years, I've not really had the opportunity to hear him speak for long stretches. If you think today's collegiate and professional athletes have trouble speaking, just wait until you hear the King butcher...well the "kang's Anglish". Between the busted grammar and Richard's verbal-tic phrases such as "yaknowwhatahmean?", "yeah man", and "one of them deals", it takes a while to then really start hearing the stories.
From an overall perspective, its hard to believe how long Richard has been around. He was at the first NASCAR strictly stock race in 1949 where his father ran. And other than a handful of races he missed because of injury or a factory boycott, he was in pretty much every race from 1959 through 1992. Even as a car owner and retired driver, he's still attended the vast majority of the races from 1993 until now.
Having been a fan for as long as I have, the large majority of the stories were already familiar to me. Whoever scripted the scrapbook chose to highlight the most commonly known parts of Richard's career:
1967 season - 27 total wins including 10 in a row
1959 Daytona 500 - won by Lee Petty
1976 Daytona 500 - Petty and David Pearson crash coming to the finish line

1979 Daytona 500 - Petty wins after Donnie Allison and Cale Yarborough crash

1981 Daytona 500 - A fuel-only pit strategy call by Inman gets Richard his 7th 500

1984 Firecracker 400 - his 200th win with President Ronald Reagan attending

His sponsor relationship with STP
His rivalries with drivers such as David Pearson and Bobby Allison
A great call was made to have Inman sit in with Richard. When Richard truly forgot something or maybe mis-remembered a detail or two, Dale wasn't afraid to jump in with a correction. A couple of other good features are phone interviews with Allison and Pearson while Petty and Inman were listening plus a separate interview Hall did with Junior Johnson.
I've got some criticisms of the scrapbook too. Before I mention them, I don't want to dissuade anyone from getting and listening to the CDs - particularly if you aren't familiar with the history of NASCAR, the impact of the Pettys on racing, the hallmark finishes, the rivalries with other drivers and teams, etc.
My criticisms are the result of my already being a dedicated Petty fan - not a casual one. As I already knew most of the stories, I was hoping for some more in-depth discussion of additional watershed moments in Richard's career. For all the stories, records, and trivia I know, I'm always wanting to learn
even more
.
To sell the CDs, keep the length of the discussions to a pre-determined length, and - maybe more important than all - get Richard and Dale to talk about certain things, many parts of his career were glossed over. For instance:
I wish Dale Inman had spoken a bit more about his decision to leave Petty Enterprises in 1981 to join Osterland Racing and Dale Earnhardt.
Why of all teams did Richard choose the start-up Curb Racing as the place to go when he finally decided to leave Petty Enterprises following the 1983 season?
Linda Petty, Richard's wife, briefly mentioned the death of her brother Randy Owen while crewing Richard's car at Talladega in 1975; however, Richard nor Dale discussed it at all.

Kyle's early career at Petty Enterprises was limited to memories from one race - the 1979 ARCA 200 at Daytona. No other discussion of their father-son relationship was covered - on the track or off it.

Petty Enterprises often ran a 2nd car during the 1960s and into the early 1970s. I wish Richard and Dale had offered a few more memories about how the drivers were hired - drivers like Jim Paschal, Paul Lewis, G.C. Spencer, Buck Baker, etc.

Richard won 2 races with car owner Don Robertson in the late 1960s. Who was he and how did they get together for a deal?
Why did Buddy Baker run a 2nd Petty car with #11 vs. a number in the 40s as all other Petty cars had been?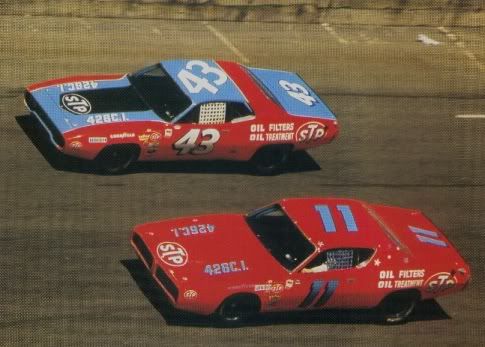 Richard has always struck me as just a laid-back, easy-going, optimistic, glass is half-full, tar heel. Dwelling on negative memories such as driver, crew, and family deaths just isn't his thing. Nor is it mine. However, I think this audio set would have been a good opportunity to capture his thoughts amongst all the other positive memories.
The other criticism I have is Barney Hall's interview with Junior Johnson. It sounds as if it was recorded using a simple recorder without any microphones. Junior is a soft spoken man anyway, and the crude recording made it all the more difficult to hear what he was saying.
In the end, I thoroughly enjoyed the set. If you want to learn more about the history of racing, you should definitely get it - regardless of your thoughts about the Pettys. The concept and organization of the story-telling was solid. I'd love to hear additional audio sets from drivers such as A.J. Foyt, David Pearson, and maybe Cale Yarborough. Had Earnhardt lived, no question I'd want to hear one from him too.
TMC