March 15, 1992, was a great day in the annals of TMC Racing Experiences. We were in Hampton, GA for the Motorcraft Quality Parts 500 at Atlanta Motor Speedway (having been recently renamed from its original Atlanta International Raceway).
The race was the first of seven Cup races I made in 1992 - a high water mark set for me that still stands. It was the King's last season as a driver, and I wanted to attend as many of his Fan Appreciation Tour races as possible. I was fortunate enough to hit the spring Atlanta race, spring Bristol, both Talladega races, the Pepsi 400 at Daytona, the fall Charlotte race, and then back to Atlanta for the season finale - the Hooters 500, a race some arguably claim is the greatest NASCAR Cup race of all time.
My friend, fellow Schaefer charter member HOFer, and recent Vegas wingman was a college bud of the PR guy for Brett Bodine's Quaker State team. PRG hooked us up for the Sunday race and suggested we make our way to Atlanta a day early. We spent the night on the town Saturday. Because it was the weekend closest to St. Patrick's Day, bars were already serving green beer. In our case, the joint was serving...it still hurts to think this, much less type it...green draft Busch beer.
I'm not exactly sure how much green Busch was consumed. (As we all know, tangling with "green busch" of any kind is generally not advisable.) But I am pretty sure at one point on St. Paddy's weekend I almost changed my name to Too Much O'Country. We crashed in PRG's hotel room at some point. My friend and his wife were in one bed. PRG was in the other bed. And I woke from the spot where I landed Saturday night - on the floor - with a throw pillow under my head.
PRG had 2 hospitality passes for the 3 of us. So we had to work some magical sleight of hand for all of us to walk through the tunnel, stroll past guards who may have been recent graduates of the Barney Fife School of Surveillance, and into the tent. But we did it.
I didn't give then or now a flip about Brett Bodine. He was a less-than-average driver then and more recently was a key contributor to the much maligned Car of
Tomorrow
Today. But our tickets were comp'd, Saturday night's green Busch was paid for, I didn't get cooties from the hotel carpet, and we were in the hospitality tent. So hey! Bodines for everyone!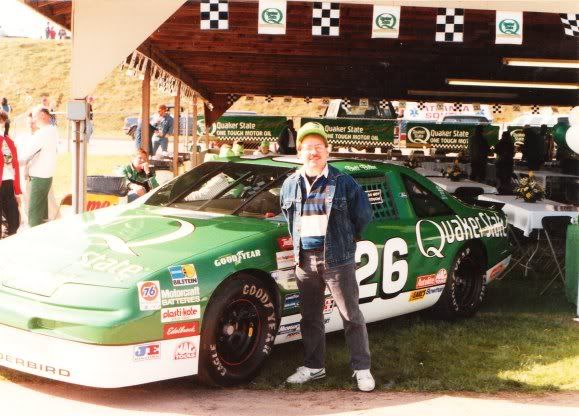 I'm pretty sure Brett never appeared at his own tent. If he did, we missed him while milling around elsewhere. One of the places we went was the Snickers/Dick Trickle tent next door to the Quaker State tent. He qualified 2nd for the race and did appear to sign autographs for his peeps. We were rebuffed a time or two by some stern little wench manning the entrance to the tent simply because we were wearing Quaker State swag vs. Snickers. You believe dat? And unlike track security, she was actually checking credentials. As she took her break a few minutes later, however, *sloop* we poached our way in after all, got in line, got our hats and postcards, pocketed a few candy bars, shook hands with M&M/Mars reps (How ya doin'?, This is a pretty cool set-up ya got here. We're big fans of Dick Trickle - thanks for sponsoring him.), got our autographs, and chatted him up a couple of moments. Dick Trickle may have the name everyone snickers at, but he was just a super guy to us that day.
From there, PRG escorted us to the garage area. He was the only one with an official pass. But we tried to look the part and used the "press the flesh" with big crowds to our advantage and once again slid past security. We were then in the garage area.
My head was on a swivel. We saw Ned Jarrett, Joe Gibbs, Dale Inman, Felix Sabates, Dale Jarrett, and others I've forgotten. No King and no Earnhardt sightings though.
We didn't want to draw attention to ourselves and attempted to stay largely out of the way. I also limited my picture taking. (Remember not that long ago how stingy you were about taking pictures when film was used? Now folks will snap off a dozen digital pics of the same piece of tourist-trap crap without a second thought.) Fortunately, I was able to squeeze off a couple of photos that I still enjoy:
One of Kyle Petty's Mello Yello Pontiac: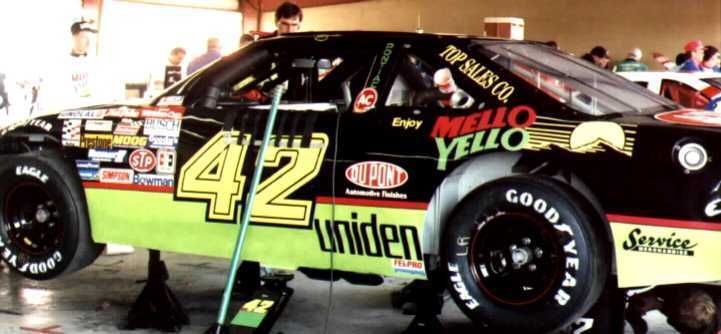 Alan Kulwicki, who went on to become the 1992 Cup champ and then was killed in a plane accident in April 1993. RIP Underbird.
Joe Gibbs in his 1st season as a car owner:
Bobby Allison (and I didn't notice this until just recently when I scanned the pic - Smokey Yunick is in the background!):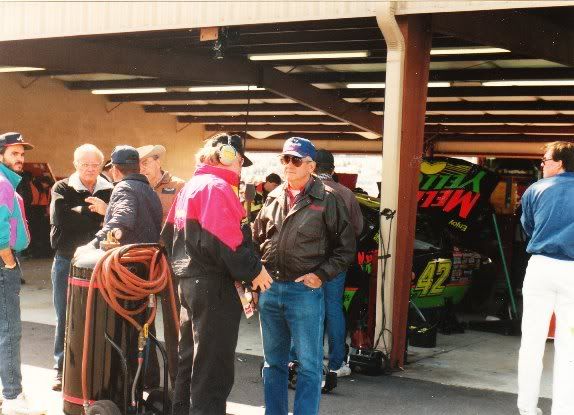 It turns out our race tickets were pretty bad. Free - but bad. Our seats were down low just a few rows off the fronstretch wall as they came out of turn four. Remember - this was before Atlanta was re-configured to resemble Charlotte and Texas. At the time, it was a true oval.
We got peppered by grit all day long. Also, our ears had all sorts of black rubber gunk in them from tire marbles. At first, we didn't really notice it as the sun started setting after a long day at the track and we trudged towards the car. But once we stopped at a Wendy's on the way home, I started gut-busted laughing at my friend's wife whose ear was packed with shrapel from Goodyear tires. It looked like a hearing aid formed to her ear - a Goodhear if you will.
A couple of other folks met us at the seats - friends of my friends. In exchange for free tickets, they agreed to bring lunch sandwiches for everyone. Once the race began, however, we realized these folks were truly race rookies.
One, they were jazzed because we were sitting so low. The dude was smiling from ear to ear like Smiling Bob from the Extenze commericals. They thought sitting low at a race was comparable to sitting at Fenway Park behind home plate. They didn't understand we'd have a hard time seeing the whole track - much less get sandblasted.

Two, they didn't bring sandwiches as they'd promised. They brought sandwich FIXINS'! Loaf bread, mayo, ham, bologna, cheese, etc. Here we were trying to watch the race and also prep a sandwich in our lap - all the while noticing flecks of something in our mayo spread and wiping other grit out of our eyes. It definitely wasn't freshly ground black pepper. That was the crunchiest damn baloney sammich I ever ate in my whole life. I couldn't even wash it down with a Schaefer because that tradition didn't begin until two months later!
The race itself stunk. The early laps were pretty good. Atlanta has always been a fast track - its own design and the current one. However, Bill Elliott in his first season aboard Junior Johnson's Budweiser Ford wasn't all that competitive early. At one point, he drifted back about mid-pack and stayed on the track an extra lap or two while others pitted. Once all the lead lap cars cycle-pitted (except Elliott), a caution flew. Unbelievably, Elliott was able to pit under caution, and every other car was pinned a lap down. From there, Awful Bill cruised to victory.
The Georgia contingent loved it. We all just shook our heads - partly of how Bill's poor running car stole the race and partly to try to shake some of the race grit out of ears and hair. To make matters worse, the Petty cars weren't much of a factor. Kyle eked out a top 10 finishing 8th. The King strolled in 16th. Yet despite Elliott's win at his "home track" and the lackluster performance of the Petty cars, it was still a memorable race weekend.
Not long after this race weekend, PRG left the Quaker State team and racing altogether. He went into business for himself owning and operating Subway restaurants. My bud and I were beneficiaries of his leaving. PRG sold us his Uniden Bearcat scanners for a fraction of what it would have cost us retail. Mine still works like a charm, and I still take it to races to this day.
TMC