February 26, I headed to Las Vegas for a weekend of NASCAR racing at Las Vegas Motor Speedway plus as much fun as could be crammed into 3 days wrapped around a Nationwide and Sprint Cup race. With the fun I had, stories I'd like to tell, and photos I'd like to share, I'll start with three parts - Friday, Saturday, and Sunday - and see where that takes us.
Friday - February 26 - Delta Airlines. God bless 'em. They got me from Nashville and then on to Vegas in first class no less. I'm a Southwest addict, and it had been a while since I'd flown Delta. I redeemed frequent flyer miles, and lo and behold I was able to get a seat in first class.
Not long after sitting down, I noticed a ridiculously tall guy sitting in the next seat. Right away, I realized it was Brad Daugherty - North Carolina Tar Heel, NBAer, former Busch series owner, current Sprint Cup owner, and ESPN Nationwide series commentator.
I'm not sure how many folks know this, but Brad wore jersey #43 because he was a Richard Petty fan growing up in NC. I didn't bother him during the flight, but as we descended I did show him my Petty 43 cap I had stashed away in my carry-on. He smiled and nodded. From there, we had a brief discussion about his race team and basketball. His interest was also piqued when I mentioned I used to live in Chattanooga, TN - about 10 minutes from Collegedale, TN. Collegedale is the home of McKee Baking - makers of Little Debbie snacks which so happens to be one of Brad's sponsors on the 47 car of Marcos Ambrose.
He was kind enough to autograph about the only thing I had, a business card.
Upon landing and retrieving my luggage, I knew immediately the next destination:
Lee's Discount Liquors
on Las Vegas Blvd. Before the trip, I learned Lee's sold Schaefer, and I was jonesing to get some for race weekend. What I hadn't planned to find was the Four Horsemen of the Beer Apocolypse:
To prove it was indeed a sign of the apocalypse and not just a random occurrence, Schaefer's apprentice Schaefer Light was standing nearby learning how the big dawgs rolled.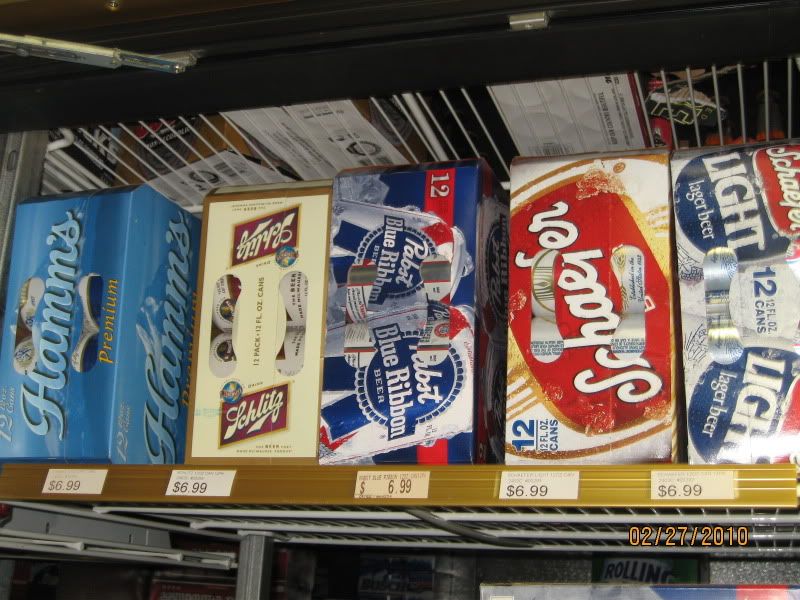 From there, it was check-in time at the Excalibur. While a strip staple, it was my first time staying there. It'll never be mistaken for the Venetian or the Wynn, but the price was right and the people there were nice. Lots of other race fans believed the same.
Quickly, it was time to load the coolers and head to the track for a traffic dry run. Shortly after arrival and parking, we had the pleasure of deflowering 2 Schaefer virgins - Tara from Delaware and a friend. After some trepidation about what they were being offered, we got those words everyone craves to hear when giving a friend a Schaefer: "That's not bad!" It even got us an invitation to their infield RV party lot - though we were unable to take advantage of the offer.
It was the first NASCAR race for Tara's friend. Rather than prep for the weekend and enjoy the Schaefer we gave him, he asked Tara two or three times "does this shirt make me look gay?" We assured him it did - well not the shirt so much, just his continual asking about it.
Now look at that photo a bit closer. See all the cars? That's an important observation for later...
We headed for the will call window. And it was a beautiful experience. Just as promised - FREE tickets for Friday qualifying, Saturday's Nationwide race, Sunday's Cup race,
and
multi-day passes to the Neon Garage.
Because it was my first race of the 2010 season, we had to make the obligatory walk around souvenir row just to see all the new driver swag. At the top of our list simply for curiosity reasons was Danica's trailer. (And if you saw Danica's 2009 SI collection, you'll agree Danica has a nice "trailer".)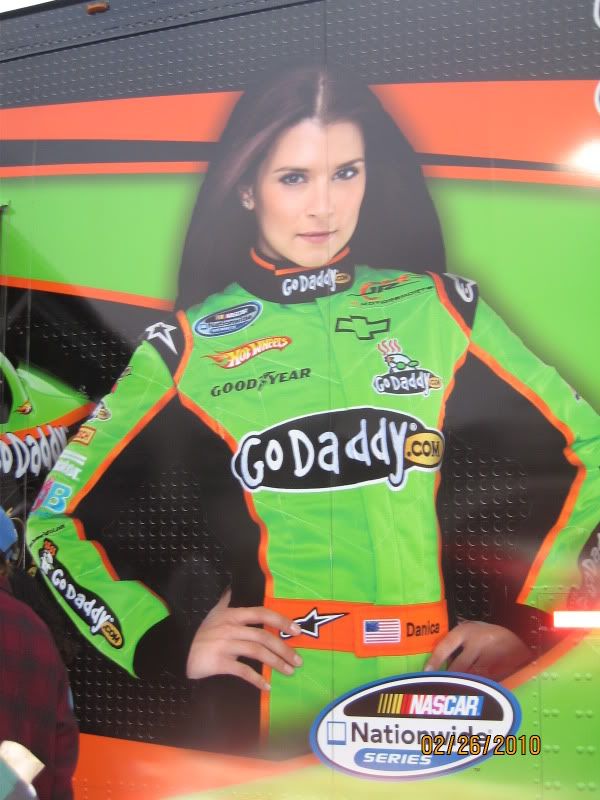 The line for her stuff was unbelievable - even greater than expected. (Sorry for the blurry pic. Hard to swill a Schaefer, walk, and shoot a pic all at the same time.) Remember this was Friday afternoon. The lines were worse on Saturday and Sunday.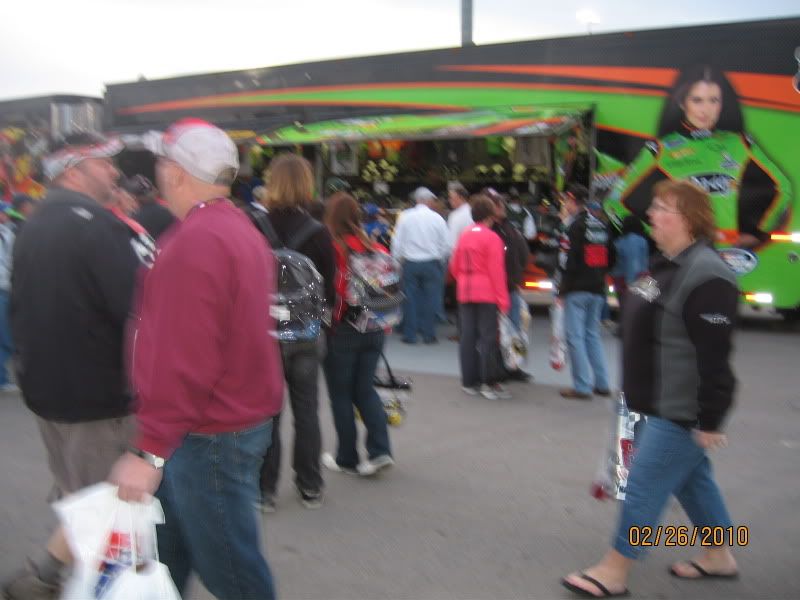 Sadly, for all the high-end image posing Danica and her corporate minions cast, we found most of her NASCAR fans look pretty sad. Kind of like this guy...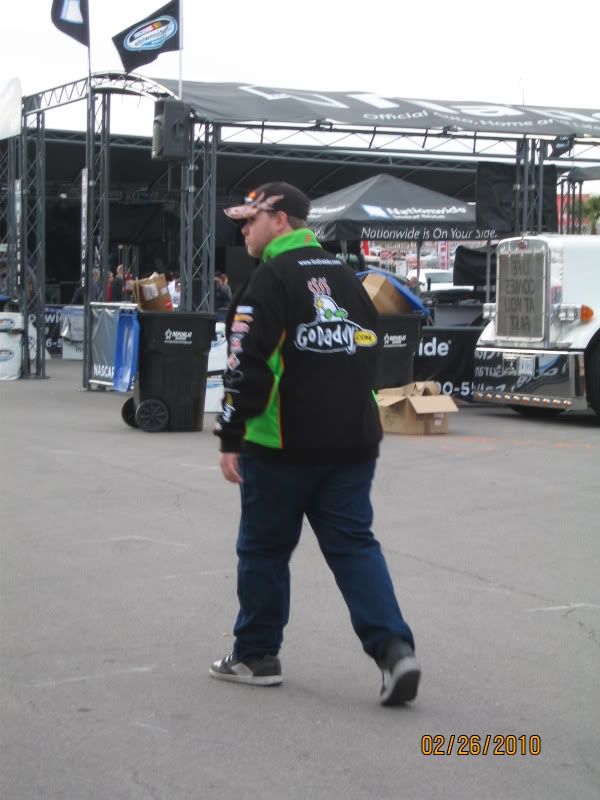 And this guy...
And this guy...
The next objective was to get a race event souvenir pin. I'm not a big spender on driver or event swag, but I do collect the race weekend pins as a small and affordable memory. We dropped by the Shelby souvenir trailer. We were told they had pins but they weren't dated because they weren't allowed to date Shelby gear. That assertion sounded awfully weird, but we made the purchase anyway. However, we did get an agreement if we found a dated pin we could get a refund, and they agreed. Sure enough, we later found an "official" track trailer who sold us the pin, and off we went to get our five bucks back.
The old man may know high performance cars. But he also has a pretty good knack out of wringing five bucks out of a bunch of suckas where he can. The whole transaction kind of reminded me of Corb Lund's song,
Five Dollar Bill
.
Once inside the track, I had a sensory overload. I've been to a lot of tracks, but this was my first visit to the Las Vegas one. It was really cool to survey the track, the infield, and particularly the magnificent grandeur of the geology serving as the backdrop for the track.
Unlike tracks in the south, mid-Atlantic states, New Hampshire, and Texas - pretty much everywhere except out west - you can't bring in coolers. Just as engineers and planners learned more about urban planning and street design as the country moved westward, Bruton Smith similarly learned how to control concession dollars as a revenue stream.
I was, however, pleasantly surprised at beer prices. Beer was $5 per can. Considering we bought a 12 pack of Schaefer for $6.99, a Lincoln for a single can of beer seems outlandish. However, I've bought far more expensive beer at football, baseball, and hockey games.
As we watched the final cars qualify, I met a beer vendor from Chicago - a black guy with dreadlocks. Great guy. He said he'd see us on the strip later. But he also said he didn't gamble or pay for...umm, errr, uhh...women's fun parts. I'm not sure why he saw fit to tell me that or what he expected from us if we were indeed to encounter him later in the weekend. But I tipped him a buck anyway just for the funny if not obtuse admission.
Once qualifying ended and the beer concessionaires disappeared, it was time to head for the car. As we hit the parking lot, our quick pace slowed. No car. It had been towed. Never mind many of those cars in the picture above were still there.
We tracked down a security guy who gave us the number of track customer relations. Upon calling them, we learned we had parked in some sort of RV inspection area - never mind cars were parked all around us and the parking attendants waved at us as we parked and retrieved our Schaefers a few hours earlier.
Our car had indeed been towed - a first in 30+ years of going to races. Customer relations then introduced us to Tom who became our "phone a friend" guy. We talked to him about 10-15 times trying to find our car. He was patient and continued to radio the tow service to better direct us to our car. It had been hauled to the dirt track and put amongst 5 or 6 other towed vehicles - or so Tom said.
On the way to the dirt track, we walked, jogged, peed, wandered, rode a shuttle, stood and scratched our heads. Along the way, we encountered:
a kid in a Jeff Gordon Pepsi jacket - swilling a 20 ounce Coca-Cola
his 45 year old mama who looked 55 but we told her she looked 35 just to keep the conversation going. She said her granny was a 7x Vegas powder puff dirt champ.

dune buggies mocked up to look like Target store carts. We tried to bum a ride with a couple of them but to no avail. We even offered to climb up in the buggy part to stay out of their way. Sadly, Target apparently has no sympathy for race fans who had their car hauled away. Screw 'em, I shop Wal-Mart anyway.

Apparently when the car was towed away, few folks were at the dirt track. That's why Tom said we should easily find it amongst 5 or 6 other cars. Yet by the time we started looking for it, a huge walk-up crowd was gathering for the race. So quickly a game of "Where's Waldo?" began with two fans half in the bag looking for a black Pontiac in the dark amongst 5,000 other cars parked for that night's dirt race.
After a 90 minute search for the car, it was finally found. We jumped in, checked the back floorboards, sighed with relief the sacred Schaefer was still in place, cracked a couple, and headed back to the Excalibur.
From there, it was time to clean up and head back to the strip. Following a shower and change of clothes, we bounced from MGM to New York New York and back to Excalibur. Along the way, yada yada yada took place and we were ready for Saturday morning.
TMC