After a Saturday evening (and lengthy portion of Sunday early morn) of Vegas activities, we headed to the track for the main event: The Shelby American Sprint Cup race.
This was my first NASCAR race to attend where the race name didn't include a number - whether it be laps, miles, or kilometers. From the time Watkins Glen returned to the schedule in the 1980s, their race name has always been "[Sponsor X] at the Glen". But I've never been there (though I want to go).
Last year's race was the Shelby 427 I think - named for a Ford engine. This year's race was just the Shelby American. By dropping the number, NASCAR and the speedway kind of hid the fact from everyone the race distance in 2010 was shorter than in 2009.
It was just as well because the race was boring enough with the length they ran. With the way Jeff Gordon stunk up the show, I would have been OK with them calling it
The Shelby Delaware
and running a 25 lap heat race.
Our plans were to arrive at the track bright and early to tailgate with other fans. That's our M.O. at just about every other race we attend. But our M.O. also includes packing the coolers the night before, loading the truck, and hitting the rack at a reasonable hour - three things we didn't do on this trip.
As a result, we got a late jump towards the track and were greeted with the inevitable volume of race traffic - many folks who most likely were out until the same hour as us.
At many other tracks I've attended, most of the parking isn't controlled by the track. Entrepreneurs and volunteers often staff pastures, small businesses, and roadside shoulders selling parking for $10 - $20 per vehicle. However, Vegas controls its own lots (from all that we could see), and there was zero charge for it. Props to Bruton Smith for that decision!
Once we parked, I reached for the cooler. My head and stomach said "no" but my heart and race tradition screamed "Yes!". A couple parked next to us were from Reno, but they were originally from New Jersey.
When she saw me pull the Schaefer sign from the trunk, she said "Shayfa? That's a northern beeah. I haven't seen a Shayfa beeah in yee-uhs." When I retrieved four of them from the cooler for all of us to share, she exclaimed "OH MAH GAHD, it really IS a Shayfa!" She quickly started drinking it and then laughing between sips like a teenager sneaking her first brew and wondering if she'd get caught. We had her autograph our Schaefer Ring of Honor sign.
After sharing one with our new friends, I retrieved a second Schaefer to drink as we walked and packed two more in my gear bag to smuggle into the track. Knowing this would likely be my only visit to a Vegas race, I wanted to have one in the parking lot AND another as the race itself began.
After a night of Vegas, though, neither of us were moving too quickly. The first Schaef went down better than I thought it would. The second one was a major challenge as we walked. Because outside beverages can't be (legally) brought into the track, we had to finish it off before entering. Whether it was the beer getting a bit warmer or the fact I was running on 7 cylinders I don't know, but that final 2 ounces was some of the roughest beer I've ever had the displeasure of consuming.
We got to our seats in the Richard Petty Terrace just as the command of "Gentlemen start your engines!" was given. Unlike Saturday, the weather was perfect. Clear, blue skies - warm temps - a nice breeze - and an incredible mountain vista in the background of the track.
The view behind turn 2:
The view behind turn 3:
I settled in and turned on my scanner to listen to PRN, A.J. Allmendinger, Tony Stewart and a handful of other drivers with reputations of chatting a bunch - either with legit information about the car or with colorful descriptors about the day's events. Once those engines fired and my head started to pound though, I was kind of wanting to find a frequency streaming some relaxing Miles Davis jazz.
The race itself? Terrible. One of the worst I've attended. Jeff Gordon jumped out front, stayed there, and built a monstrous lead. Everyone else soon dropped in single file and stretched around the track.
Kasey Kahne had a reasonable day for Richard Petty Motorsports and finished 9th.
A.J. Allmendinger's weekend pretty much stunk from the time they unloaded the 43 until they put it back on the hauler. At least his car looked cool in the Valvoline retro-look.
Here he is behind the pace car - before they gave him the wave-around to make up a lap. Sadly, this was as close as A.J. would get to sniffing the lead.
After the pot hole incident in Daytona, NASCAR surely wanted to put that incident to rest. Instead, two races later Vegas had not one - but two - cautions for a faulty caution light. I'm not sure now well it was explained on TV. From what we could tell, the race had a caution, followed by a green, followed by an immediate caution again because the yellow light never went off and the green on (forgive the fractured grammar - it was tough to watch and understand much less explain). This happened twice. Bizarre.
The Kim Kardashian-sponsored car driven by Mike Bliss didn't run too many laps before Bliss scrubbed the wall. This prompted the PRN Radio announcer to re-name the sponsor Kim Carcrashian.
The only real excitement of the race (other than the little catfight between the two Chip-N-Dale, Inc. drivers) came with less than 40 laps to go when the final pit stops took place. We decided we wanted to be near victory lane regardless of who the winner would be. So it was off to the Neon Garage where we watched the final 20 laps and the quickly-settled battle between Hendrick teammates Jeff Gordon and Jimmie Johnson.
It was a conundrum for me. I really enjoy seeing Jeff Gordon lose, but I've equally tired of seeing Jimmie Johnson win- particularly at those races I've been fortunate enough to attend. Yet, you can't help but give kudos to the 48 team. Jimmie may well have to end his career before I begrudgingly give him his due. But Chad Knaus? I'm ready right now to say he is indeed amongst the top 5 crew chiefs of all time and maybe
the
best ever.
Even with a ton of people already surrounding victory lane, we surprisingly were able to stake a pretty good position along the rail in the upstairs concourse overlooking the ceremonies. I had a birds' eye view of the #48 as Jimmie did a screamer between the barricades to victory lane.
After the "hat dance" and tons of press pictures taken, Jimmie quickly moved to his left to join Speed TV's Victory Lane show with John Roberts, Kyle Petty, and Kenny Wallace. We moved along as well. I was able to snap this pic of Kyle using his cell phone to take a pic of Jimmie. Great timing on my part because Kyle then tweeted that very picture.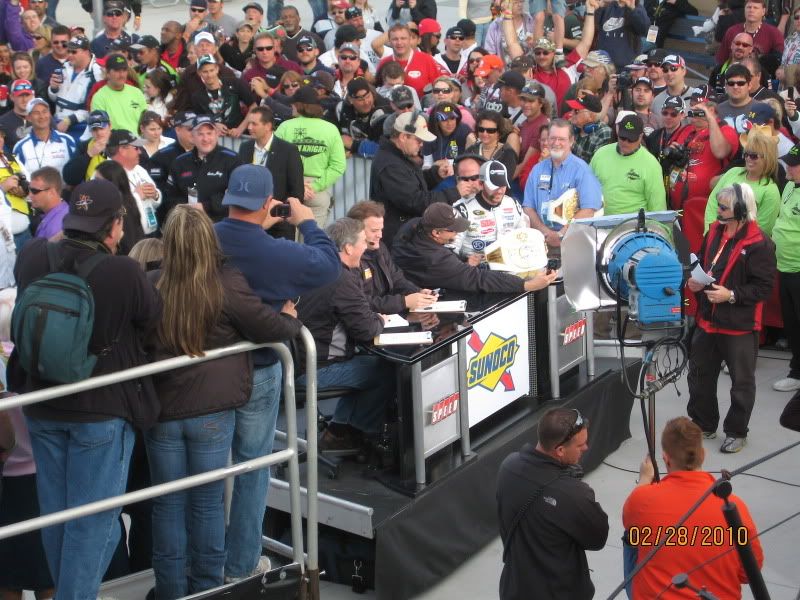 Source:
@kylepetty
on Twitter with his
Tweetphoto
Once the victory lane hullabaloo wound down, we made a final trip around the Neon Garage. Here's a view of the start/finish line of an emptying track:
Four Richard Petty Motorsports haulers:
Finally, we exited through the infield tunnel and headed lazily towards the parking lot. Along the way, we were passed by several haulers getting ready for the long trip home. Among them were rigs for Montoya, Newman, Elliott Sadler, and Kasey Kahne.
It took us a good long while to find our car. If I could make a recommendation to the track, it would be to install reference markers. All the lots look the same - they are all flat and covered in fine rock. For a while, I thought we were going to face the daytime version of the nighttime car search two days earlier when the Pontiac was hauled away. After roaming around a bit aimlessly for a while, I thought about changing my nickname from toomuchcountry to Moses because it felt like we'd been wandering the desert for 40 years.
But shortly thereafter we found it. The race had been over for about 90 minutes, but traffic was still at a standstill. It made no sense to force the issue. We still had iced Schaefer in the trunk, and I had my iPod with a Vegas-tailored playlist of tunes. So we popped one, queued the tunes, and spent time lounging on the hood and in the front seat with eyes partially closed waiting for the right opportunity to head back to the hotel.
From there, it was time to clean up and head back ... somewhere. Following a shower and change of clothes, we decided the excitement of Vegas had taken its toll on us. We ate dinner at the Luxor and went to Paris to meet a fellow Allmendinger fan. (Read
her blog
about her Vegas experiences as well and follow her on Twitter
@dingerworld
. She's been a race fan for a long time, but she was a race rookie
and
a Vegas rookie and had a great time too.)
Beyond stepping out for those new happenings, we opted out of further yada yada yada as we had a plane to catch on Monday. All good things must come to an end.
TMC