Last Wednesday, I had a business meeting in Charlotte NC. Knowing the meeting was scheduled for morning, I planned to book my flight from Nashville to Charlotte for Tuesday evening. The person with whom I was meeting suggested I fly earlier and be his guest at a pre-opening, sneak peek tour of the
NASCAR Hall of Fame
. He barely got the word "NASCAR" out of this mouth before I could say "done!".
He and about three dozen others are part of a business school alumni group. Because of the variety of the schools represented, none of them have enough critical mass to form an alumni group of their own. So they all meet as a group about every two months at various business ventures in the Charlotte area. This month's meeting just happened to be at the new hall.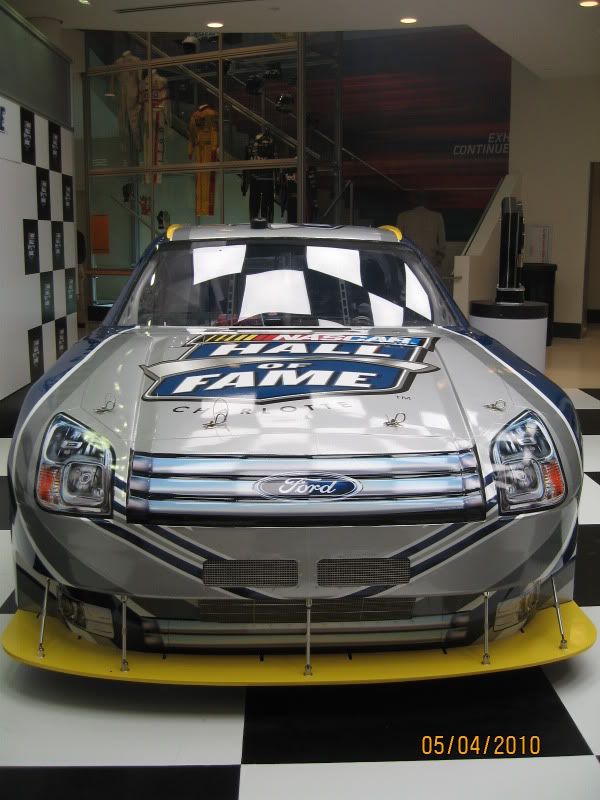 I thought our tour might be very limited. Instead, we got the full deal for a solid two hours - including our own tour guide. We got to ride the iRacing simulators, practice pit stops, observe a lot of the memorabilia, see a big panoramic video, tour the great hall where a lot of classic cars are stored on graduated banking from flat to 33 degrees, etc.
The hall gives each person a 'hard card' when you begin. You register your card and pick one of about eight drivers as your narrator. Needless to say, the King clued me in whenever I used my hard card to access an interactive exhibit. The card also allows you to log-in to the hall's website and find out more info after you go home.
As we were wrapping up our tour, I ran into Brad Daugherty (again) and Michael Waltrip at the HOF. They were there to tape their Showtime NASCAR shoe. I'm pretty sure neither intended to be spotted. But Brad was nice enough to shake my hand when I reminded him we sat next to each other on the plane to Vegas. Mikey kind of just nodded, but then he turned his back. He clearly didn't want to draw any attention.
The hall has over a dozen cars from past and present. The interactive technology is pretty cool. And what would NASCAR be without a nod to its
current
drivers and sponsors who help draw fans and pay the bills. If I left with any unmet expectations, however, it might be the limited amount of memorabilia.
Don't get me wrong. The stuff in the display cases is quite cool and is from some of the expected drivers - the Pettys, Earnhardt, Fireball, the Allisons, etc. And the hall included some car parts - some legal and some parts confiscated by NASCAR after instances of
cheating
...err, fudging.
It seemed, however, to be sparse. Maybe I feel this way simply because I didn't have the time to look at every detail or read every note card. The King had 200 wins and 7 championships. Earnhardt had 7 Cups and is arguably the sport's biggest figure today - even almost 9 years after his death. Yet the items on display for both were largely limited to the same size display cases as all others. Additional memorabilia will likely be collected for specific drivers as they are inducted to the hall each year and as the hall gets some age on it. Like all museums, I'm guessing some things will rotate on and off display.
After the HOF tour, we returned to a local law office overlooking the Carolina Panthers football stadium for an additional meeting, a bit of booze, and some appetizers. (Yes, believe it or not, toomuchcountry held his own with high-end beer, wine and fancy hors d'oeuvres vs. his normal Schaefer, summer sausage, and saltines.)
The featured speaker was
Steve Hallam
, the director of competition for Michael Waltrip Racing. Great guy. He spoke about his transition from Formula 1 to NASCAR. I had a chance to chat with him a bit before and after his remarks. One of his constant comments was his admiration of the fan dedication and interest in the sport, tracks, drivers, etc.
He had some really good one liners such as:
Bristol is as close you can get to ancient Rome in the 21st century.
A quick car in F1 is called...a quick car. In NASCAR, a quick car is called...bad ass.

It was pretty funny when he said he enjoyed the spectacle of Bristol as much as F1's Monaco - though he acknowledged his wife (who was there) didn't quite think the same way. As a car guy, he said competition is the same regardless of its form. I thought that was a pretty neat assessment.
Here are several pics I took during our two-hour tour.
Jimmie Johnson's 4 Sprint Cup championship trophies. Sadly, the display looks big enough for a fifth.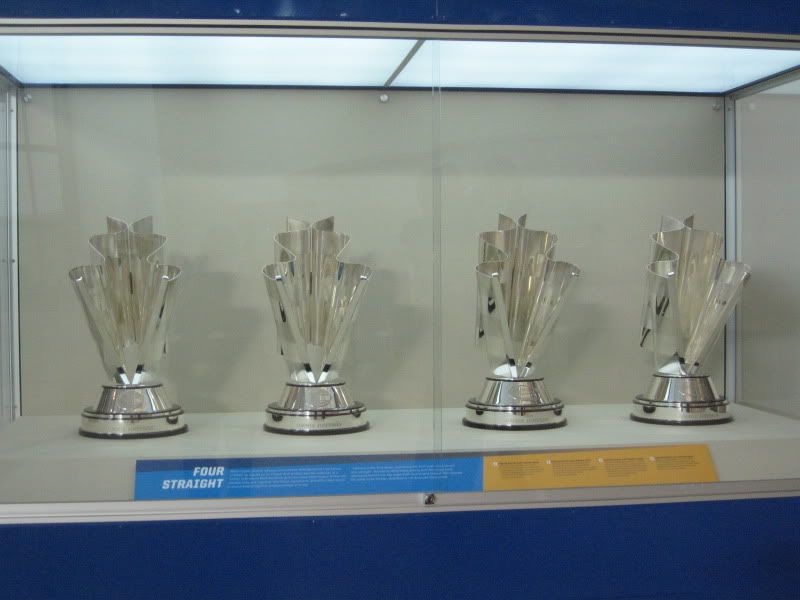 Rusty Wallace's 1989 The Winston trophy and Kodiak Pontiac after an all-too-close encounter with the Tide Ride of Darrell Waltrip.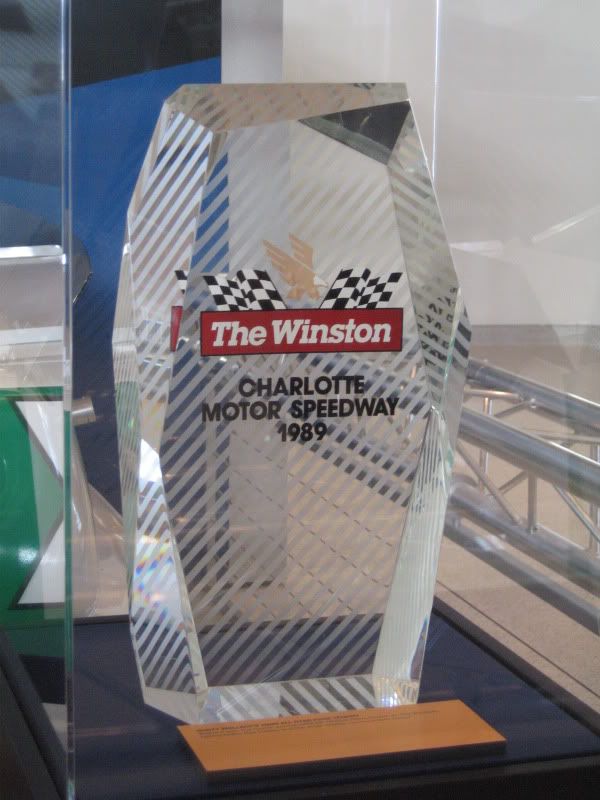 A jacket worn by the Gipper, President Ronald Reagan, when he attended the King's 200th victory at Daytona's Firecracker 400 on July 4, 1984.
A couple of helmets worn by the late Adm Petty.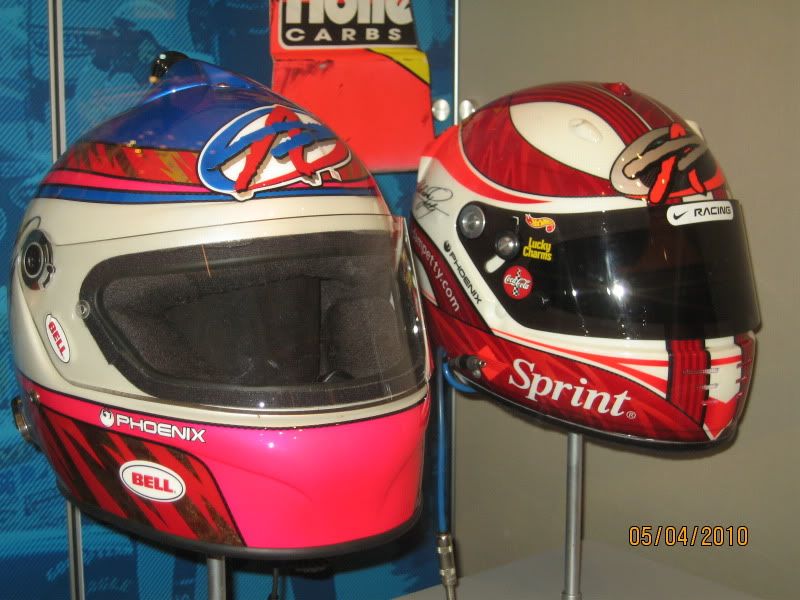 One of my favorite pieces of memorabilia in the hall - the red and white checkerboard crew pants from Bobby Allison's Coca-Cola team in the early 1970s. They're as ugly as homemade sin, but they are so iconic in drawing attention to a team's sponsor. Of our tour group, I was the only one to stay behind and take a photo. Even our tour guide didn't mention it.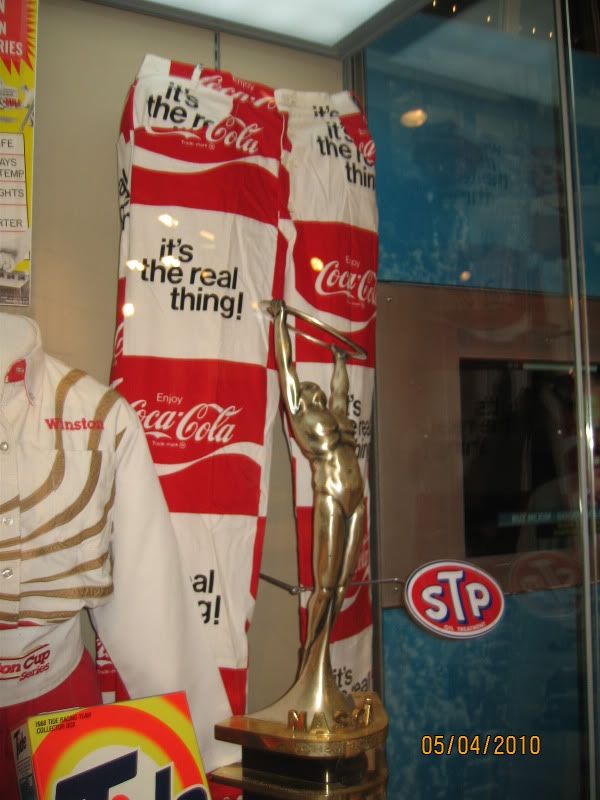 For anyone reading this under the age of 30, you may not have known the teams didn't always have in-helmet radios. Crew members chalked messages on pit boards like these and stood on pit road trying to get their driver's attention - lap speeds, when to pit, knuckle down and race harder, etc.
A jaw-dropping display is Glory Road where cars from the beginning through today are on display on a simulated track with graduated banking from the zero degrees of the old Daytona Beach course to the 33 degrees of Talladega. I got pictures of just about all of them.
Red Byron's coupe owned by Raymond Parks. Mr. Parks was the first multi-car team owner. Red Vogt built the cars, and Parks used the cars to promote his legit businesses. (He couldn't exactly advertise his not-so-legit likker haulin' business.) Drivers like Byron, Lloyd Seay, and Roy Hall won often in Parks' modified and later NASCAR Strictly Stock series. He's up in his 90s now and simply
must
be selected for this year's NASCAR hall of fame class.
Herb Thomas' Fabulous Hudson Hornet. I simply can't imagine having a track full of these things do battle at Martinsville, Wilkesboro, and Darlington.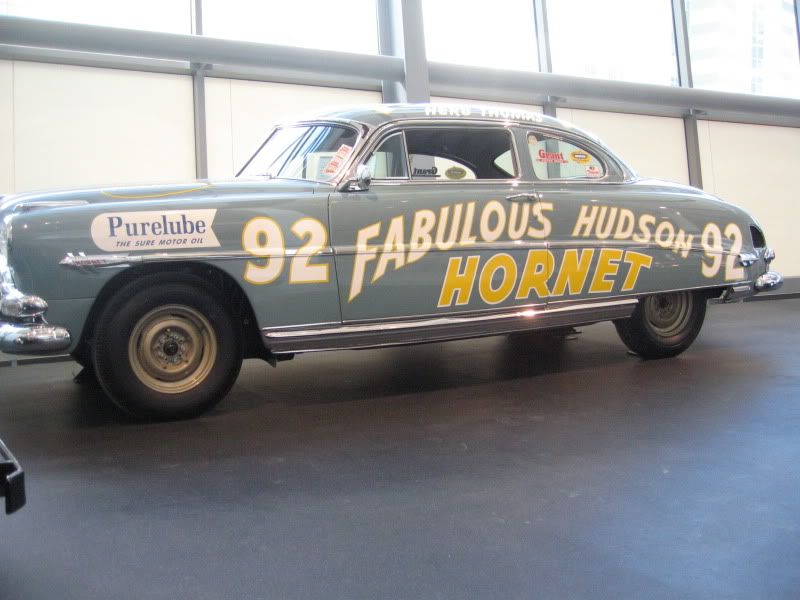 Lee Petty's Oldsmobile from 1959.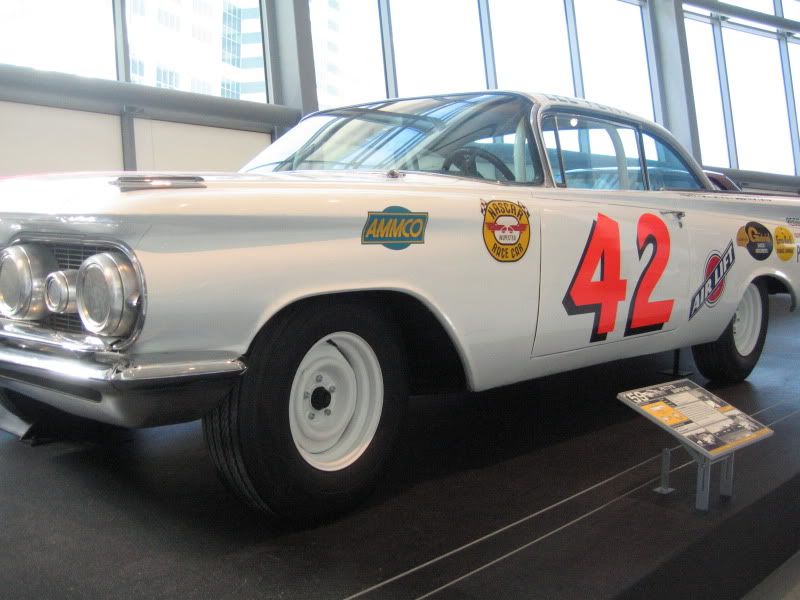 Fireball Roberts' lavender #22 Ford from early 1960s.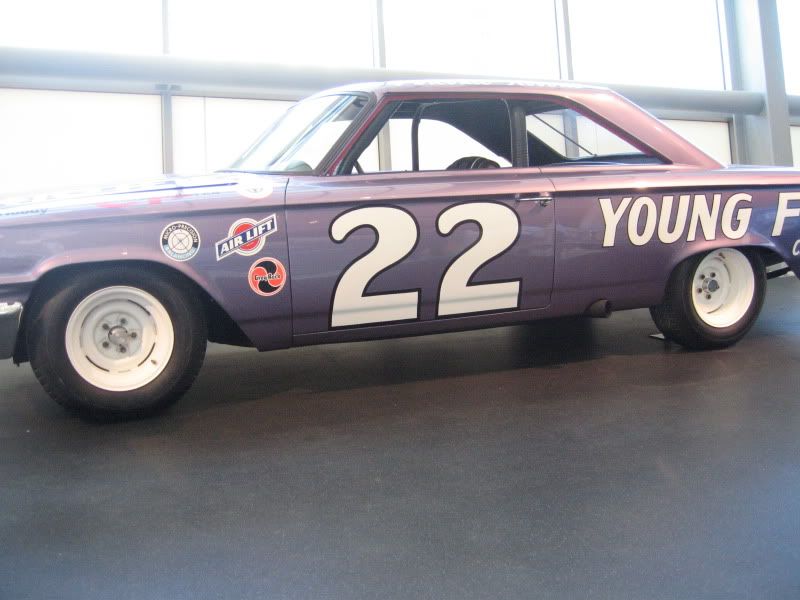 You're dadgum right this one is in here. The King's 1967 Belvedere.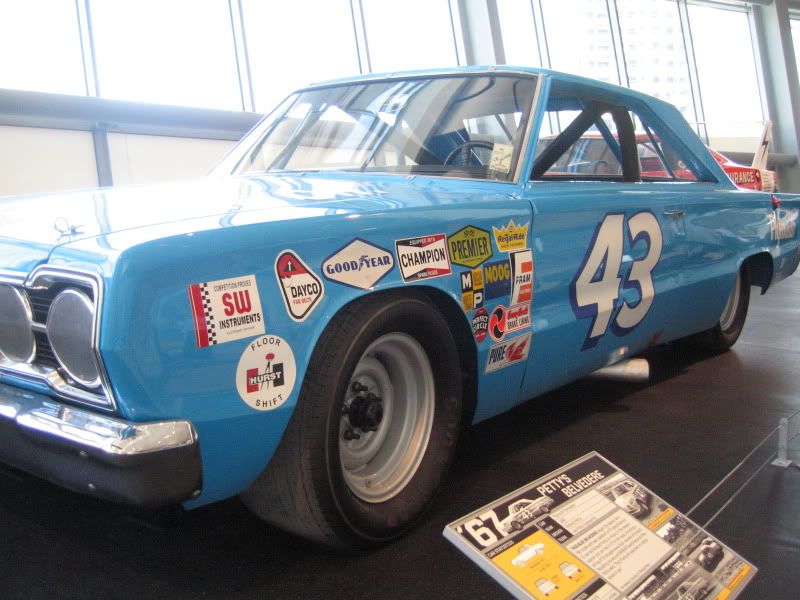 Bobby Isaac's #70 Harry Hyde-prepared winged Dodge Daytona from 1969-1970.
Cale Yarborough's #11 Junior Johnson/Busch beer Olds 442 from 1979-1980.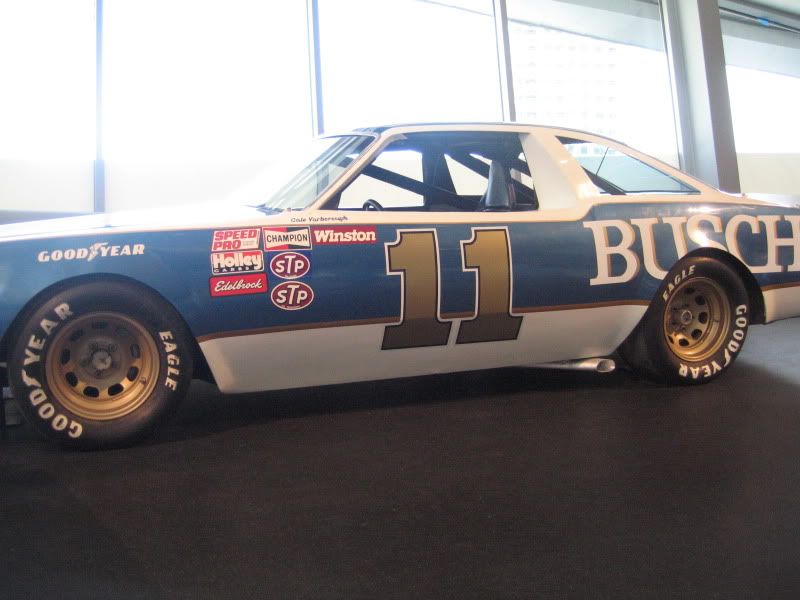 Darrell Waltrip's Dew Crew ride from 1981-1982. I liked the way they chose to display DW's car right behind Cale's Olds - especially considering Cale wasn't a big fan of DW's mouth and nicknamed him Jaws. (Cale was an early adopter. The rest of us caught on later.)
Ironhead's Monte Carlo from 1998 when he won he Daytona 500.
And to acknoweldge the hall is a NASCAR HOF - not just a Cup one - the late Richie Evans' modified was included.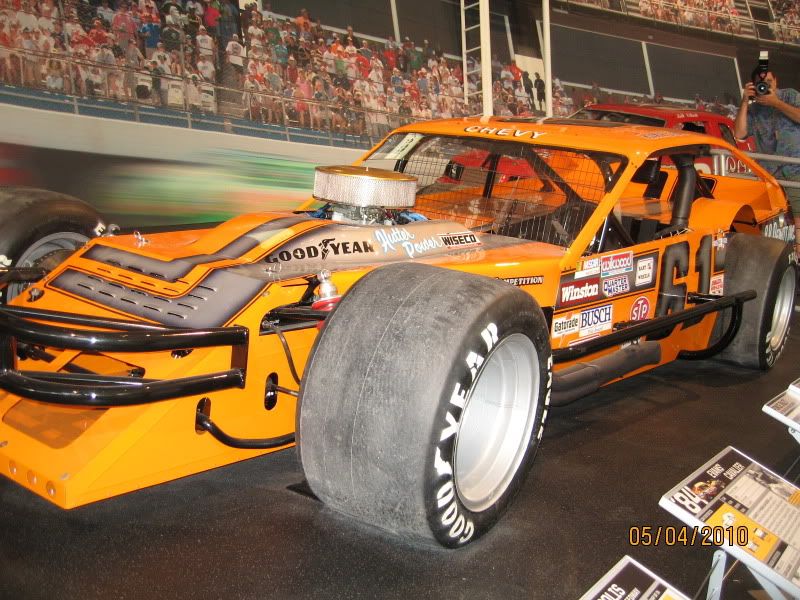 Here's another cool exhibit - The remains of the cars driven by Cale Yarborough and Donnie Allison following their last lap crash and scrap at the 1979 Daytona 500. We were
told
these were the original cars. But the paint and decals seemed to be in awfully good shape for two cars wrecked over 30 years ago. During that era, I think teams were still re-skinning cars as much as possible vs. tossing them on the scrap heap as has become the norm. I left wondering if Junior Johnson and Hoss Ellington had the presence of mind to hold onto these cars with a mental "what if?" about a future display - or if the hall operators simply did a pretty realistic re-creation and is snowing its visitors.
This case includes the driving uniforms and other memorabilia of Janet Guthrie and Wendell Scott. I'm sure a debate will soon begin if this case represents enough space and is done in the right way to show the impact of non-white, non-male drivers and other participants. For opening day, I think its fine.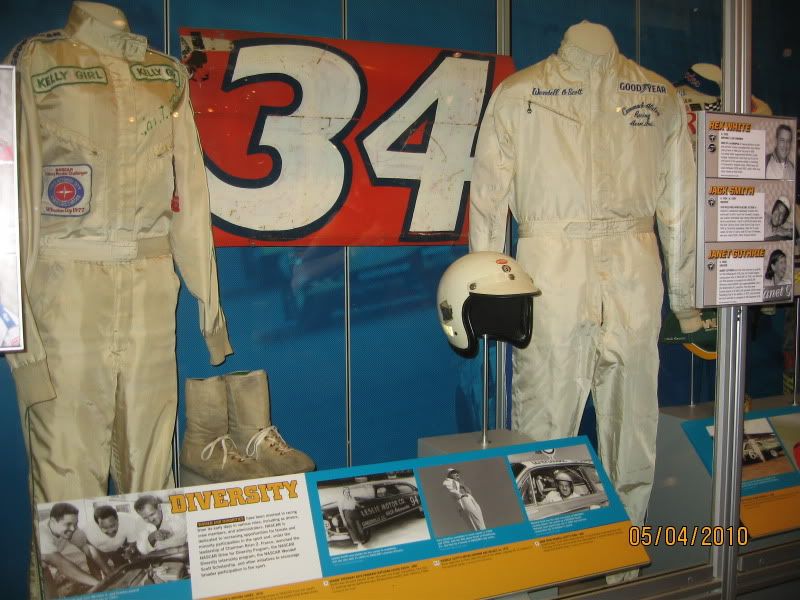 Here's the Union76 observation ball from Daytona International Speedway.
The hall does have some quirks about it. Some of the interactive features didn't work with my registered 'hard card'. I didn't sweat it too much and just moved on to the next exhibit. If I were a paying customer, however, I wouldn't be happy. And if the staff end up constantly trouble-shooting cards or displaying 'out of order' signs, lines will grow long and tempers will get short.
The other odd thing to me is some of the details. In an art museum, a professional curator works to understand and document everything about an artist, the medium, and sometimes even the meaning of the art. I've never been to any other sports halls of fame, but I'm guessing they do a good job of cataloging and documenting their collections.
But I picked up on a few things that didn't seem quite right. For example:
A Winston Cup Grand National Series sticker on Bobby Isaac's car. RJ Reynolds didn't begin sponsoring the Cup cars until 1971. The winged Chargers ran in 1969 and 1970.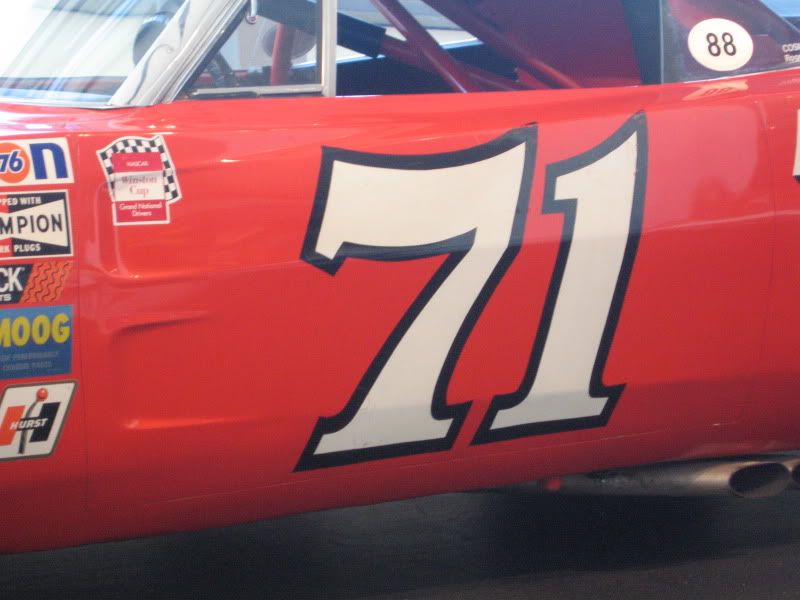 A Petty Engineering Ford crew shirt supposedly from 1969. The company formed by Lee Petty was originally known as Petty Engineering. But somewhere in the early 1960s, he, Richard, and Maurice re-named it Petty Enterprises. And in
this picture
from 1969, the crew shirts clearly show Petty ENTERPRISES vs. Engineering. So I left confused.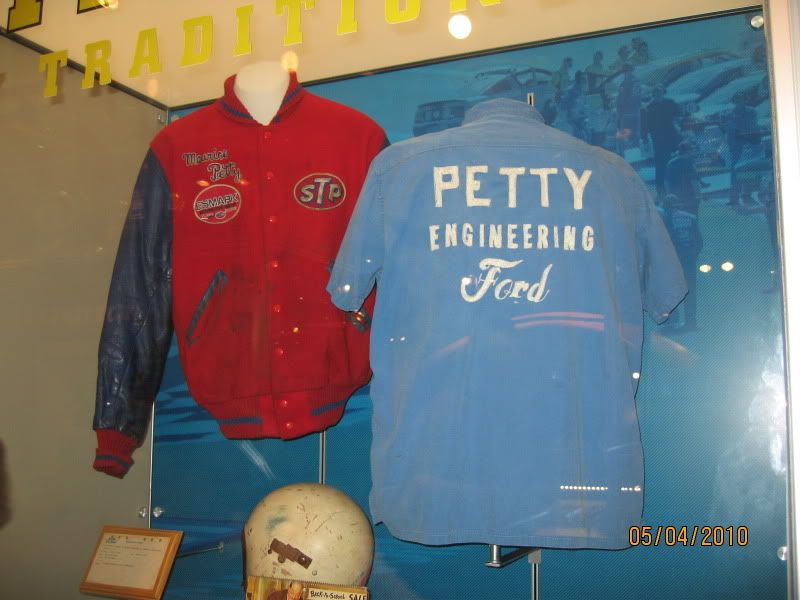 Glory Road displayed this Bobby Allison Miller Buick - one that had been transitioned to a second life in another series. It seemed weird to me that the chose to include this one with its additional non-NASCAR series decal - especially since this really wasn't one of Bobby's key cars over the years. Seems one of his AMC Matadors, the gold #12 Stavola Miller Buick in which he won his final Daytona 500, or his white #22 DiGard Miller Buick in which he won his only championship would have been a better choice.
Overall, the whole evening was a very cool experience. After the tour and Hallam comments, it was on to dinner and then a successful meeting on Wednesday. A great trip all the way around.
My one regret? Forgetting to add my own special touch to the hall. I should have taken a Schaefer empty and left it amongst the other special memorabilia.
TMC