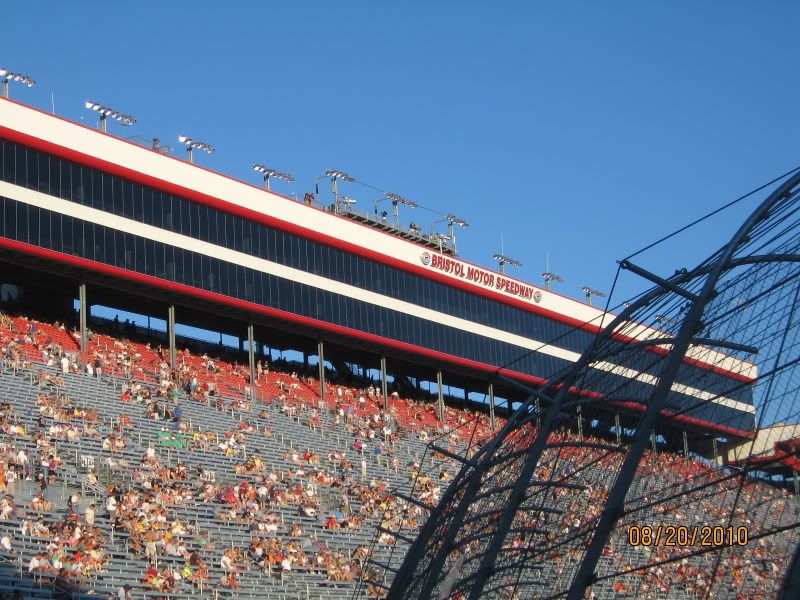 Last weekend, I made my 10th trip to Bristol. My first few trips were to Bristol International Raceway as it was known then. More recently, I've been to Bristol Motor Speedway after the track was acquired and re-named by Speedway Motorsports, Inc. Though this was my 10th trip to Thunder Valley, it was only my 3rd night race to attend - and the first since 1998.
A friend of mine who couldn't use his tickets offered them to me. With tickets in hand, I rounded up a friend, and we decided to go. However, we didn't have a place to stay when I accepted the tickets and had no interest in paying ridiculous hotel rates or staying 2 hours away to find affordable ones.
Not to worry though! Its good to have friends. A fellow SHOFer told me he planned to go and rough it a bit by camping on air mattresses in a "garage" in a woman's back yard not far from the track. As it turns out, the garage was merely an aluminum frame with vinyl covering and sides.
Being one of the last ones to arrive Friday, there wasn't much room in the inn. So instead of sleeping
in
a garage, my friend Chet slept in the back of something that
parks
in a garage - my truck!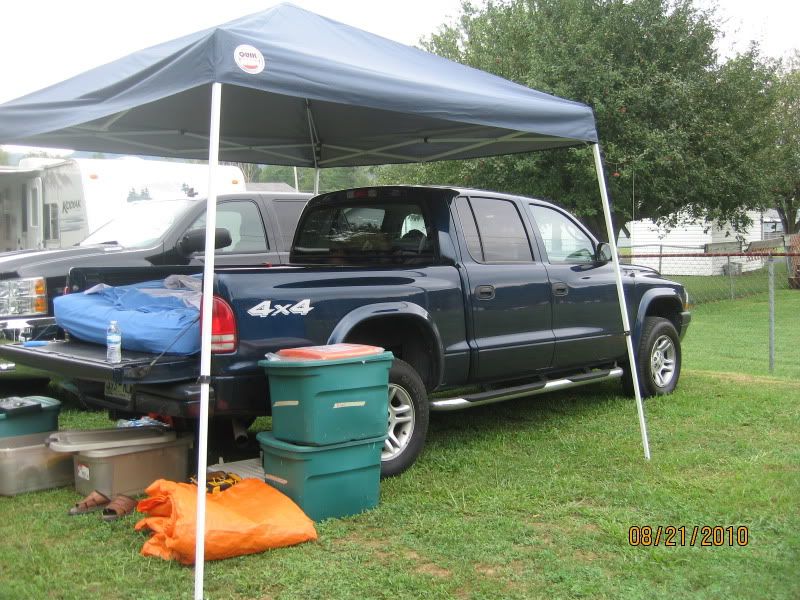 Through deliberate planning by his wife or merely a simple case of karma, SHOFer Philly and his son brought Schaefer-colored sheets for their air mattresses! (Once she was made aware of laughable linen moment, Philly's wife claimed it was all part of a grand plan. We think otherwise - that it was just another in a long list of magical Schaefer moments.)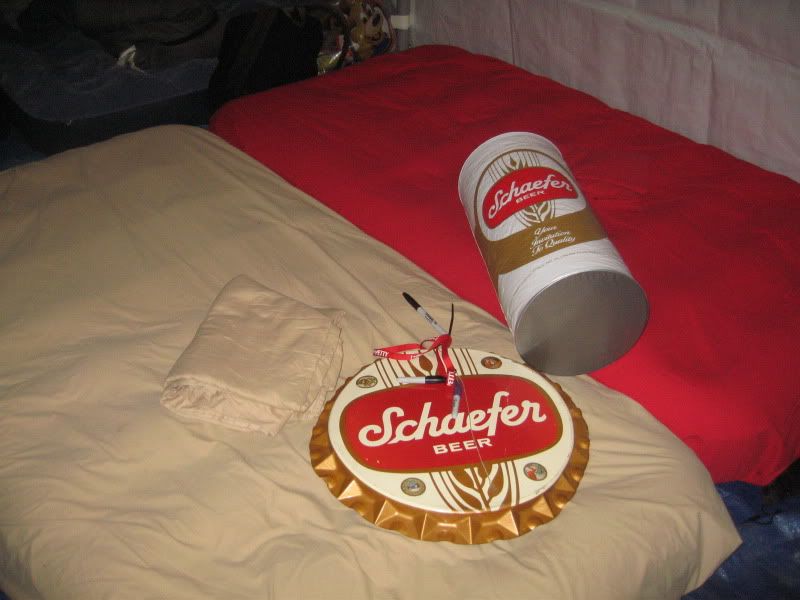 After getting settled in, meeting our fellow campers, sharing a couple of damn-glad-to-meet-you, introductory Schaefers, we headed for Friday evening's Nationwide race.
As we got ready to make the 1 mile walk to the track with our coolers, cushions, and scanners, Deirdre - a daughter of the woman in whose back yard we were camping - offered to give us a ride to the track. She loaded four of us in her small car and dropped us off at the front gate. Along the way, we learned she is the army reserves, has already served in Iraq twice, and is scheduled to go to Afghanistan in 2011. Following the race, the Schaefer Hall of Fame and Ring of Honor members present voted to induct Deirdre as a member of the Schaefer Ring of Honor for her sacrificial service in helping to defend this nation against its enemies. She'll soon be receiving one of our member t-shirts and be entitled to all the rights and privileges therein.
While the crowd was considerably short of a sell-out, the race still had a solid turnout. Many other Nationwide race promoters (and some Cup promoters...cough...Fontana) would give their left lugnut to have the number of butts in seats as Bristol. Clearly, NASCAR and track management wish they could pack 'em in for both night races. But even with that un-met goal, a solid number of people showed to see a whale of a race.
We saw arguably one of the best NASCAR races in a long time - Cup or Nationwide, superspeedway or short track current day or yesteryear. It was simply a great race. I'm not sure if it was the car design (Nationwide vs. Cup's brick), the brevity of the race (250 laps v. 500), the hunger of the drivers, or the devil-may-care attitude of the Cup interlopers. But Kyle Busch, Brad Keselowski, Elliott Sadler, and Dale Earnhardt, Jr. put on a great race for the fans. Of course, with KyBu and Kez up front, you
just knew
controversy was going to arise. And it did.
Following the Nationwide race, we walked to a nearby campground to meet a couple of friends from a Richard Petty Message Board I frequent. Upon arrival, I finally got to shake hands with Brian "200WINZ" Hauck. I've known Brian for 3 or 4 years - but we'd never met face to face. If you've been a regular reader here, you may recall Brian provided me a lot of pictures and other information about races he attended at
Trenton Speedway
- including the 1970 Schaefer 300. As big a Petty fan as I've been over the years, I can't compete with the number of races he's attended or the number of times he's met members of the Petty family and crew.
Brian brought along some items from his racing collection. One of his mementos blew me away. Following Richard Petty's 7th championship in 1979, the King had several additional customized belt buckles made for several crew members and special friends. Though I'm still not fully clear how he did it, one of the buckles found its way to 200WINZ.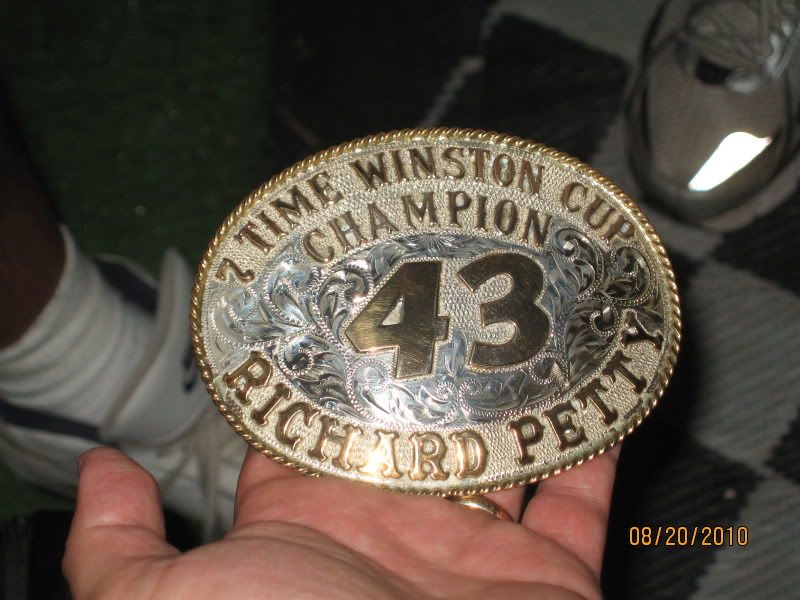 After our meet and greet, a review of his collection, and a toast of the required Schaefer, Brian donned his Schaefer Ring of Honor shirt for his first official trackside wearing.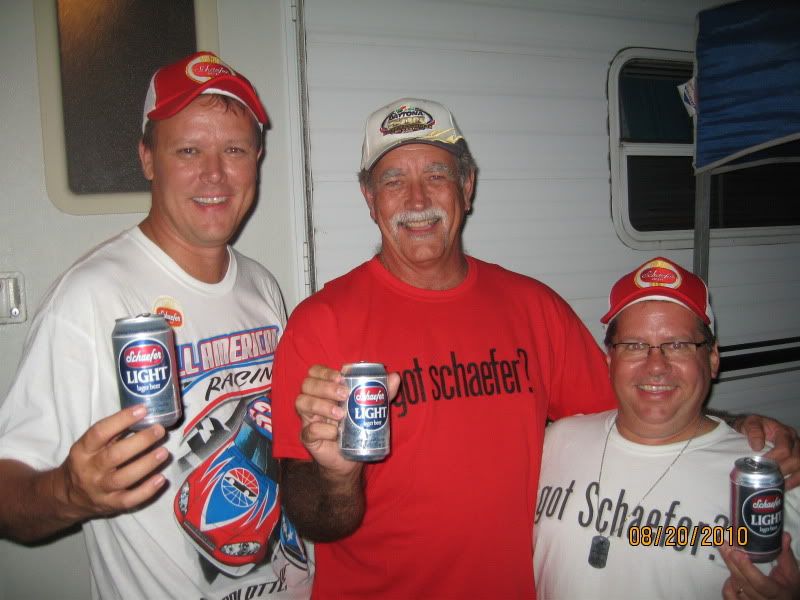 Lots of fans say they miss the "old" Bristol where the bump-and-run was about the only way to root and gouge your way to the front. Never mind the "old" Bristol was the middle-aged Bristol. The
original
configuration allowed multiple lanes of racing - like its now returned to.
Interestingly, Kyle Busch gave the fans exactly what they have been screaming for - the bump and run with 20 to go in the Nationwide race. And he bumped Keselowski who supposedly folks don't like either. Yet, when Kyle won the race - everyone booed. Go figure.
Now ponder this if you will. What if Elliott Sadler had been the one to bump-and-run Kez? Or better yet - what if The Chosen One, Ol' Junebug - had turned his former employee and gone on to win the race. Ya think the reaction might have been different from the sizable crowd?
After some post race bench racin' with our friends, we headed back to the campsite where the stroke of midnight passed without even being noticed. Music blared, the grill roared, cooler lids flopped repeatedly.
The
day
...er,
night
...umm, early morning ended around 4 AM. And we still had the rest of Saturday yet to go...
TMC