Memorial Day to Labor Day - Holy cow, the summer days just fly by. We're not quite to Labor Day just yet. But August is the loner month of the month - the one that can claim no holidays. Unless Sweat Day qualifies as a holiday in which case
every
day of August is a holiday.
So we'll all hunker down in the A/C, send our kids back to school, work 5 days/week over the remaining dawg days of summer, and press forward to the official end of summer: Labor Day weekend.
As we begin the final month of the Summer Triad, its time for a look back. I'd like to schow how the Schaefer Hall of Famers and Ring of Honor members schelebrated their schummers.
June - Lynyrd Skynyrd concert in Charlotte, NC
They ran into Uncle Scham.
SHOFers Philly and Cuba even met a guy wearing a Schaefer shirt! They told him about the SHOF and asked him why he had the shirt. His lame answer was "I don't know". That's one poor, lost soul folks.
Here is future SROH (awaiting receipt of his immigration papers and rabies vaccination) Pat introducing himself and the Schaefer to a NC PYT. Clearly, she was within the city limits. The bigger question for Pat is whether she was over the
age
limit.
OK, upon further review - forget the age limit discussion. I'm sold. Kansas prairies aren't as flat as this tummy - or as adorned. This may be my new desktop wallpaper at work if I don't get busted by our ethics and compliance / beer-snob department.
June - TMC's new belt bling - I found this belt buckle on ebay and simply couldn't pass up the opportunity to bid on it. Down the stretch, there were three serious bidders: me, myself, and I. When the auction ended, I thrust both hands in the air victoriously as I stared at my winning bid of
one red cent
. Plus $6 shipping of course.
I mistakenly thought the buckle was a promotional item for either Al Loquasto or Kevin Cogan - two Indy drivers who at one time had a sponsor relationship with Schaefer. Once I researched it, however, I learned the buckle was related to neither driver. Instead, it was associated with Mexican driver Josele Garza who frequently drove a #55 Machinists Union/Schaefer car in the CART series. So going forward, I prefer to go by the nickname of Señor Tick vs. toomuchcountry.
As the calendar turned to July, SROH member Ron from McDonough, GA (aka "Bruton") loaded up his young'un and headed to Daytona for the Coke 400 NASCAR race. Along the way, he stopped in Cordele, GA to load up on necessities.
Three cases of Schaefer, a single can of sunscreen, and a change of clothes. Anything else needed for a trip to Daytona? Nope. He was good.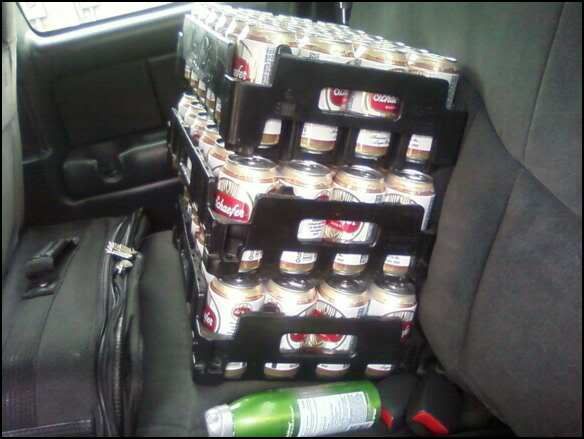 Race ready. Schaefer and The King. Nuff said.
Pimping out JD's Bait & Tackle in McDonough, GA ... in case you are ever in the neighborhood with a mind to drop a line.
While Bruton was in Daytona for the 4th of July, Cuba and his wife Havana Montana schelebrated the 4th in Charlotte...with Schaefer of course. Could anything be more patriotic than drinking America's oldest lager?
All the action didn't happen in the Carolinas or Florida. Cleveland, OH's SHOFer Uncle D attended the
Good Guys Rod & Custom
car convention in Columbus, OH again this year. He pocketed a Schaefer to ensure it was available on demand.
In late July, SHOFers Philly and Rookie shared some brew and a low-country boil with High Point, NC's SROHer Rev. Randy at the beach. (You are truly missing something if you've never experienced low-country cooking in South Carolina.)
Philly even created a Schea Schell mosaic of the Schaefer logo!
I couldn't let my fellow SHOFers claim all the fun. I traveled to Schan Antonio, TX the last week of July and immediately put my plan in action to procure Schaefer and schare the experience where I could.
First thing I did was sport the Original SHOF t-shirt at the
Original Mexican Restaurant
.
After dinner, my super-duper co-workers went with me on a multi-mile drive to an H-E-B grocery store to look for Schaefer. I was truly excited at finding 6 cases of Schaefer Light at the store at
11650 Bandera Road
. I bought 3 of them and managed to get them home safely courtesy of Southwest Airlines. Well, all but 6 cans of it that my team and I shared after the successful search.
Look Ma! The light version is
so
light I can lift 6 cases with my fingertips!
After giving them a night to chill in my in-room hotel fridge, I took a sixer of them in a plastic, ice-filled baggie to the Alamo. Texas's treasure.The symbol of its fight for independence.
I passed my camera to a co-worker, removed a Schaefer from the bag, and headed for the front door. As soon as I cracked it, took a long swig, and smiled to pose for the picture, a park ranger tossed me. He said no alcohol was allowed on park property. But I really think he was just a Natty Light drinker who was jealous of my beer choice and harbored bitter envy that he was not in the SROH.
So after a few minutes of waiting, I crossed the street, waited for the ranger to be occupied by Texas-history-stumped tourists, resumed my drinking, and got my pic at the Alamo after all.
If you ask me, I think Schaefer unifies folks instead of dividing them. If Colonel Travis, Jim Bowie and Davy Crockett had been able to sit at a table with General Santa Anna and some cold Schaefer a lot of needless bloodshed might have been avoided.
What a great schummer. I can't wait for the fall to begin in Scheptember.
TMC