As mentioned in my previous entry, I had the great fortune of living a dream last week. For the first time as a 35+ year fan of Richard Petty, I walked the floors from stem to stern of Petty Enterprises. Today, the location is known as
Petty's Garage
. But for me as I walked, it was about racing history.
Make no mistake about it, this is the home of the King. His presence is noted everywhere. Even the forklifts are painted Petty blue!
I e-mailed the folks at Petty's Garage a couple of times before going just to make sure I could get a tour. Greg Steadman, a former Petty Enterprises crew chief and now general manager of Petty's Garage, was supposed to meet with me. (The red arrow is over Greg.) Because he was busy with work as a GM - and not as my personal shop tour guide - he didn't have time to meet with me, and I understood. Libby, the receptionist, was super though. She paged Doug Murph (underneath the blue arrow), and he spent the better part of
two hours
touring me through the shops.
The first place Doug took me was a long garage bay with several race cars and many of Richard's collected street cars from across the decades. As soon as we stepped through the door from the office to the garage, I was nose to nose with the 50th anniversary of Petty Racing Dodge driven by Bobby Labonte.
Another car that caught my eye right away was the tribute show car for Winston Cup Series champions. The cars were rolled out in 2003 as a nod to drivers who earned Winston Cup championships as R.J. Reynolds was leaving the sport at Nextel was arriving. Here is a photo of the King posing with his car then...
...and here it is in the Petty shops today...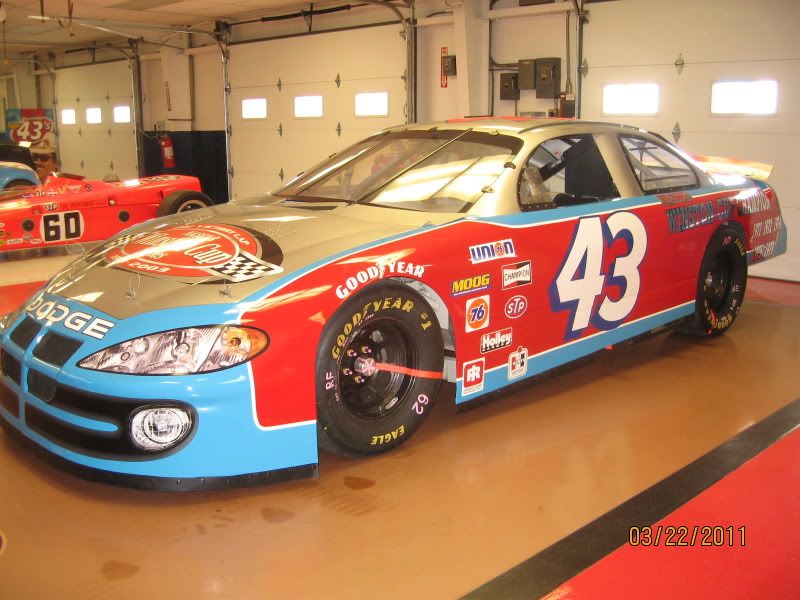 Amongst the NASCAR cars and old-school Detroit sedans was this turbine Lotus from the 1968 Indianapolis 500. Joe Leonard won the pole in the STP car (that would naturally be the sponsor, right?), and he nearly won the race. I'm not certain if this is THE car or if its a replica. Either way, it was a cool sighting amongst its full-bodied brethren.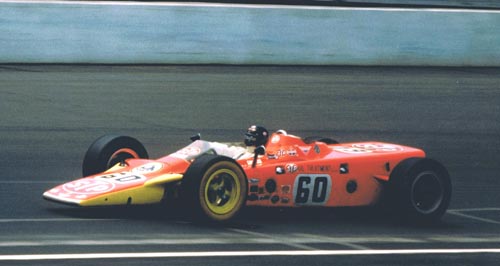 Source: http://forix.autosport.com/8w/penske-mercedes-pc23-equivalency.html
Doug then walked me into the heart of the action. I immediately recognized the well-lit shop from Petty photos shot in the latter years of Petty Enterprises. My head was spinning a bit. And I'm not sure how well I could smile with my jaw unhinged.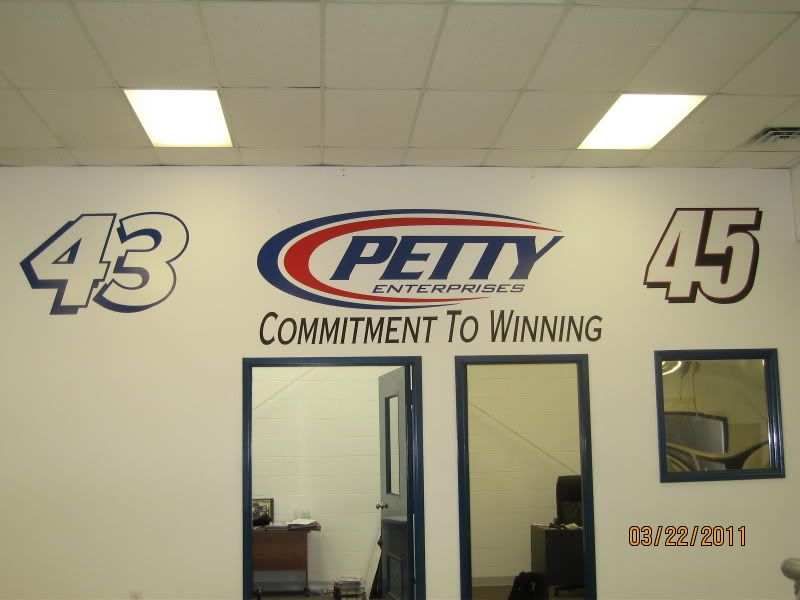 This 1964 Plymouth is being restored by Petty's Garage. Murph said while the car itself isn't a Petty-original, the engine is a legit hemi race engine from back in the day. The orange car behind it is a customer's 1969 street Dodge Daytona. Much of it is being restored with authentic Chrysler parts still on hand in the rafters and parts room of the facility.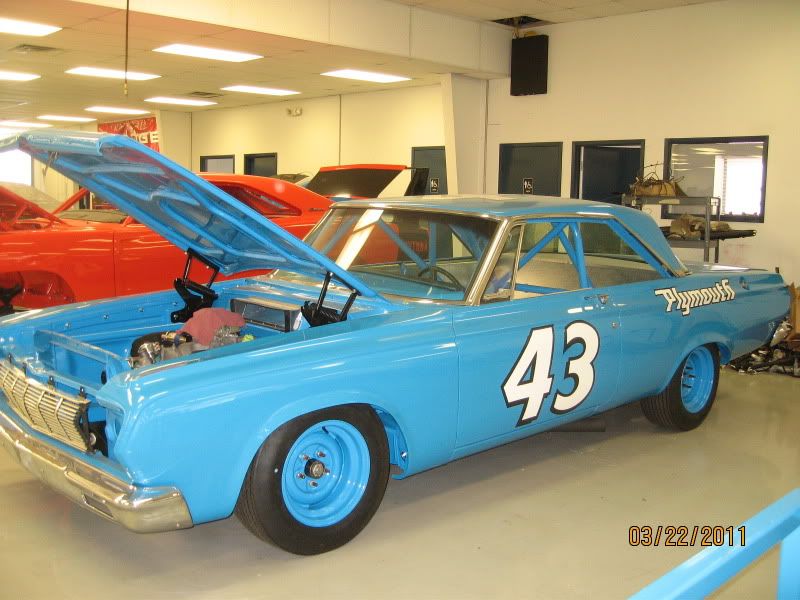 Its a bit tough to tell in this photo, but apparently the 'swoops' in the upper corners of the valve covers was just one element that helped add horsepower to the hemi. The covers were so new that valve cover gaskets weren't yet available, and the team had to create their own.
I was told Chrysler didn't deliver the hemi engines for the 1964 Daytona 500 until about a week before Speedweeks was to begin. Maurice Petty did most of the tuning on the engines in the garage area at the track. Once at the track, Richard made several practice laps and returned to the garage to find water leaking from the head. He spot welded what he believed to be the source of the leak, and he went on to win the first of his record seven Daytona 500 wins. When the engine was disassembled back in Level Cross after Speedweeks, apparently the inside of it was a mess. Richard told Doug it may not have lasted many more laps had they been needed.
After we left the main room, Doug took me through one door to yet another. As I'd heard before going, floor levels often didn't match. You could easily tell where one building had ended and another begun. When Chrysler started scaling back the support of teams in the early 1970s, a lot of parts and equipment from Ray Nichels' Dodge operation was moved to Petty Enterprises. Doug showed me the 'Nichels room' with all sorts of stuff that hasn't been touched much in almost 40 years.
He then walked me into a room full of still-mounted tires. I saw several v-tread pattered 'rain' tires from when NASCAR brainstormed running Cup cars in the rain if necessary at road courses. Several rims had Goodyear Eagles with yellow lettering indicating the tires were new - at least relatively speaking and compared to others I saw. This wheel caught my eye though - a Petty blue (not dark blue as used from the early through mid 70s) wheel with a Goodyear tire - not an Eagle brand. I'm guessing this might have been from 1967 through 1970 era.
He pointed out D-ring anchor points installed in the cement floor. I'm not enough of a car guy to know exactly their purpose - perhaps for frame straightening of a wrecked car? As I pondered that, he said "check this out" as he pointed to a brick wall with peeling paint that separated us from another room. He then told me it was the outer wall of the original Lee Petty race shop "reaper shed". And with that... I was at ground zero. Late 1940s. 35 year-old Lee Petty about to start a new career with two kids and a nephew helping him as he 'crew'. The place was a bit dark and certainly musty, but it was a bit surreal being the long-time fan I am. As the shop added larger and more modern additions, the original building became a crew uniform storage and laundry drop-off room.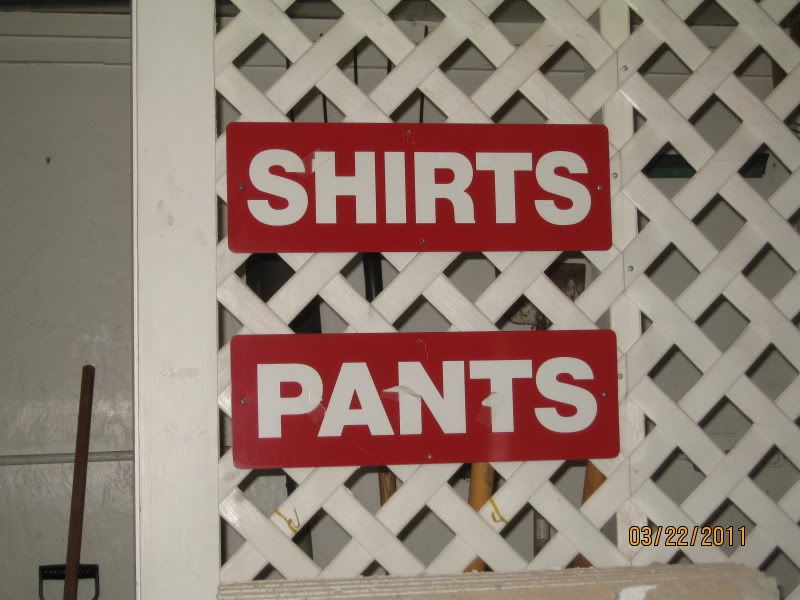 He also walked me through Maurice Petty's engine dyno room - the place where engines were built by 'Chief' for 190+ of Richard's wins, Kyle's ARCA win in 1979, Woody Fisher's 1977 ARCA win, Joe Millikan's late model sportsman wins in 1976 and 1978, and wins by other drivers such as Pete Hamilton, Jim Paschal, Paul Lewis, Buddy Baker, Marvin Panch, etc. A couple of newspaper clippings were still taped to the window frame through which Chief would watch his creations come to life. The clippings were faded from the original black and white newsprint to a curled, yellowish sepia.
One building he told me about - but we didn't visit - apparently includes a boo-coodle of old race cars racked one above another several layers high. Later, I could see a few of them as I got ready to leave. Many looked like Pontiacs and Dodges - perhaps from more recent times when raced by such drivers as John Andretti, Bobby Hamilton, Jeff Green, etc.
We walked back to where we started, and Doug said he needed to get back to work. Yet, I spent about another 20-30 minutes telling me a few more stories. One of them involved the late Bobby Hamilton, Sr. At Talladega (I think that's what he told me), Murph was massaging the right rear fender - fixing something, tweaking aero, whatever. He had to peel off the STP OIL TREATMENT sponsor lettering from the rear quarter panel and planned to re-do it. He worked from either end peeling off the letters and was down to the center section of EATME. Hamilton happened by, saw it, busted out laughing and said to put it back together so he could make some laps. Apparently crew chief Robbie Loomis came by, saw what was about to happen, went white and told Murph no way was that going to happen. It would have been hilarious if they could have pulled it off, but the King probably would have fired 'em all if they had. It was almost an Animal House float moment.
Also as a joke, Doug said they used some leftover decals to put the word "IN" on the drivers side window of the replica build of the Oldsmobile Cutlass 442 in which Richard won his sixth Daytona 500 in 1979. When representatives from Franklin Mint contracted to design and sell a 1/24 scale model of the car, they sent photographers to Level Cross to shoot pictures...tons of them. The Mint's release to the public was meticulously detailed - including by mistake the "IN" on the door.
Here is the car from the Richard Petty Museum...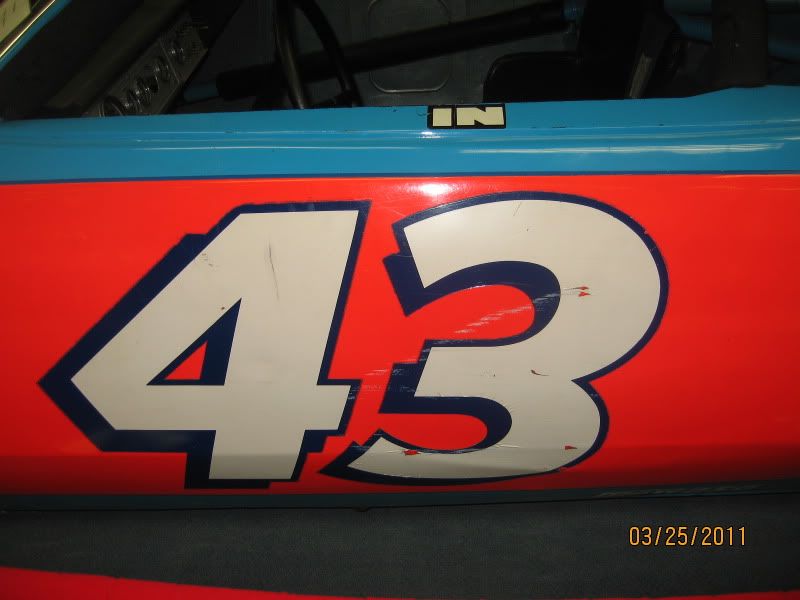 ... and here is a picture of the Franklin Mint scale model I grabbed from an ebay ad.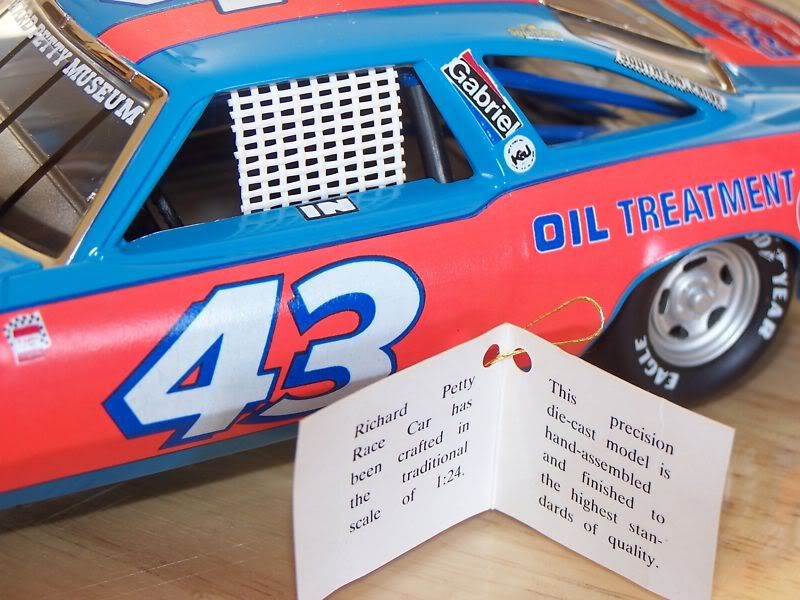 Another photo of the full car at the museum ... including the "IN"...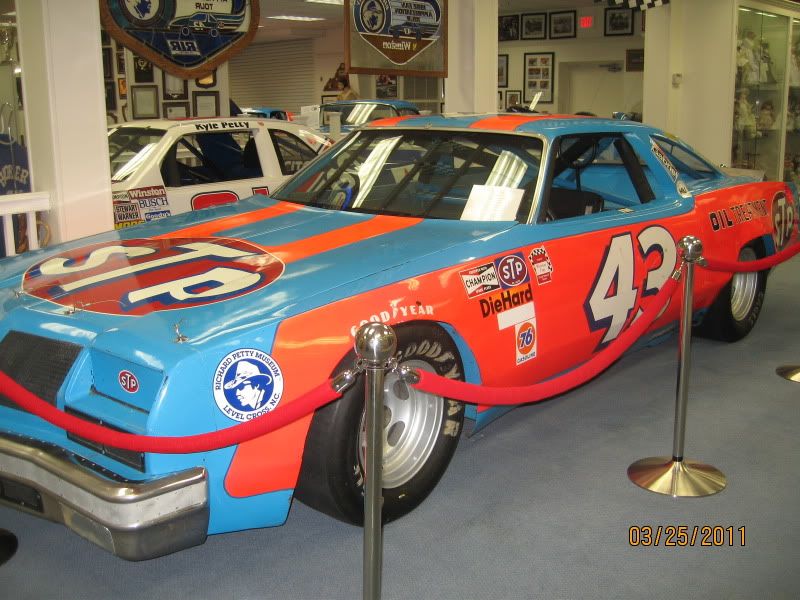 ... and the diecast version...
I will follow up this entry about Petty Enterprises: The Past with one about Petty's Garage: The Present.
TMC