As I turned from Highway 220 onto Branson Mill Road to head for Petty's Garage, I couldn't help but laugh and then stop for a photo at the Level Cross Volunteer Fire Department. Sure, I get it - I may be the last long-term Petty fan not to know the station is number 43 and understand that its not a coincidence. But hey, I was in tourist mode, and no amount of 43-related trivia was going to slip through my fingers if I could avoid it.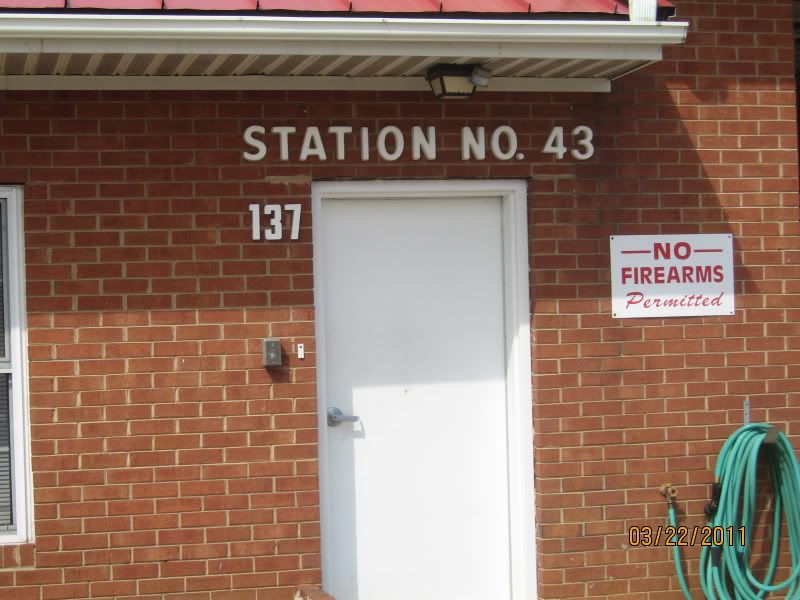 With my last entry focused more on the racing
past
of Petty Enterprises, I thought I'd center this one more on the
present
of Petty's Garage.
One of the most talked about projects from Petty's Garage is the customization of a limited number of stock Dodge Challengers. At least it starts stock - and then the guys at P/G take it over. Build #1 of course is owned by the King himself. With apologies to Henry Ford, one can order the custom Dodge by Petty in any color...as long as its black.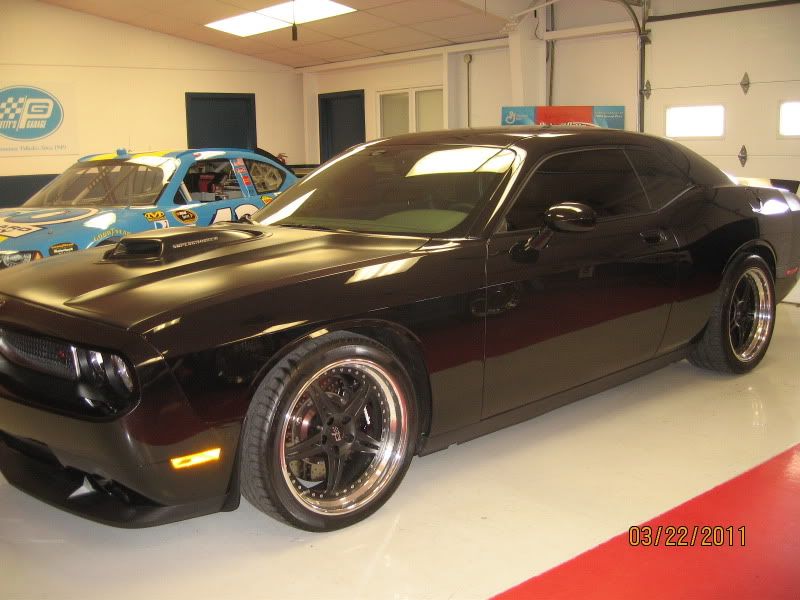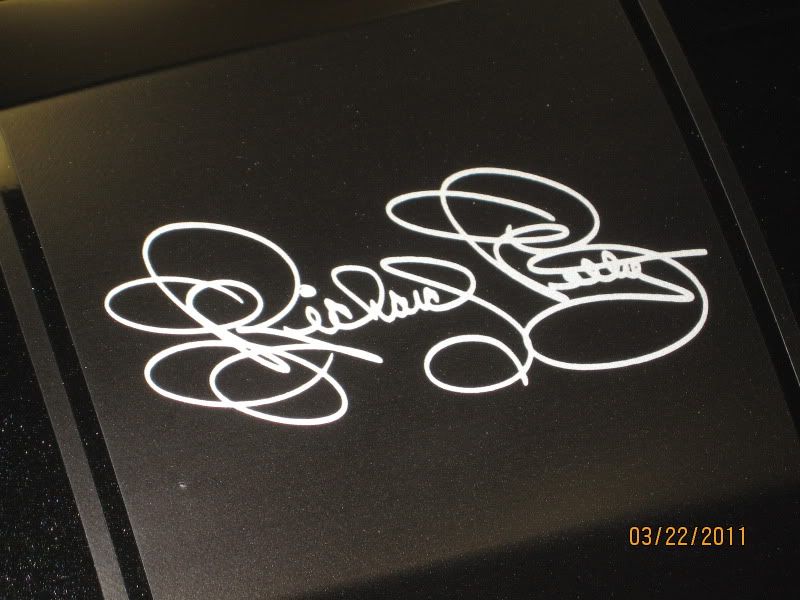 (As
blogged a few weeks ago
, former NASCAR driver Bobby Fisher has edition #5. Also, Jay Leno has one of the customized Challengers.)
On the opposite side of the garage from the Dodge Challenger was this 1986 Pontiac Grand Prix 2+2. I got to see
Rusty Wallace
win his first Cup race at Bristol in 1986 in his #27 Blue Max / Alugard 2+2. Richard made his
1,000th career Cup start
at Michigan in a 2+2. He also, however, suffered one of his worst wrecks by a blunt shot he took in his 2+2 during practice for the 1986 World 600. Doug Murph asked me if I recognized anything unique about this particular car. After saying 'dunno', he pointed out General Motors released a limited number of the 2+2 cars - pretty much just enough to satisfy NASCAR it was available to consumers in adequate supply. Apparently all of the production 2+2s were stock painted silver - except this one. Because Richard loves his personal cars to be black, this black one was given to him.
When we stepped into the primary P/G assembly room, my eyes immediately found one of the two cars I really wanted to see: the one-of-a-kind
Legacy by Petty
Challenger convertible. Dodge doesn't make the Challenger as a convertible, so the P/G guys had the opportunity to work their magic after cutting off the original roof. (The second car I wanted to see was the restored #40 Superbird of Pete Hamilton, but it had already been returned to its owner.)
The pictures below don't begin to convey how unbelievably hot this car is as you look at it. The coolest things to me about the car as a Petty race fan (I couldn't avoid the topic of racing entirely, now could I?) are the side murals depicting signature events of Richard's racing career.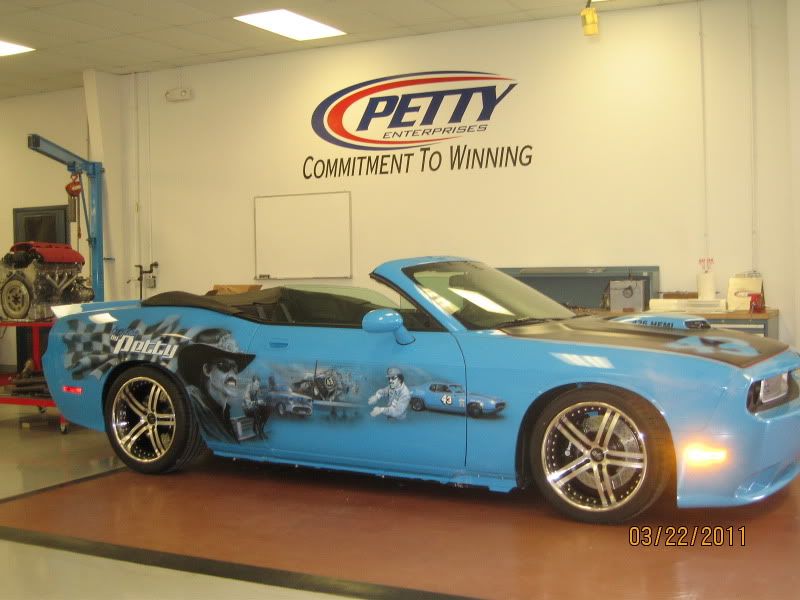 Each side's murals were hand air-brushed painted by Mickey Harris. Click the photo below for the full article about the design, build and painting.
After Doug was able to regain my attention, he pointed out a few other project in the shop.
P/G General Manager, Greg Steadman's, personal Dodge post-modifications.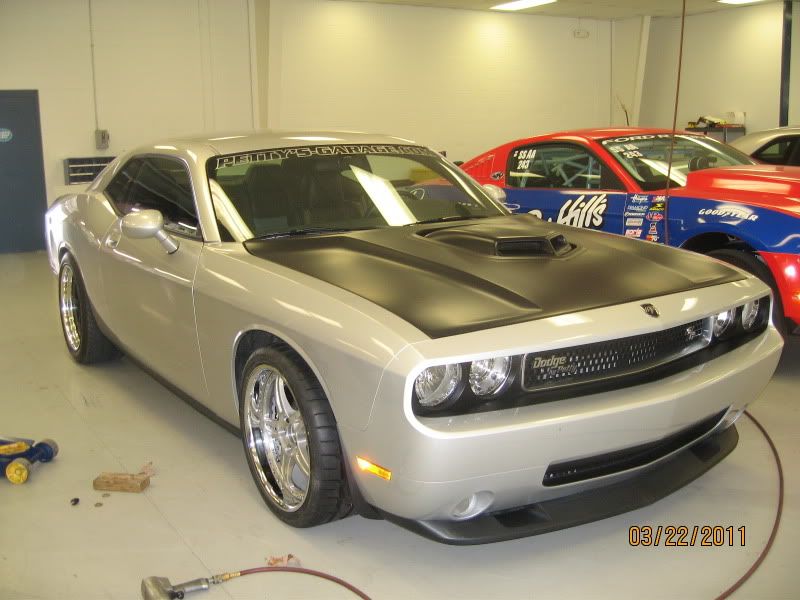 A Plymouth Barracuda belonging to Ronnie Thomas, former Grand National driver and son of legendary prankster driver Jabe Thomas. One has to see those rear tires in person to have a full perspective of just wide they are.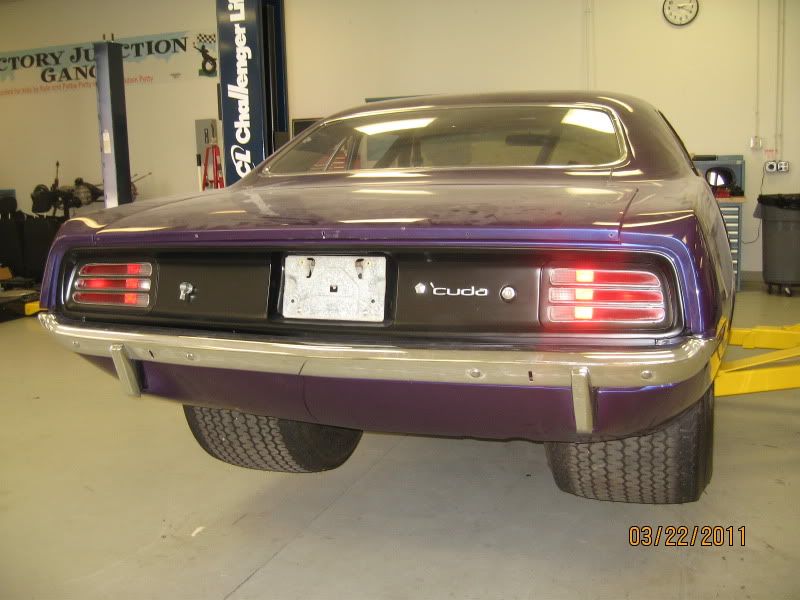 The Joey Arrington-built 540 Hemi engine in Ronnie's car. Even as it sat quiet, my brain processed the horsepower and sound that must roar through this thing.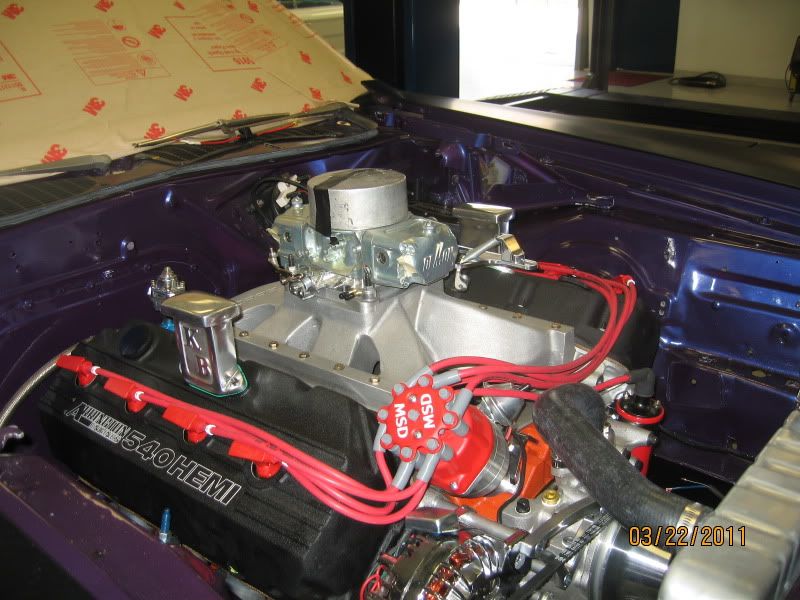 As we looked at this car, Doug Murph talked a bit about Richard's legendary 27-win season in 1967. He said Maurice Petty told him many of the wins came in a modified version of the 1966 body. Petty Enterprises sat the body lower on the frame and beefed up the engine. Apparently a special hood had to be fabricated because the body sat so low that the hood didn't smoothly cover Maurice's custom-built Plymouth engine.
The next car shown to me was also a customer's project. This silver Challenger will be stripped down and repainted black and gold. It'll get the P/G customized treatment - including new rims and specialty brakes. The updated version of the car will likely be unveiled at a
Good Guys
car show later in the year. (Schaefer HOFer Uncle D will like that as he has participated in a couple of Good Guys events with his restored 1955 Chevy Bel Air.)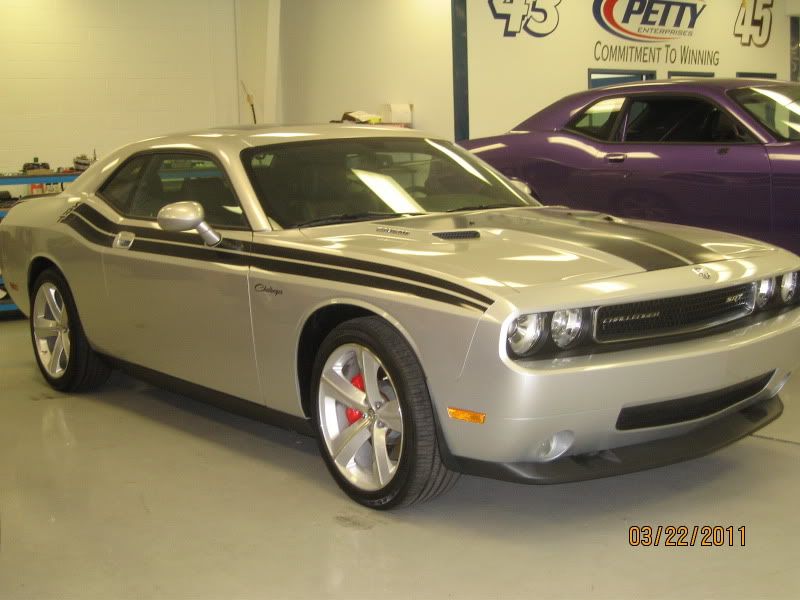 This is a restoration project of a 1970 street version Plymouth Superbird. Doug showed me the rear wing for it that was temporarily stored in the 'Nichels Room'. Its the room where all sorts of equipment and parts were brought to Petty Enterprises from Ray Nichels' Dodge shop in the early 1970s once Chrysler discontinued their factory support of his team.
Next to Ronnie Thomas' Cuda was another Superbird on a lift. It had already been painted hemi-orange and was getting suspension and brake work. Also in the main display garage, Richard had a white street Superbird that he apparently got in a trade for a used race car. By my count, that's three winged Birds and one Dodge Daytona I saw while there - plus a Bird I saw at the Petty Museum - which is more than I've ever seen in one location previously.
Doug showed me a view out the back doors of the Petty shops ... from a distance. Although we didn't walk all the way down to the metaphorical 'water's edge', he did point out a couple of neat old vehicles including:
a 1978 Chrysler Imperial owned by Richard that Doug thinks the King will want to restore at some point
an old Datsun or Nissan sports car owned by Kyle - maybe a 240Z from the mid 1970s.
a car belonging to Timmy Petty, Maurice Petty's son and Richard's nephew.
an old Dodge diesel cab from the 1970s with fading light blue and white paint - most likely this one used in 1978.

We then walked all the way back to the front of the shop where Doug told me he needed to wrap it up and get back to work. I snapped a final picture inside of Richard's Victory motorcycle. (Doug also had his own very nice, restored, late 1960s Camaro SS on the floor - although I didn't get a photo of it.)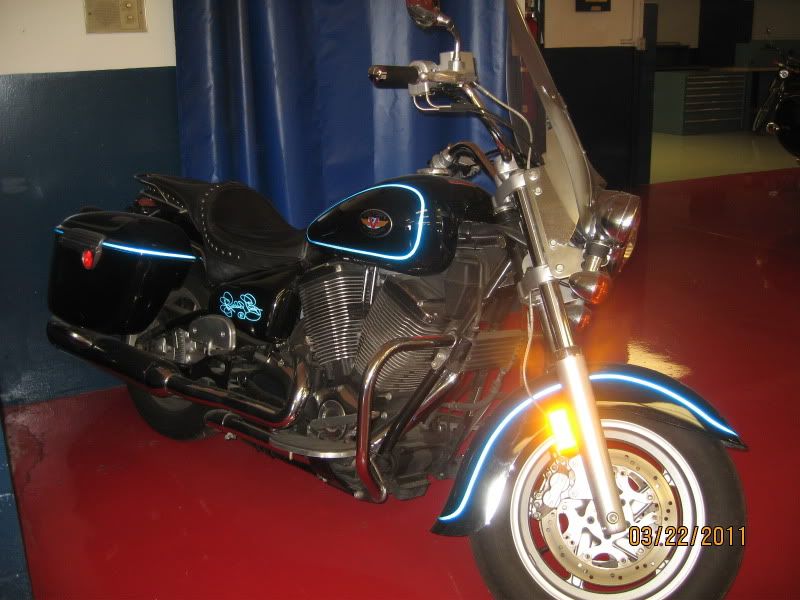 I went outside and roamed down the drive alongside the shop to see the home of the late Lee and Elizabeth Petty. For folks not familiar with Petty history, this is the home where Maurice and Richard were raised.
The rocking chairs Lee always sat in are still there on the front porch.
I headed back towards my rental car and decided to grab this one last photo of a Petty's Garage hauler. There isn't anything spectacular about it or anything of historical significance to it that I could tell. But with a digital camera, I figured what the heck, right? Snap away unlike in the film days.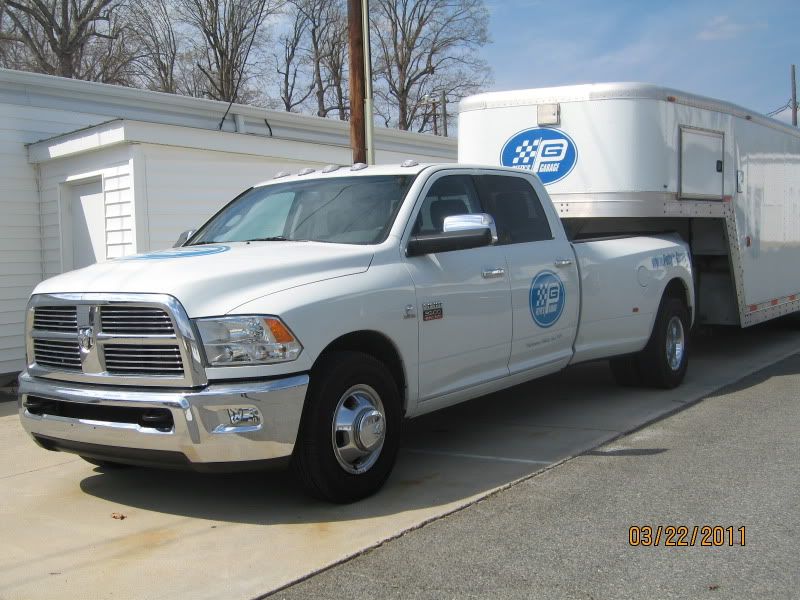 I'm so glad I paused that extra moment or two to take a silly tourist picture. Because after I snapped a couple versions of the truck, up rolled this black Lincoln coupe that parked just outside the main lobby door.
The door opened and there he was. The King. Hat, sunglasses, cowboy hoots. He tossed me a "how ya doin'?" as he closed the door. Just to return the greeting, I replied with not much more than "well hey King!" He commented on the warmth of the spring day and then inside the door he disappeared. He was clearly there for a meeting to get some business done - not to chit-chat with me about my 43 cap and Schaefer beer t-shirt.
So I'll label our meet-and-greet as a
close encounter
vs. a personal encounter. Nonetheless, his arrival was totally unexpected and capped a great visit. Doug told me earlier in the visit that he had been at the shop the day before. He suspected Richard may have gone to Charlotte the day of my visit to check on race prep for California. Turns out his mis-prediction was to my favor.
I followed him into the lobby - or at least tried to. By the time I arrived 20 paces behind, I could see his back in the meeting room into which he immediately went. I asked the receptionist Libby if there was any hope that his meeting might be a short one so I could have the chance for a hand shake before leaving. She really didn't know.
She made a final stroll with me to the parts department to get me a Petty's Garage t-shirt. On the way, I ran into Doug again. He was about as excited
for
me as I was myself. "He's here! Did you get to meet him? I thought you'd already left and missed him." I told him about the close vs. personal encounter, and he laughed about my long out.
I left a Petty book from the 1970s with Libby to see if she would have Richard autograph it for me. She agreed to make sure he signed it and return to me as soon as she could.
And with that, my visit was over. I wish I'd had more time. How I wanted to just sit on a stack of tires in the corner of the shop and eavesdrop on various stories about all the things that have happened in the almost 60 years of racing history in Level Cross, NC.
TMC