May 1992.
Winston 500.
Alabama International Motor Speedway.
Now known as Talladega Superspeedway.
PBR, Old Mil, Natty Light, The Beast, the Champagne of Beers, and...Schaefer.
ZERO Anheuser-Busch products (other than the Natty).
It was the King's final season. Jeff Gordon hadn't started Cup yet. Davey and Alan were still alive. The Kyle on TV was competitive. So was Mark Martin.
It was the first gathering of what has become the Schaefer Racing Hall of Fame. What started as a practical joke on a 3rd friend of ours who was a fan of Bud-sponsored Bill Elliott has evolved into a two-decade tradition.
We chose not attend the spring Talladega race in 2011. However, the six current members of the Schaefer Hall of Fame and multiple members of the Schaefer Ring of Honor are ready and raring to go for our annual gathering on the grounds at Charlotte Motor Speedway.
This year represents the 20th ANNUAL Schaefer Schindig. Next year, we will schelebrate the 20th ANNIVERSARY. Just as Schaefer is indeed the preferred, cheap, racing beer, its even better knowing we get two years of telling the world about it.
Twenty years ago, Schaefer was still widely available. As recently as two years ago, I could buy it in a few stores around middle Tennessee. Now, the beer is as scarce as a French soldier on the front line.
But it
is
out there. SHOFer Rookie plans to bring a half-dozen cases or so from Wilmington, NC. And Bruton (SROH member, class of 2010) located a honey pot of it in south Georgia. Reminiscent of Smokey and The Bandit, he has already muled 12 cases of Schaefer back home to central Georgia and is ready to put it on ice. So let's get this party started.
Great news for this year's gathering is Uncle D (SHOFer, class 2009) will again be able to join us after taking off last year. Though he couldn't make the 2010 race, he proudly represented the SHOF at other memorable events such as one of the final space shuttle launches, the beach, Good Guy car shows, and other races such as Michigan and Richmond. He also hit the goldmine with the consumer relations department of the parent of Schaefer, Pabst Brewing. (More about that below.) With Uncle D's return in 2011, at least we won't need a stand-in as we did a year ago.
We think our weekend agenda will look something like this.
Friday night
- the World of Outlaws sprint car Outlaw Shootout at The Dirt Track. I don't know any of the drivers, I don't understand the rules, and I'm coughing red clay dust by the end of the night. But I love the speed, the fireworks, and the three-wide pace laps.
Saturday
After setting up our tailgating area, folks will roll in steadily throughout the day. As many multi-year regulars arrive, we'll likely begin distributing for the first time at the track the Schaefer Ring of Honor t-shirts. As alluded to above and
blogged previously
, Uncle D networked some connections and wrangled several dozen Schaefer Hall of Fame and Ring of Honor shirts for our crew. I've said it before, and I'll say it again. A mighty Schaefer Scha-LOOT to Uncle D for his yeoman's effort.
Late in the afternoon, it'll be time to go racing again. This time, we will go to the TopGear 300 Nationwide race.
Sunday morning
Oh, let the games begin. Everyone will roll in early. Breakfast will be served. (Eggs, sausage, toast. And a Schaefer. Natch!)
Brackets will be drawn for the annual cornhole tournament. Cuba (SHOFer, class of 2010) will return with Karen (2011 SROH-elect) to defend their 2010 title.
Late morning, a handful of folks will turn their attention to that
other
race of the day - the 100th anniversary of the Indianapolis 500.
Sunday afternoon
As grills are lit, Schaefer is consumed and long-distance friendships are renewed, the Schaefer Racing Cornhole Tournament will begin. This magnificent trophy will return to be awarded to the winning pair.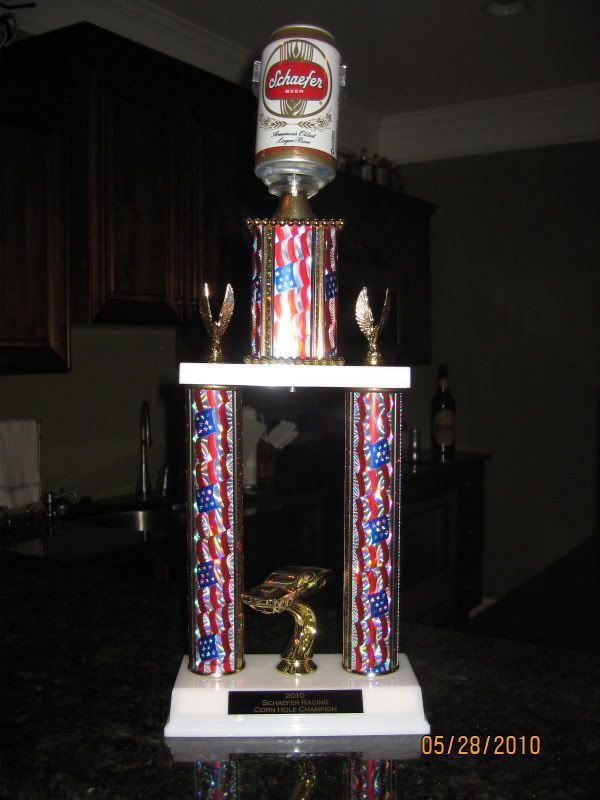 Without trying to sound like Jesse Jackson, we'll have a new
addition to the tradition
. Rookie custom-built new cornhole boards for the tourney. They'll be emblazoned at the track with - what else - high-rez Schaefer decals.
Sunday evening
As the afternoon gets late, it will be time for the main event: the Coca-Cola 600. For a novice race fan, this race generally shouldn't be your intro to NASCAR. The track is fantastic with great sight lines around the place. And the track hospitality is second to none on the circuit. But the 4 to 5 hours it takes to run the race is tough for first-timers to handle. For seasoned pros like the SHOFers, however, its a great spring night to watch NASCAR.
Assuming I can keep a charge on my cell phone, I plan to tweet off-and-on during race weekend. Follow me
@toomuchcountry
. If you are at the track, tweet me and look us up for a introductory Schaefer.
TMC