Where was I? Oh yeah! After composing a couple of entries about the trophies I found in the Richard Petty Museum, I wanted to wrap-up the series with some thoughts and photos of other 'stuff' I saw.
I just knew this was going to be a magical trip as I pulled into the parking lot. As I got out of my rental car, I realized for the first time I had been driving a Chrysler 200. Chrysler: owner of Plymouth and Dodge brands raced by Petty Enterprises for so many years. 200: Richard's total number of Cup wins. Ah yes, this was indeed a great trip.
The museum is packed with all sorts of stuff collected by Richard and Lynda Petty. Guns, rifles, watches, dolls, belt buckles, knives, matchbox cars, etc. Most of it didn't interest me simply because I'm only a fan of the racing portion.
The museum didn't have as many cars as I had expected. The replicas of Lee's 1959 Oldsmobile and Richard's 1967 Plymouth have been moved to the NASCAR Hall of Fame in Charlotte. So I know why those weren't there. None of Adam's cars were on display - nor was the Ford Richard raced in 1969 that I recall seeing at the old museum in 1997.
A Pontiac Grand Prix from 1984 and a 1970 Plymouth Superbird were on display. Both are beautiful race cars. Both, however, are replica restorations. Neither represent true Petty cars
I never tire of looking at a Petty car. When cars are displayed in a
museum
, however, I wish better signage could be displayed. I think visitors would enjoy knowing (1) the cars are replicas and (2) the historical racing significance why the car is on display - key wins, championship years, bad wrecks, number built by Petty Enterprises, etc.
It was easier viewing the cars in the new museum vs. how I remember them almost 15 years ago. However, I hope some day there will be an even larger area to view them with a better angle to take pictures. Being right up on top of the cars and trying to work with vinyl, white picket fencing in the foreground makes it tough to capture the length of a car in one shot. For instance, here is Richard's 1981 Buick Regal. He raced one similar to this one to his seventh Daytona 500 win. Yet, it was tough getting a great shot because of the fencing barrier.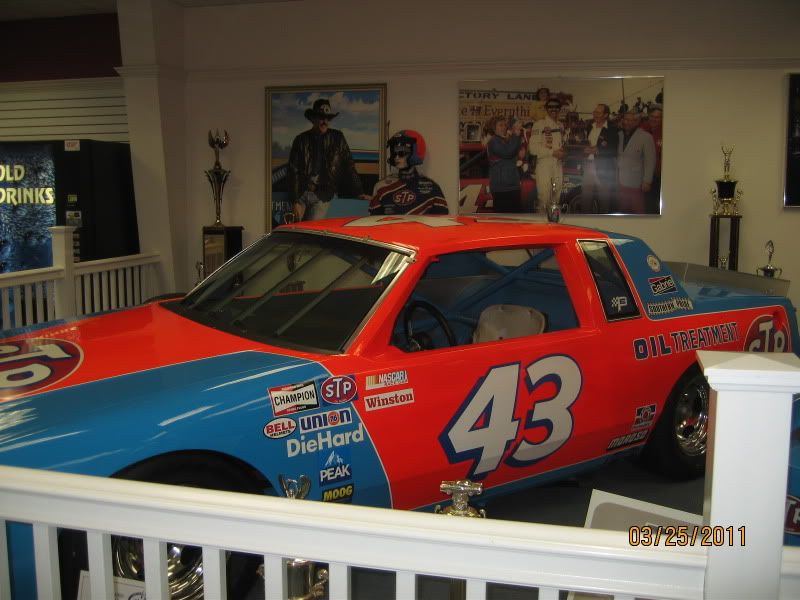 Also, the Chevy Monte Carlo from 1979-80 is among the best looking cars Richard ever raced. His seventh Cup championship was won driving a Monte in the majority of the events.
The rear quarter-panel of this car, however, never had this many random contingency decals. In what is becoming a drum-beat theme now, I really wish more careful attention could be paid to these types of details. I'm guessing most visitors won't notice the variance. But as someone who tries to have an idea for detail on stuff like this, I wish that extra bit of effort could be made to display the car as closely as possible to the look when it raced.
As displayed...
A look at the rear quarter during a win at Dover in 1979...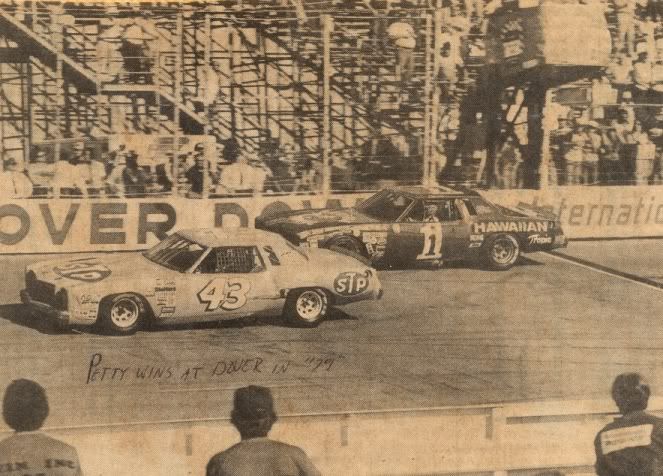 A neat trophy I found was for Richard's pole-winning efforts in the 1978 NAPA 250 Winston West race at Phoenix. Petty had gone through a 1-1/2 year losing streak and was facing stomach ulcer surgery in the off-season. But when the Cup season ended at Ontario, a few drivers such as Richard and Kyle, Bobby Allison, and Neil Bonnet stuck around and raced a week later in this Winston West race. (For newer fans, the scenario is analogous to Kyle Busch dropping back to race in the truck or Nationwide series on a Cup weekend.)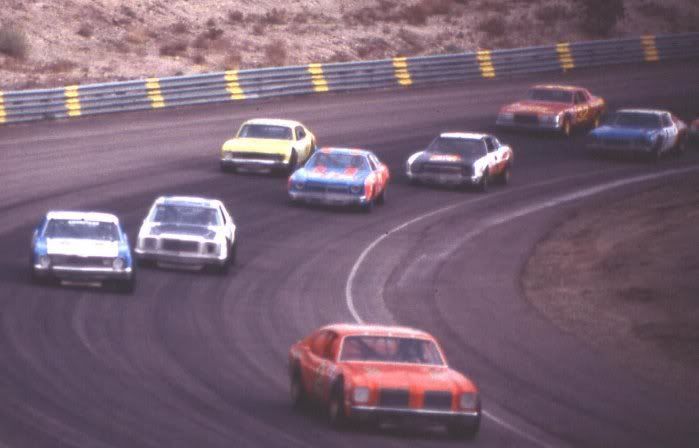 What I found interesting about this trophy though was the spelling. I guess I've always thought the fastest qualifier was the pole
sitter
vs. the pole
setter
. Any grammar experts out there? Snicker...snort...haha...grammar experts reading a NASCAR blog. Riiiiiggghhhttt.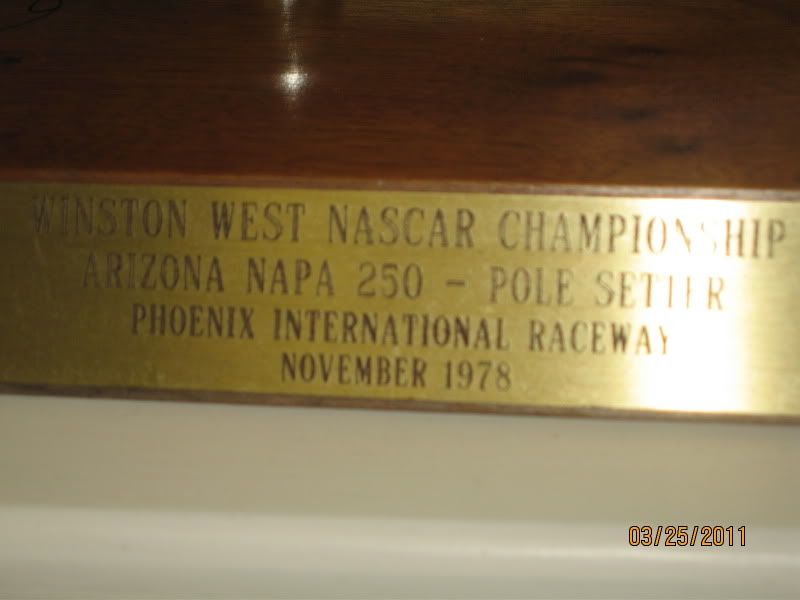 A tradition throughout much of the 1970s and 1980s was to have all drivers autograph one or more checkered flags. The signed flags were given to various folks - winning drivers, grand marshals, etc. Even President Reagan received one at the 1984 Firecracker 400.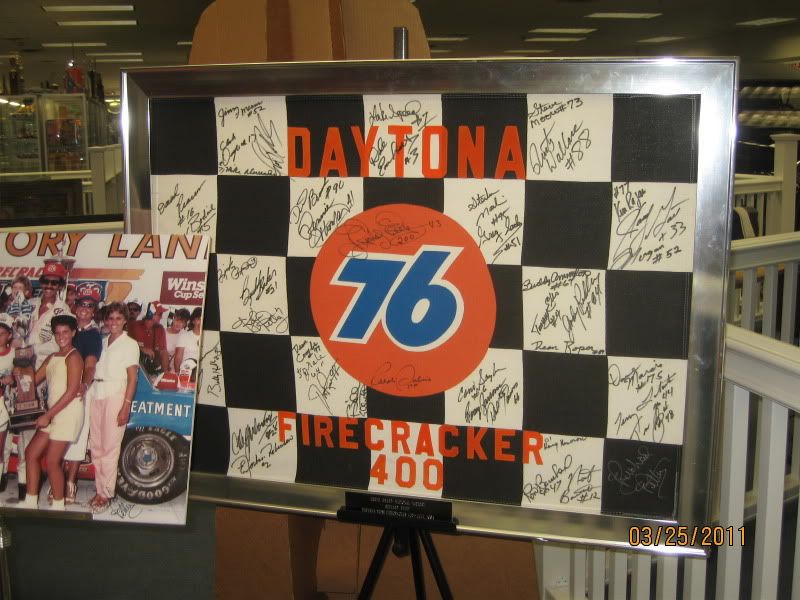 ...and the other was from Richard's final race at Daytona - the 1992 Pepsi 400.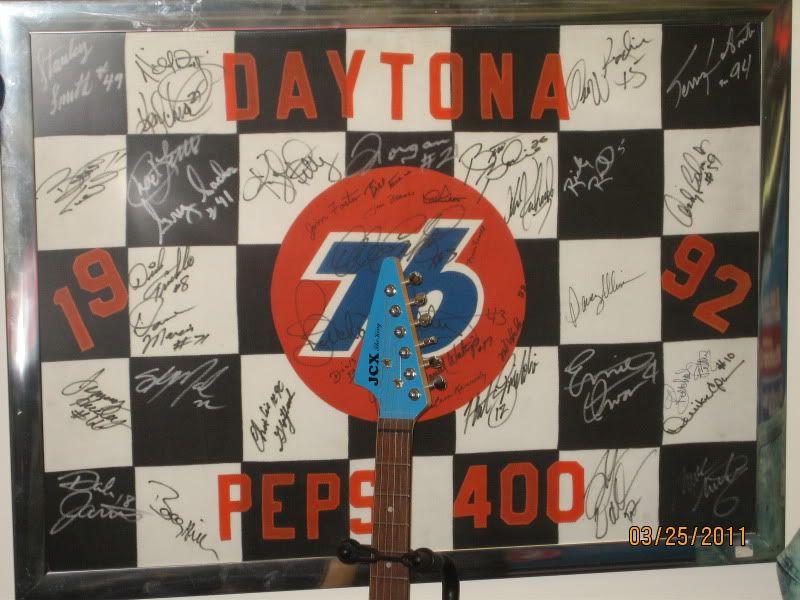 Maxwell House coffee is "good to the last drop" because they say it is. Years ago, a commercial claimed "when E.F. Hutton speaks, people listen". So when the Petty museum says this is the first souvenir t-shirt, then hey I reckon I've got to believe them. Right? I actually have no earthly idea if its the first one or not, but it makes for a great claim anyway.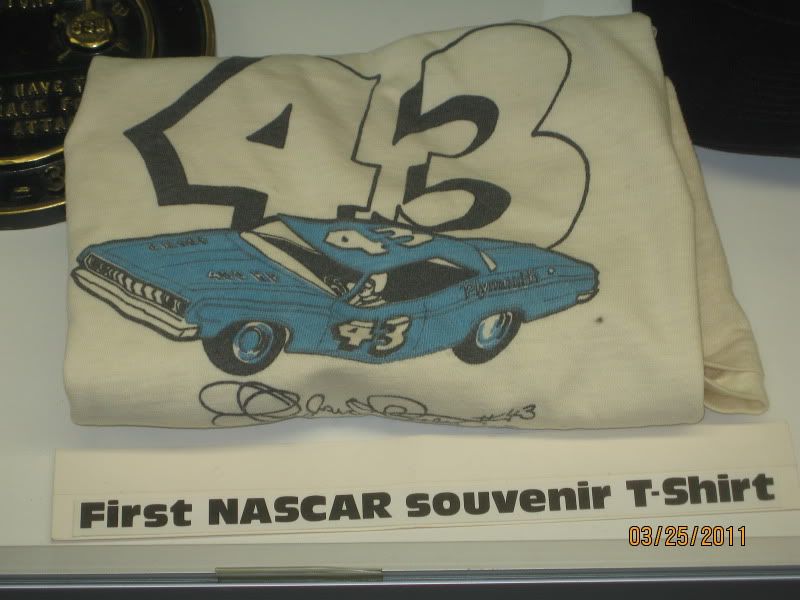 I maintain a spreadsheet of as much daily Petty trivia as I've been able to find. I post it from time to time on various message boards and have occasionally blogged some of it here. I'm also trying to collect as many photos and articles as I can for each of Richard's 200 wins. I found this picture from Richard's first career win in Charlotte, NC. I didn't have it...but I do now.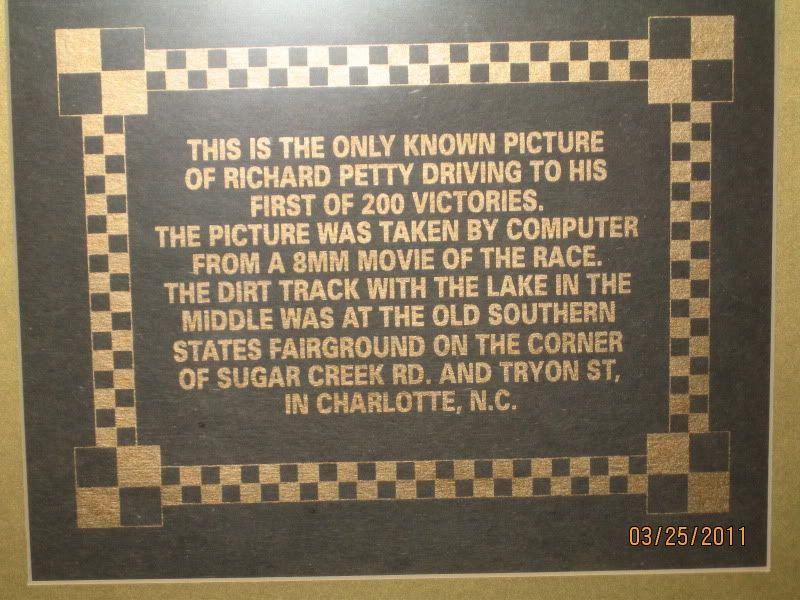 Another neat photo I spotted was of driver Bill Lutz. I consider myself pretty well versed in the names of drivers who drove for Petty Enterprises over the years. But Lutz' came came as a surprise. In researching his stats, I learned he raced 26 times in the old NASCAR convertible series. Four of his last five starts were in Petty Engineering's #88 Oldsmobile in 1957. He also raced a Petty Oldsmobile in the NASCAR Grand National Daytona Beach and Road course race in February 1957. His car number? 43. Now,
that's
a picture I'd like to find.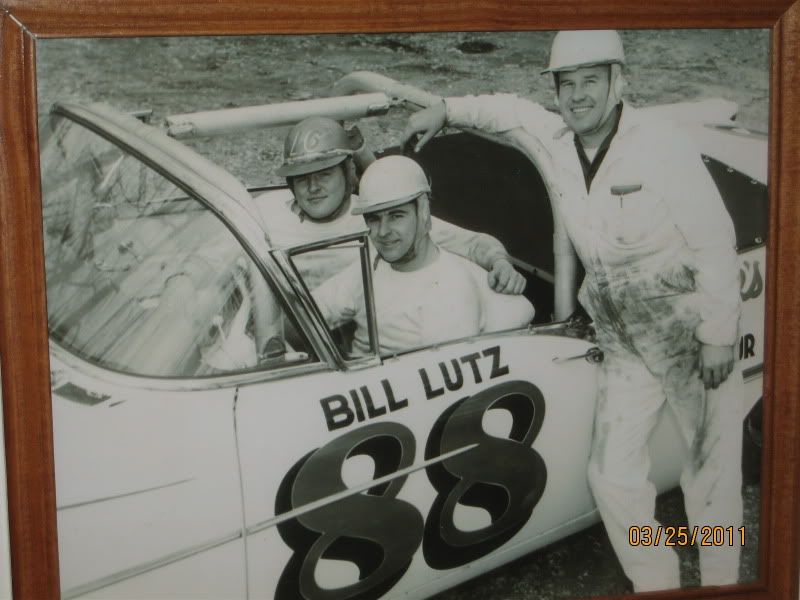 Lee Petty was never particularly known for being media-accessible like his son. He could be rough and gruff - to the media, his sons and fans. But this photo I found on a wall of him and his wife Elizabeth shows a different side.
In May 1975, Richard's brother-in-law, Randy Owens, was killed during a pit stop during the Winston 500 at Talladega. I vaguely remember reading about it in the next morning's newspaper. In recent years, I saw some grainy video footage during an episode of Dale Earnhardt Jr.'s show, Back in the Day. But I've never known a whole lot about Randy - including what he looked like. The museum had a nice tribute wall to memorialize many folks tied to the Petty organization who are deceased. Among the pictures was this one of Randy. It may be one of the worst Photoshop jobs I've ever seen - but I think someone's heart was in the right place to remember him.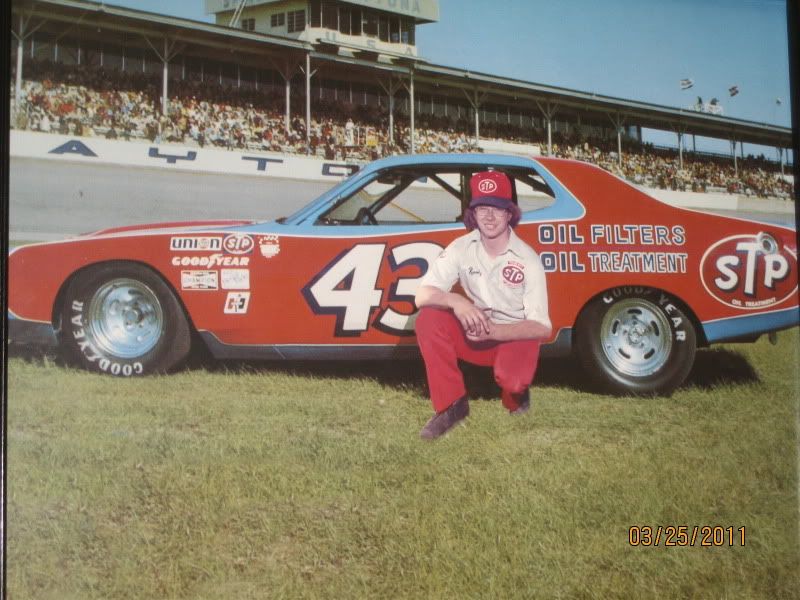 Another neat piece of trivia was a case for Richard's 200th win. Included in it was his helmet, driver's uniform and race's checkered flag autographed by long-time NASCAR flagman Harold Kinder.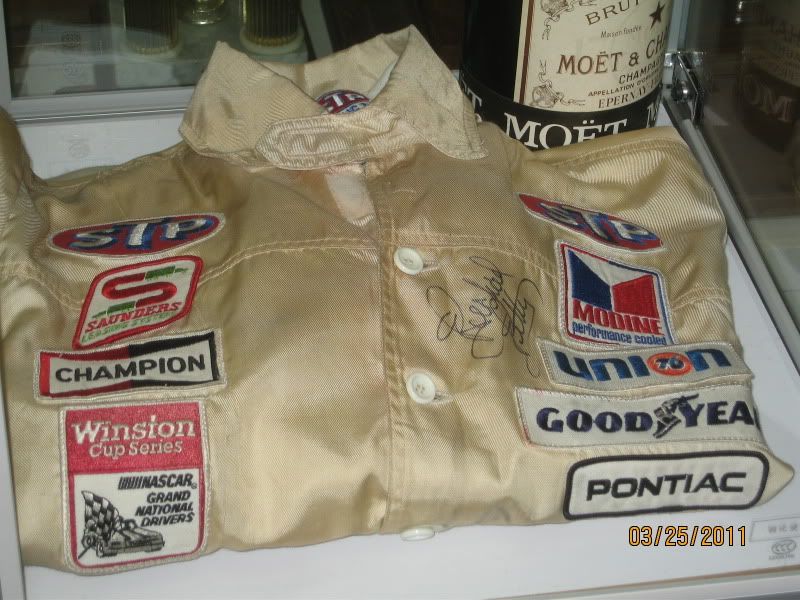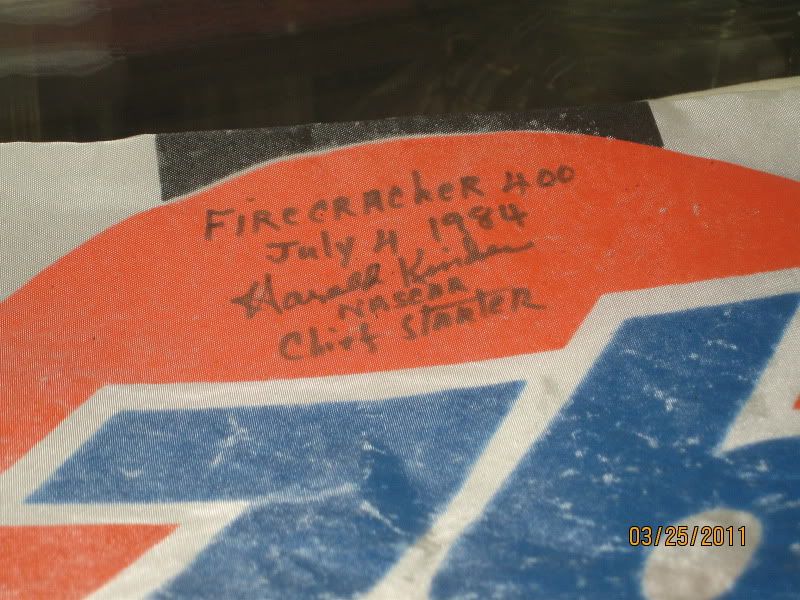 I've seen the following photo more than once. Its a victory lane from Richard's first Daytona 500 win in 1964. What I have never understood, however, is the presence of the Japanese woman in victory lane with him. She was hardly the typical trophy queen.
In visiting the museum, however, I got my answer. It looks like the nation of Japan may have provided a winner's trophy. Who knew! I'm still not exactly sure
why
they did it. So in this case, an answer to one question leads to ... another question.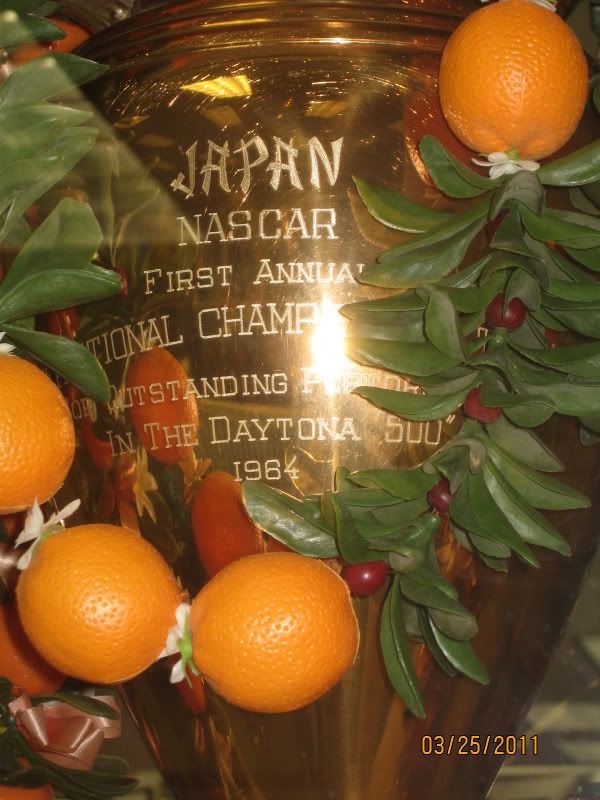 To wrap this up, this may have been the craziest trophy I saw. How Petty managed to win the pole for the Nashville TN race at ... Greenville-Pickens speedway in South Carolina is beyond me. Clearly someone got too dizzy drinking Falstaff as the plaques were glued to this one.
I left the museum to head for my flight in Raleigh. Along the way, I glanced at the odometer and grabbed my Blackberry to snap a picture. As predicted at the beginning of my visit, I knew it was going to be a magical trip. This odometer cemented that prediction.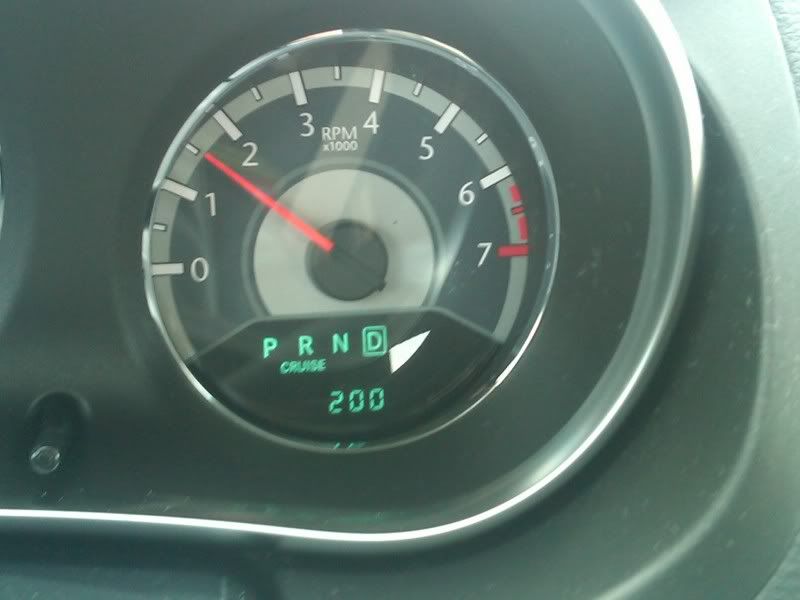 TMC