1979 - Richard Petty wins his 188th career race in the Champion Spark Plug 400 at Roger Penske's Michigan International Speedway.
Source: Jerry Bushmire
Three weeks earlier, rookie Dale Earnhardt suffered a hard crash at Pocono and was sidelined for a few weeks. Veteran David Pearson - who had parted ways with the famed Wood Brothers earlier in the season - was rallied to fill-in as Earnhardt healed. In his second start in the Rod Osterlund Chevrolet, Pearson won the pole for the Michigan race.
Bobby Allison qualified alongside Pearson. Neil Bonnett, rookie Terry Labonte and Richard Petty rounded out the top 5 qualifiers. Another rookie, Kyle Petty, made his first Michigan start in an STP Dodge Magnum and finished 13th.
Country singer Marty Robbins made his third and final start of the 1979 season. He qualified 27th; however, his day ended early just as his other 1979 starts did - with engine failure in his #6 Dodge Magnum. Robbins changed his car number to 6 in 1979 and 1980 after graciously giving up his previous number, 42, to Kyle Petty as he began his Cup career.
The race got off to a rocky start. On the third lap, independent driver D.K. Ulrich lost an engine in his Buick.
Behind him, six cars tangled as they slid in the oil from Ulrich's broken motor. Blackie Wangerin got the worst of it. He hit the outer guardrail at full speed, sailed out of the track and slid down the embankment. Fortunately, he was not seriously injured.
Buddy Baker, who started 11th, found his way to the front a few times in the first half of the 200-lap race. Baker dominated by leading an 84 lap segment as the race entered its second half. In his Harry Ranier #28 Monte Carlo, Baker took the white flag - but with King Richard in hot pursuit. Petty's 43 caught Baker as the two exited turn 4 and headed for the checkers. With fresher tires on Petty's car and a slip by Baker, Petty was able to squeeze by for the win.
Richard and Lynda Petty in victory lane along with Ralph Salvino from STP. Lynda and Ralph are sporting the traditional Petty cap look - flat brim with angled edges. Richard apparently didn't have time to adjust his.
Courtesy of Jerry Bushmire
Richard with his own STP angled-brim hat (guessing it was later passed to Lynda for the photo shown above)...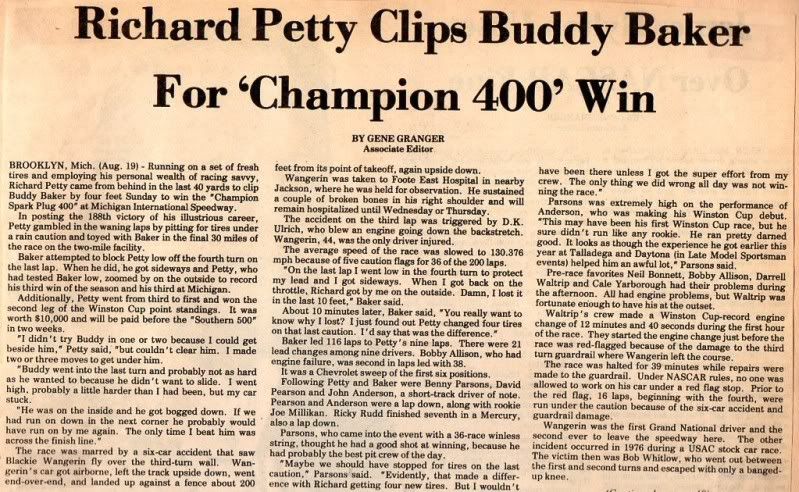 Courtesy of Jerry Bushmire
TMC
Edited August 19, 2014