NASCAR's Grand National drivers arrived in South Carolina on August 18, 1966, for some short-track racing on a hot, summer, Thursday night. The Sandlapper 200 was scheduled as a 200-lap race on the half-mile, dirt Columbia Speedway.
Eleven days earlier,
Richard Petty won the Dixie 400
at Atlanta International Raceway. The big storyline from the race - even more so than Petty's win - involved two tricked-out cars by legendary innovators and car owners Junior Johnson and Smokey Yunick. Fred Lorenzen raced Junior's infamous
Yellow Banana
Ford, and Curtis Turner belted into Smokey's Chevrolet. Both cars had all sorts of questionable parts and body shaping, yet both were allowed to race. Many were upset at the spectacle though the fact neither car won helped settle folks down a bit.
Turner felt like folks took life and racing a bit too seriously. Following Atlanta, he agreed to what was expected to be a one-race deal in Junior's Holly Farms-sponsored car at the next race at Bowman Gray Stadium. Though his career had started to wind down, he wanted to give the fans and fellow competitors a fair night of racing if they felt they didn't get that at Atlanta. The Bowman Gray race was postponed a couple of weeks because of rain. Turner agreed to stick with Junior at the next race anyway which turned out to be at Columbia.
In his book
Silent Speedways of the Carolinas
, author Perry Allen Wood describes Turner's arrival in Columbia with his
good faith gesture
:
Holly Farms wanted Curtis to look good and told him for the race he had to wear a suit. And he did...a business suit. "I dipped this one in the fireproof stuff this morning," Turner explained to the throng of onlookers glued to his every move. He loosened the tie a bit, hiked up the long sleeves some, and sans jacket, stuck that baby on the front row to everyone's delight. ~ p. 66
Turner's show and front-row qualifying run upstaged the pole winner. Bobby Allison was all business, and he laid down a track record lap to nab the pole. Petty, David Pearson, and Elmo Langley rounded out the top five starters.
Wood continued in his book with a recap of the night's racing action:
When the big field roared off, Turner bulled his way past [Allison's] little Chevelle and took the lead. It was very tentative, but he held it for 134 laps with Allison, Pearson, Petty, [James] Hylton, [Dick] Hutcherson and [Buddy] Baker beating and banging away behind him.

Other fun took place on lap 17 when a furiously-racing Tom Pistone was passing them as he got to them and lost it entering turn one. Tiger struck the railing at the perfect angle to launch the two-tone blue '64 Ford over it and into the lighted sky, then into darkness. It nosed harmlessly down, settling among the small trees and shrubs fringing the backside of the first turn embankment. ~ p. 66
Turner made his only scheduled stop, but it didn't go according to plan. An excruciatingly slow stop pinned Turner deep in the field - but it also gave the fans plenty to watch as Pop picked his way back through the field.
Petty was out for a couple until pesky and popular number 2 scooted under and Allison had the lead. The Hueytown Hustler held the point for 30 laps until his 327 cubic inches started wilting.

On lap 167, unstoppable David Pearson powered past Petty and ambushed Allison for the lead... With Turner screaming past a rapidly fading Allison and closing on the others, a three-car Armageddon was at hand.

With less than five to go, [J.D.] McDuffie got crossed up and ditched his Ford along the backstretch for 12th, bringing a caution flag that doused a surely explosive finish. Under the yellow, Pearson rolled to the checkered flag with Petty and Turner lined up right behind. Even though nearly 10,000 enthusiasts did not get to see the incredible race to the wire that was inevitable, no one felt cheated. ~ p. 67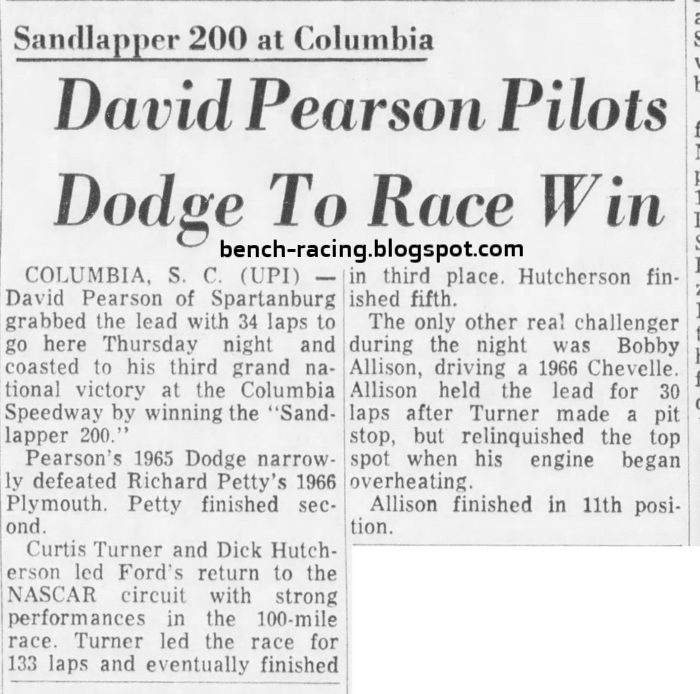 Pearson claimed his fourth consecutive Columbia win in the '66 Sandlapper 200. Also, the race was the fifteenth of 63 times Petty and Pearson finished in the top two spots.
TMC