The Winston Cup Grand National Series teams returned to Pocono for the track's second annual Cup race - the Purolator 500 on August 3, 1975.
1973 USAC Acme Super Saver 500
and the track's inaugural NASCAR Cup race,
the 1974 Purolator 500
. Petty had also already won eight races in 1975 – a number he'd grow to a modern era record of 13 that has been matched just once, by Jeff Gordon.
Fans got a competitive race with the lead changing hands multiple times. Pearson jumped out front at the start and led the first 10 laps. Pole-winner Allison got by the 21 and paced the field for three laps. He and Pearson then went back and forth for a while before some new races appeared upfront because of pit cycling.
Allison's pole-winning effort and early time at the front, however, was for naught. He lost the engine in his Matador was done after 22 laps.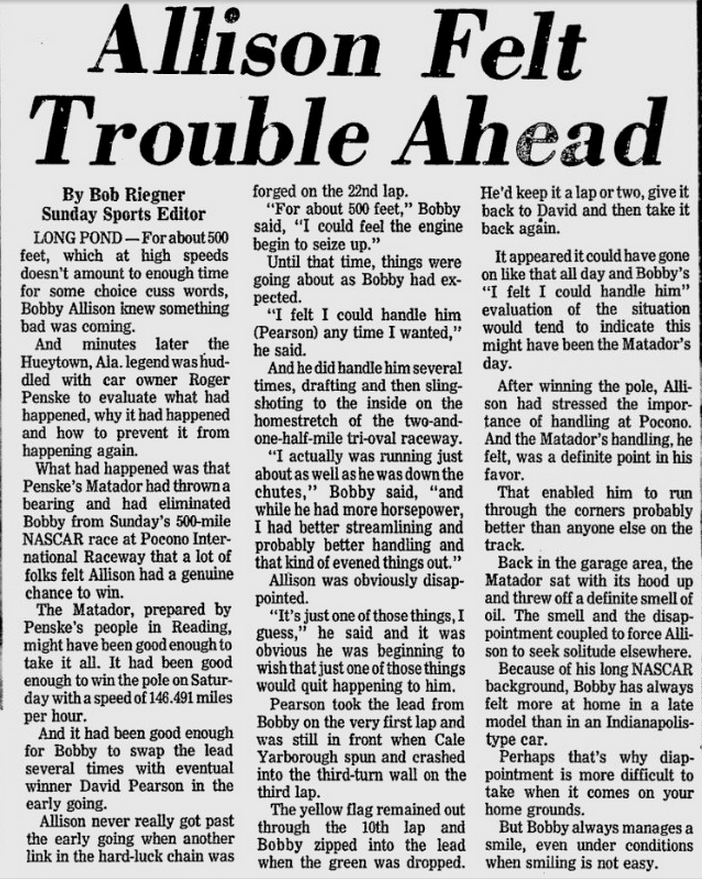 Source: Reading Eagle via Google News Archive
Benny Parsons and Marcis had their time up front as well before Pearson and Petty glided their way back to the top of the heap. Around the half-way point of the race, however, the all-too-familiar mountain rains arrived to interrupt things. The race - which already needed an extraordinarily long time to complete the scheduled 500 miles - was delayed over an hour as the rains passed and the track dried.
As the race resumed and proceeded to the mid and late stages, Buddy Baker let it be known he too would part of the action. He led on multiple occasions during the race though only for a single-digit number of laps each time.
With about 25 laps to go, the 43 STP Dodge Charger took the lead from Pearson's white and candy-apple red Mercury. Petty held Pearson at bay for the next 13 laps. With 14 to go, however, the 21 passed Petty again and set sail towards the win.
He continued for the next two laps and took the checkered flag. Petty was none too happy at having to drive through the cloud of smoke. But with Pearson having up to three laps to acknowledge NASCAR's black flag before having his scorecard pulled, the team knew it had some margin to finish the race and collect the trophy.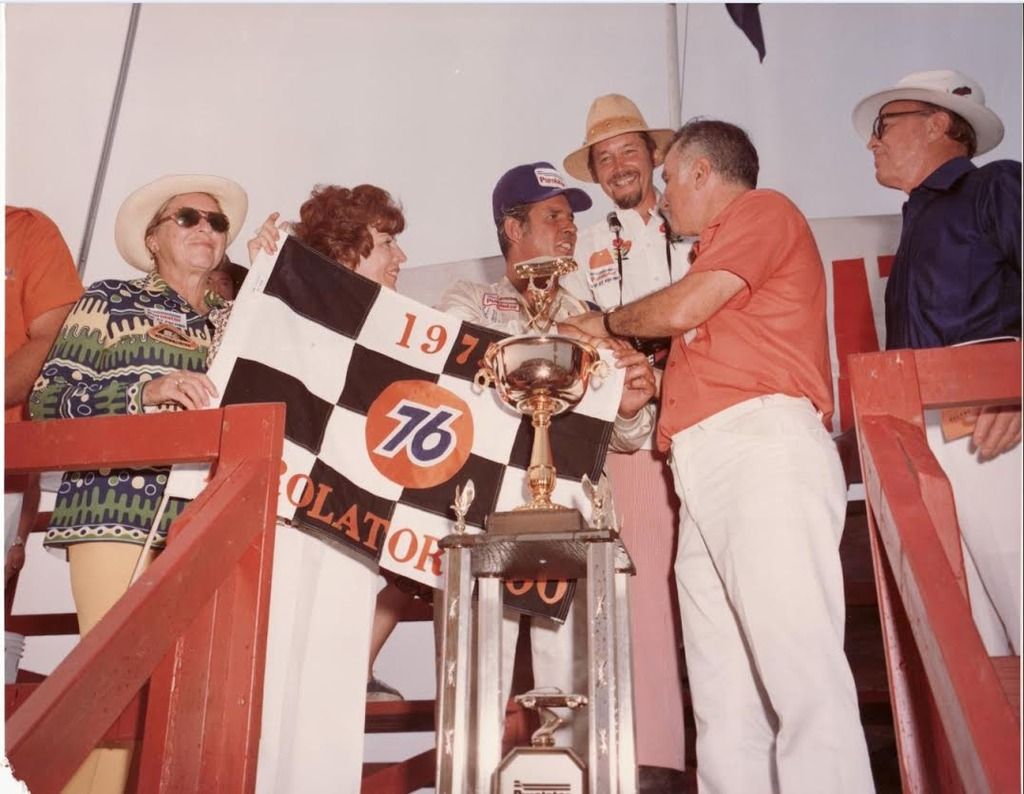 Source: Pocono Raceway's Facebook Page
Petty was not happy at all about Pearson's staying on the track. He did concede, however, he likely would have done the same thing had the roles been reversed. Besides, he had eight wins under his belt already, had the points lead as he headed for his unprecedented sixth championship, and became the first driver to surpass $2 million in career earnings.
Source: Tuscaloosa News via Google News Archive
The race was the 55th of 63 times Petty and Pearson finished in the two two spots.