Myrtle Beach's Rambi Raceway opened in 1958, and track hosted nine Grand National races from 1958 through 1965. As a car owner, Julian Petty experienced early success at Rambi with Bob Welborn as his driver. Welborn won the track's first two marquis events - a
NASCAR convertible division race
in July 1958 and the
Grand National race
a month later.
The GN drivers arrived in Myrtle Beach in August 1964 for a 200-lap race. What many likely couldn't have anticipated is that the race was to be the next to last GN race at the track. Ned Jarrett was looking for his third consecutive win at Rambi having won in 1962 and 1963.
Records show only twelve drivers qualified for the race. The limited number is tied with six other GN/Cup races for the smallest starting line-up. The others are:
August 1953 - Hickory NC
August 1956 - Oklahoma City
May 1959 - Nashville Fairgrounds
April 1961 - Richmond (won by Richard Petty)
May 1964 - Savannah
October 1964 - Savannah
Factory Mopars swept the top two starting spots. David Pearson won the pole in Cotton Owens' Dodge, and Petty qualified second in the Petty Enterprises Plymouth. Lee Roy Yarbrough, Jimmy Pardue and Jarrett rounded out the top five starters.
Pearson mashed the gas at the drop of the green and seized the lead. He pulled the field around the half-mile dirt track for the first 78 laps. The lead then changed hands - presumably because of a series of pit stops. Jarrett took over the top spot, set sail for 80+ laps, and likely smiled as neared his third straight win at the track.
With just under 40 laps to go, however, Pearson took his Dodge around a fading Jarrett. Pearson was unchallenged the rest of the way, and he won by a full lap over second place Petty. Jarrett completed the race, but he finished fourth - eight laps down to the winner.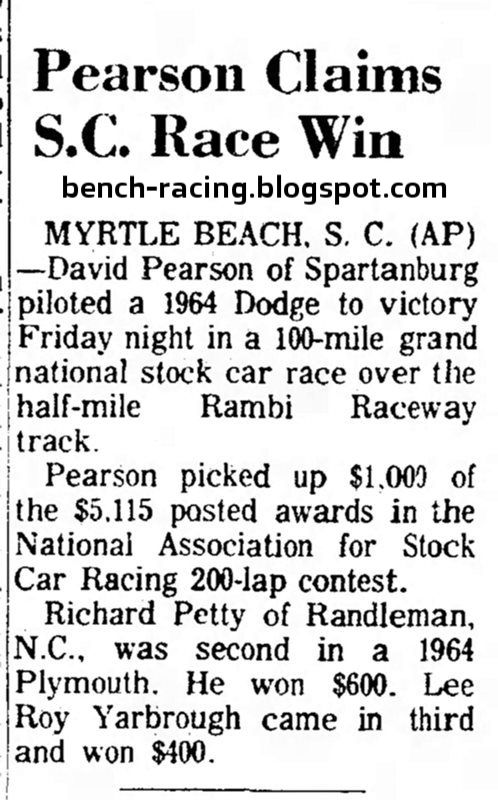 Though the finish wasn't very close, the race was the eighth of 63 times for a Petty-Pearson, 1-2 finish.
TMC