For 2+ years, I've been on the hunt for a photo of a NASCAR Schaefer beer-sponsored race car. I learned Schaefer sponsored a handful of Indy car rides in the early 1970s and was a supporter of the Mattioli family at Pocono. Later, I learned Schaefer sponsored a car in one NASCAR race - the 1981 Mountain Dew 500 at Pocono.
My efforts to find a picture of the car, however, were fruitless. I stood a better chance of getting a picture of the Loch Ness monster, Bigfoot, or Barney Frank on a date with a woman.
But now...finally...I'm pleased as punch to say a photo has been found and liberated!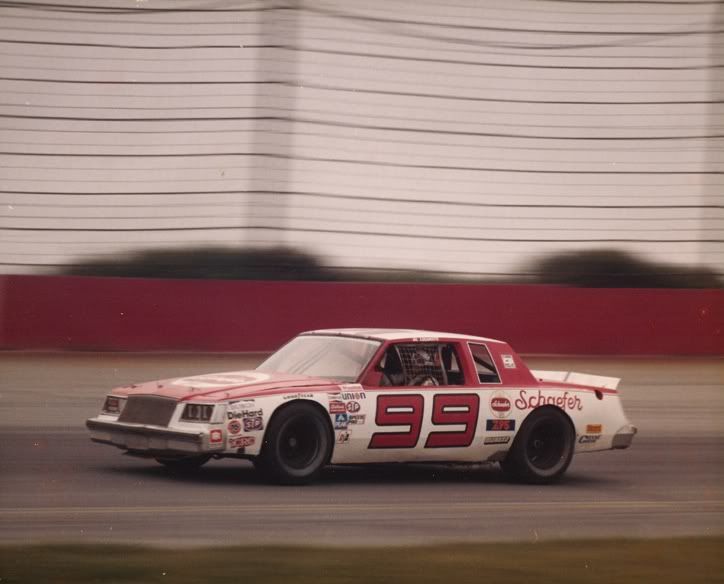 The car is a 1981 Buick. It was fielded by long-time owner D.K. Ulrich and driven by Indy-car journeyman Al Loquasto in his debut Cup race. Loquasto only raced in a handful of Cup race and was sponsored by Pentax Cameras in the other ones he drove. He unfortunately perished in a plane crash in 1991.
Along the way, I conned a friend of mine to assist me in my search. As the search intensified, we had an arms race of sorts trying to network our way into more possible sources. He made contact with some of Loquasto's family and the Mattioli family. I was able to connect with Ulrich. Eventually, we BOTH made contact with Rick Houston, former writer for Winston Cup Scene (now NASCAR Scene and SceneDaily.com) and currently editor of
StockCarHistoryOnline.com
.
Rick quickly wanted to join our search and put us over the top by locating the collection of the photographer who shot a picture of the car. We were all blown away when a great, color photo of the car was sent to us.
Once Rick better understood the history of the race weekend Schaefer tradition and our search efforts for the part, he eagerly asked us if he could write a story about them. What was it Andy Warhol said about folks having their 15 minutes of fame? I'll settle for 15 seconds and a 6 pack of Schaef.
[
Click here
] for Rick's account of our search. (Give him plenty of visits. I told him this story would likely set a site-count record for him!) While you are at it, bookmark the site and return often. Rick has some great material he posts to his site - especially if you are an old-school race fan like me.
My friend has an incredible gift - he builds very detailed models of race cars as a hobby. He immediately began constructing two models of the newly surfaced Buick. One is now in my possession, and the other is with him.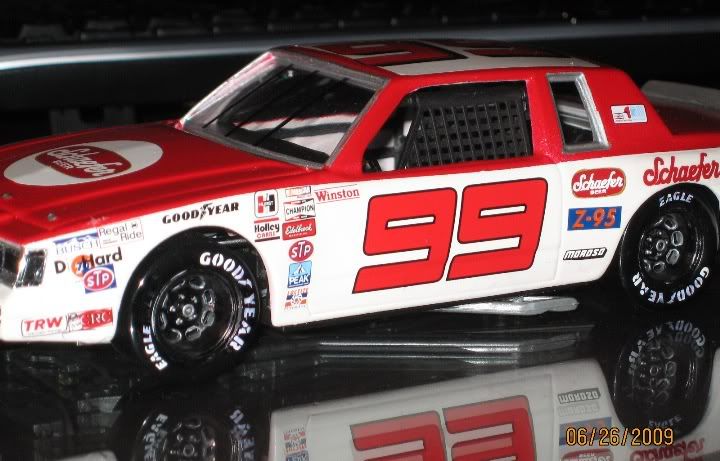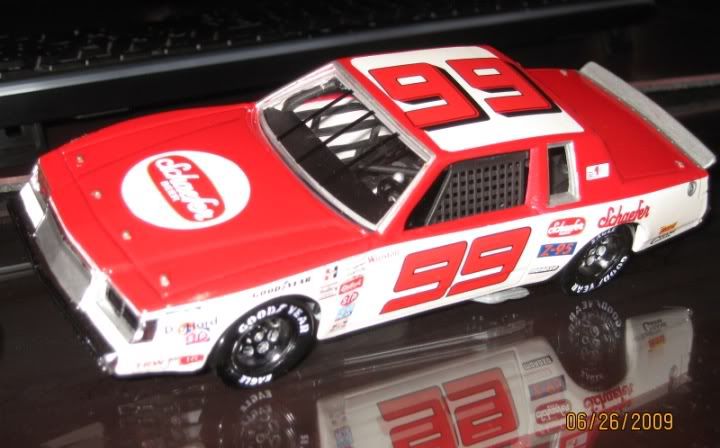 So a 12-ounce, Schaefer toast to all involved - D.K. Ulrich, Rick Houston, modeler-extraordinaire GaPettyFan, the late David Chobat (photographer), the late Al Loquasto, Ben Loquasto, Dr. Joseph Mattioli at Pocono, and several others who gave us leads along the way.
TMC