Despite NASCAR's attention to detail when it comes to protecting its brand, its always dropped it guard when it comes to protecting its history. Unlike the major stick-and-ball sports, NASCAR has never had a single-source hall of fame.
Other halls with NASCAR participants have opened in various locations such as:
National Motorsports Press Association HOF - Darlington, SC (pathetic that this museum/HOF doesn't have its own website)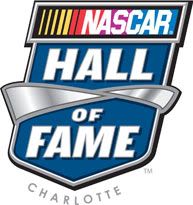 Now, NASCAR is prepared to open its own hall in Charlotte in May 2010. Twenty-five names were released last week as finalists for the inaugural class of five members. The debate has been underway for some time as to who should be in the first class - both before and after the names were released.
My vote counts for jack squat, but I'm going to throw my selections out there anyway.
Bill France, Sr.

- Some controversy exists whether France truly came up with the idea of consolidating the various forces of stock car racing into a single sanctioning body. But no controversy exists about his seizure of control of the organization, ceaseless promotion of it, and his vision for what it might eventually become. A no-brainer to put Big Bill in the first class.


Bill France, Jr.

- I wrestled with putting Bill Jr. in the first class but eventually decided his contributions should be viewed as an extension of his father's role. Where Big Bill promoted the racing for 30+ years, Billy France developed a better understanding of the economics of the sport. Big Bill ruled with an iron fist whereas Billy was a better listener of drivers, crew chiefs, owners, and sponsors...before he ruled with his iron fist. Big Bill was a dictator of the sport. Billy realized he needed to hire a team and delegate. In the end, the Frances built this sport between the father-son combo, and both of them belong in the first class.


Ralph Seagraves

- Without Seagraves and Junior Johnson coming together to Daytona to visit the Frances, who knows where NASCAR's premier series would have gone. Being booted from traditional media advertising outlets in the 1970s, R.J. Reynolds needed a new forum to pimp its smokes. Ta-da! NASCAR. And the top series went from being called the Grand National series to the Winston Cup Grand National series and eventually just the Winston Cup series. The sports marketing arm of RJR headed by Seagraves elevated the sport as perhaps no other advertiser has ever done. It is constantly said racing is as much as business as it is a sport. Believing that, I say Seagraves goes in.


Raymond Parks

- Forget Rick Hendrick, Richard Childress, Jack Roush, Petty Enterprises, or even Carl Kiekaeffer of the 1950s. THE first successful multi-team car owner was involved in the sport from day 1 - Mr. Raymond Parks from Atlanta. I've only recently learned more about Parks' contributions. I had no clue what he brought to the sport. His drivers Roy Hall, Lloyd Seay, and particularly Red Byron set the world ablaze with their domination of the early years of stock car racing. No question he belongs in the HOF and as part of the first class.


Richard Petty

- The King. My first four picks were for the sanctioning body organizers/promoters/owners, a series sponsor, and a car owner. The fifth pick is a driver - the class of NASCAR participants who we all go to the track to watch. Petty has set so many unparalleled gaudy records that he must be part of the first class. 7 championships, 7 Daytona 500 wins, over 1,000 starts, an ambassador for the sport, etc.

I'm intentionally leaving Dale Earnhardt out of the inaugural class but recommend he be included in the class of 2011. His racing, marketing, and fan-attraction contributions were remarkable, however, I think they fall in line behind these first five.
When the votes are tallied later this year, however, I think Earnhardt will indeed be part of the first five. Once the hall opens, tickets have to be sold to create revenue, generate tourist traffic, trip media stories, retire the city and state bonds used to fund the hall, etc. Knowing the Earnhardt contingent is still strong, I believe the hall voters will be pressed hard by NASCAR, the city of Charlotte, the HOF management team, etc. to make him part of that inaugural class. If that's the case, so be it. It wouldn't be the first time back-room deals were made by NASCAR. And if both Frances make it in, it only stands to reason they'll collude to see who comes in with them!
TMC