1970 Schaefer 300
NASCAR Grand National race
(later known as Winston/Nextel/Sprint Cup Series)
Trenton International Speedway
Trenton, New Jersey
Winning driver: The King Richard Petty
Full results:
Racing-Reference.info
Notables:
Ron Keselowski, uncle of current Sprint Cup driver Brad Keselowski, finished 27th.
Dave Marcis finished 6th in a car owned by Bobby Allison. Bobby finished 2nd in a #22 Coca-Cola Dodge Daytona owned by Mario Rossi.
Information about Trenton Speedway in general and this race specifically is pretty tough to find. Most of the stuff I've found thus far is a single source of text copied across multiple websites. What I think I've learned is that Trenton was originally a dirt track. It was paved in the 1950s and later reconfigured to a 1.5 mile kidney-shaped track to accommodate USAC Indy cars.
NASCAR brought its Grand National series to the track as part of its Northern Tour off and on from the 1950s through the early 1970s. Eventually, the track's NASCAR date went to Pocono when it opened. Trenton continued to host a USAC Indy car race in the 1970s. The track finally closed in 1980, and the property is now the site of the NJ
Grounds for Sculpture
. You believe that - a race track sacrificed for artsy-fartsy sculpture culture? Now that just ain't right.
A year ago,
I blogged a short entry
about Richard Petty's win in the 1970 Schaefer 300 at Trenton Speedway in New Jersey. Included in the entry were two pictures shared with me by a fellow Petty fan, Brian "200WINZ" Hauck. Brian was at the race, took several pictures, and was a big enough race fan back then to hold on to all his stuff as collectibles.
Another year has passed, and WINZ has once again caused my jaw to drop with his sharing of new photos for me to use.
The official track race program.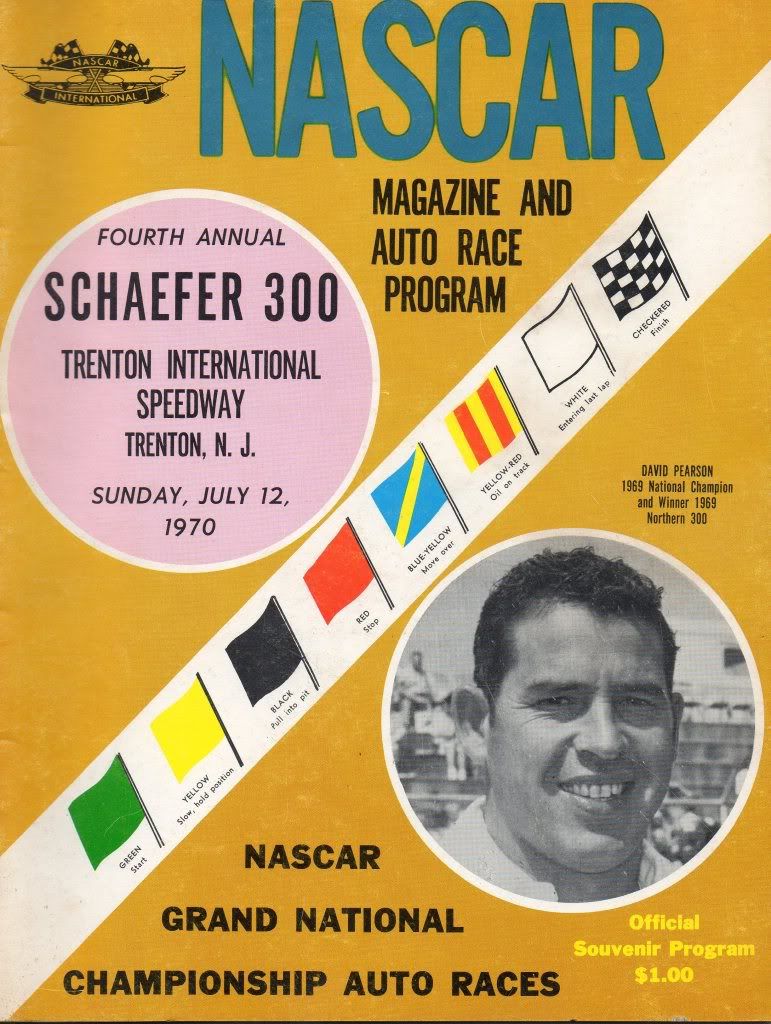 The official entry list included as an insert to the program.
A time-speed conversion chart.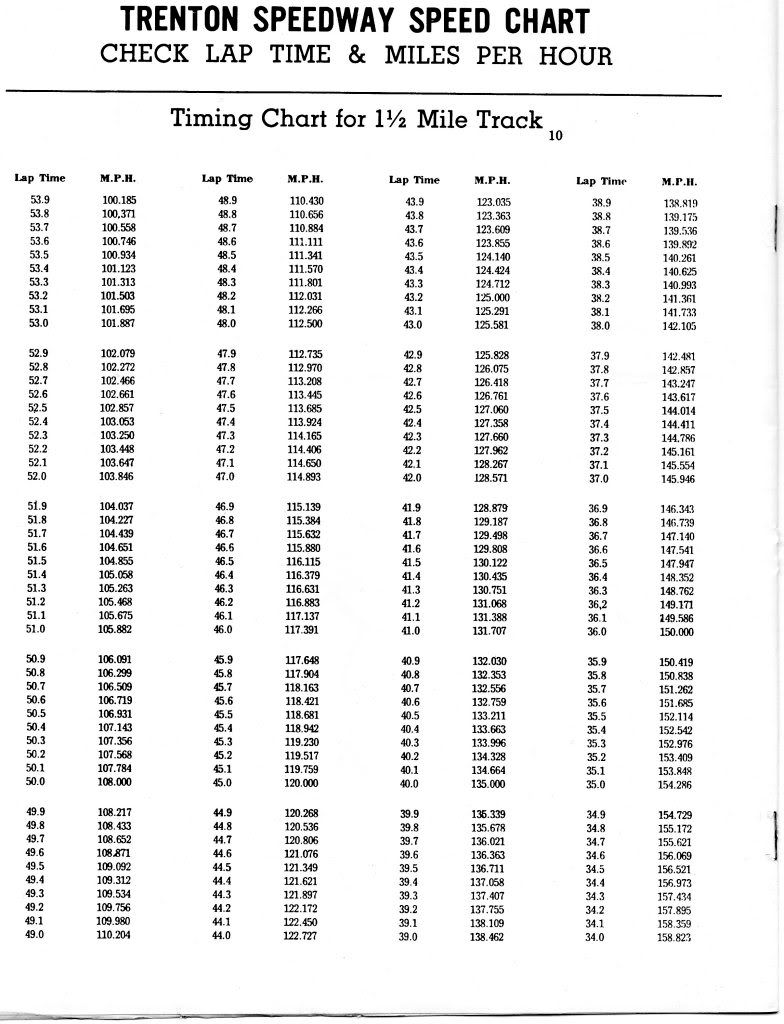 Brian kept detailed qualifying notes from the 1970 race using the above chart to convert posted times to speeds. With the rise of the internet, I seriously doubt anyone does this anymore. I'm not even sure how many baseball fans still chart pitches at games anymore either.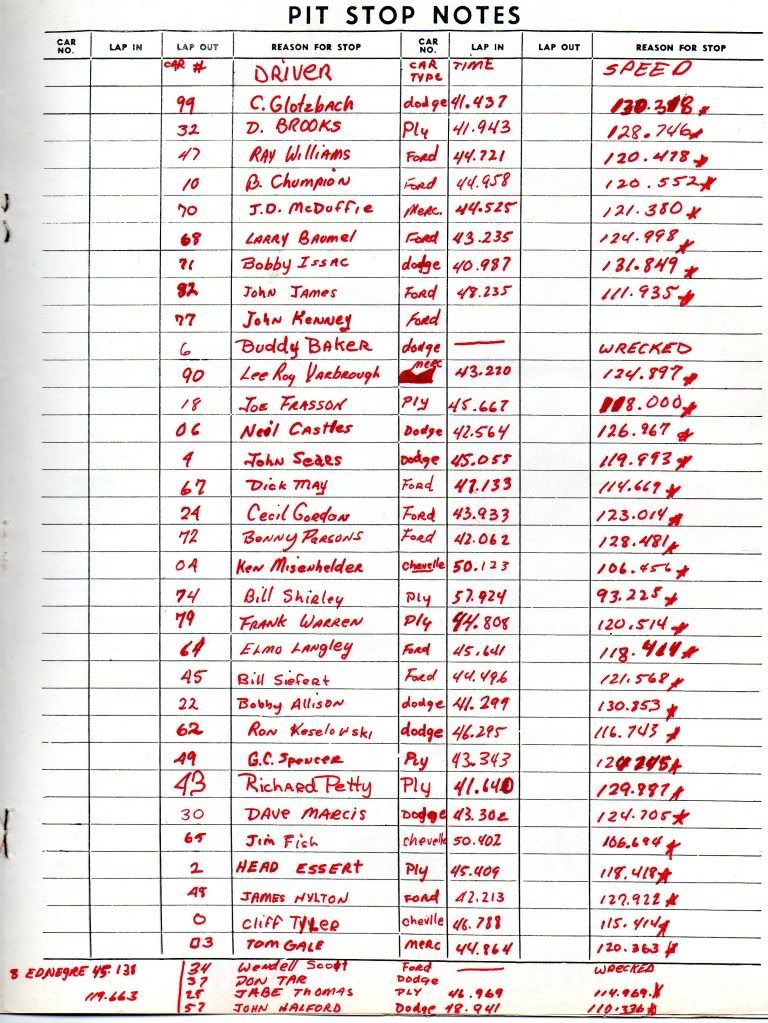 Most years, the race was known simply as the Northern 300. In 1970, however, the race got a sponsor, and was known for only one year as the Schaefer 300. So you just knew Schaefer would have a full-page ad in the program. And when it comes to beer, who
isn't
having more than one. So
clearly
, Schaefer is the right choice.
The program also included a pitch for what was apparently a local/regional All Star Racing League series. I'd love to get my hands on one of the Schaefer Beer trophies awarded to the winners of many of the league's races.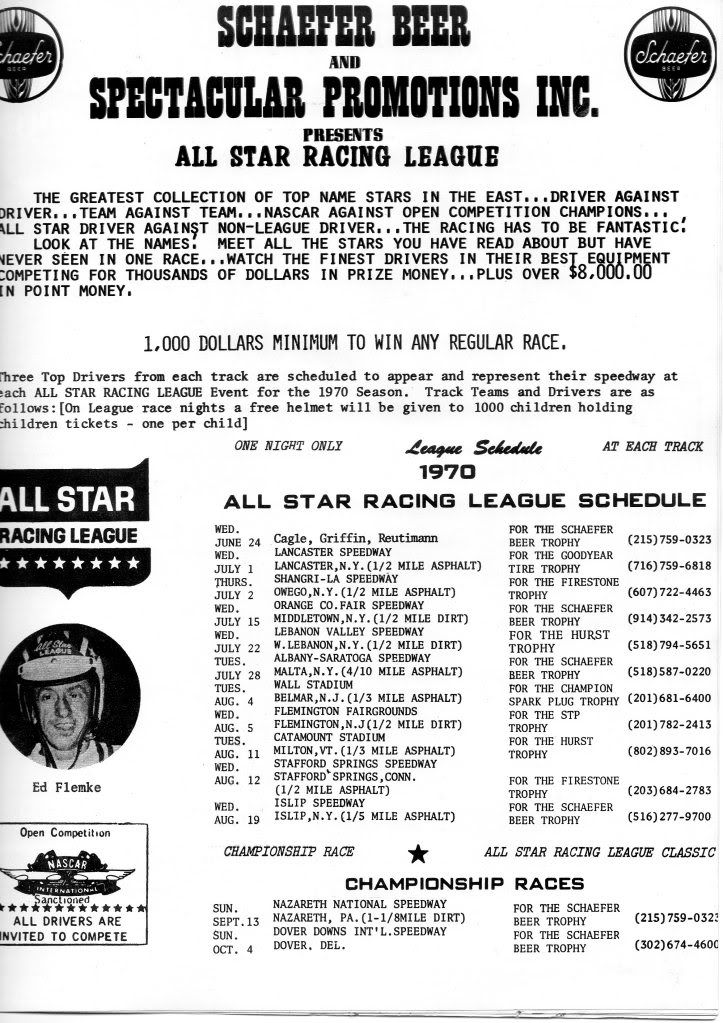 Richard won the race, but he had some trouble in qualifying. He wrinkled the snout of his 1970 Petty blue Plymouth Superbird but still managed to qualify 4th. Brian managed to snap a photo of the repaired #43. Today, damaged sheet metal is held together during a race by applying sheets of
Bear Bond
. Back in the day, however, repairs were made with strips of good ol' fashioned, battleship-gray, duct tape.
What a great racing headline; however, I'm still on the hunt for an elusive picture of the King in victory lane surrounded by Schaefer beer cans, banners, a trophy girl, etc. I'm not even sure one exists. As a Petty and Schaefer fan, however, one can have eternal hope.
As a collector of all-things-Petty and plenty-of-things-Schaefer, these photos are just fantastic in my opinion. They are unique, personalized, rare, and feature Petty and Schaefer. What more can a fan ask for? I've thanked Brian many times over for providing them. If you want to comment on these photos individually or view more of Brian's pictures, browse his
Photobucket
offerings.
If you'll look closely at Brian's handwritten notes, you'll see he wrote "wrecked" by Wendell Scott. Wendell destroyed his car during qualifying, but he was able to repair the car, start last, and survive to finish 25th.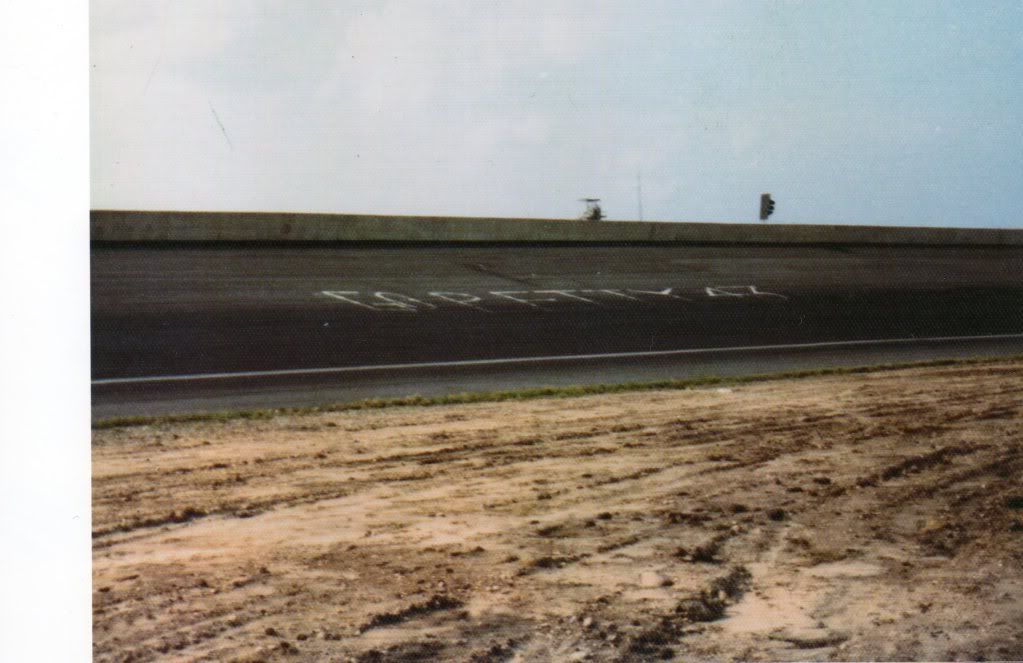 Brian Hauck, Mr. 200WINZ, the Schaefer Racing Hall of Fame salutes you for your being a life-long Petty fan and preserving the history of Schaefer racing. Saaahhh-LOOOOT.
TMC