1972 Schaefer 500
USAC Indy car race
Pocono International Raceway
Pocono, Pennsylvania
Winning driver: Joe Leonard
Full results:
Racing-Reference.info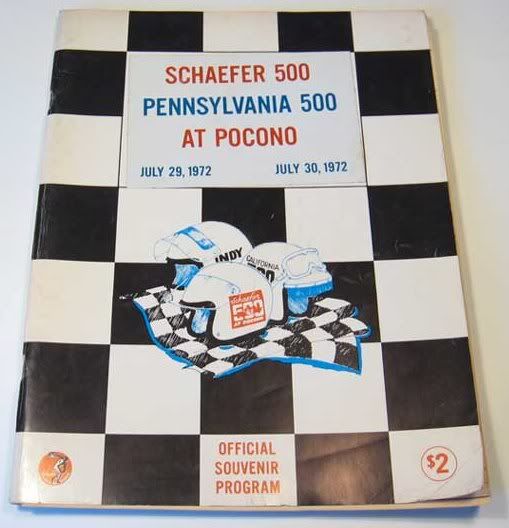 The race was originally scheduled for Sunday, July 2nd. Because of local flooding associated with Hurricane Agnes, Pocono agreed to postpone the race after consulting with state and local officials. USAC officials got their panties in a wad because they believed the sanctioning agreement gave THEM complete control over the go/no go decision. Their knee jerk reaction was to say the track forfeited the date as well as cash for guaranteed purse money. Fortunately cooler heads prevailed, and the race was rescheduled for the last weekend of July.
The front row of Bobby Unser, Gordon Johncock and Mario Andretti.
By reading as many articles as I can find, I think I've found two likely reasons why photos of Leonard's winning the race are scarce.
The race was rained out on its original date and rescheduled for Saturday, July 29. With the postponement, some writers and/or photographers may not have been able to return for the make-up date.
Leonard's win was awarded amidst controversy. He was a teammate of Mario Andretti and Al Unser Sr. Andretti faded late in the race due to fuel problems in the pits. Unser took the checkered flag, but Leonard's team believed Unser committed a pit infraction. Both cars headed to victory lane. It took over an hour for USAC officals to settle things and award Leonard the win. In those days with story submission deadlines looming, its probable writers and photographers submitted what they had - not knowing when things would be resolved.
Sports Illustrated ran a feature article in the
August 7, 1972
, issue.
In a notable Petty-related trivia moment from the weekend, Richard Petty was lured by track promoters to race in the 500-mile stock car portion of the twin bill on Sunday, July 30th. He wasn't much of a factor, and the 43 finished well back in the field.
Stock Car Racing
magazine.
TMC
Edited June 28, 2014