This entry of my racing-related decals is focused on drivers.
Here's one promoting David Pearson when he drove the Wood Brothers/Purolator Mercury. While I can't remember the exact year I got this one, it had to have been between 1976 and 1979 - the years the Silver Fox drove for them with this body style Merc.
Before Tim Richmond came to NASCAR for a brief - yet successful - career, he spent a couple of years in Indy cars. He earned rookie-of-the- year honors in the 1981 Indianapolis 500. I got this decal by writing the manufacturer of the UNO card game.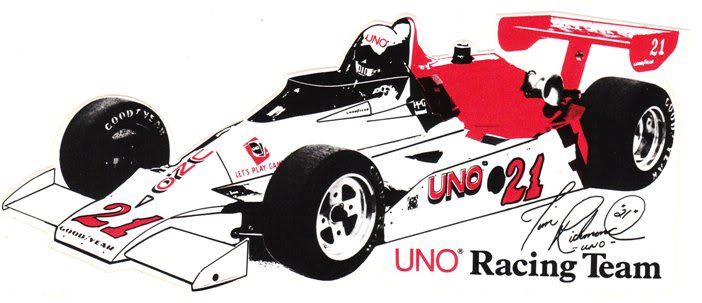 Junie Donlavey was a Virginia gentlemen and long-time car owner. Many drivers cycled through his car. Some of them were veteran drivers like Charlie Glotzbach, Dick Brooks, Jody Ridley, Benny Parsons, and Dick Trickle. And some were predicted to be up-and-comers at the time they hitched a ride with Donlavey such as Ken Schrader, Bobby Hillin Jr, Wally Dallenbach Jr, and Mike Wallace. (All predictions don't come true obviously.)
This decal is one for Ridley for the 1981 season. Coincidentally perhaps, Ridley gave Donlavey his only win as a car owner in 850+ starts in the 1981 Mason-Dixon 500 at Dover.
Many folks who became NASCAR fans in the late 1980s and into the 1990s think Dale Earnhardt was always the Man In Black. I've also heard many folks talk about his 7 championships with Richard Childress Racing and the #3 Monte Carlo. Turns out neither is true.
As Dale Jr. reminded folks in the 2010 Daytona Nationwide race, Dale Sr. raced much of the early 1980s in blue-and-yellow cars sponsored by Wrangler jeans. Also, his first Cup was won not with Childress but with car owner Rod Osterland in a #2 Chevy. In 1981, the year of this decal, Osterland Racing switched over to a Pontiac Grand Prix. Earnhardt left about 2/3 of the way through the season to join Childress.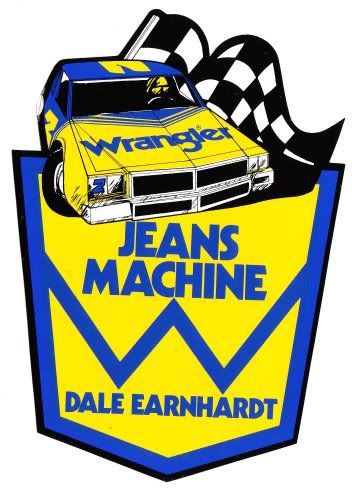 The other thing Earnhardt fans often forget about is Dale Sr. actually drove a Ford in 1982-1983. After joining Childress in late 1981, they only stayed together the rest of that season. Childress encouraged Earnhardt to look elsewhere while he built up Richard Childress Racing. Dale Sr. went to Bud Moore's Ford team along with his Wrangler sponsorship for two years.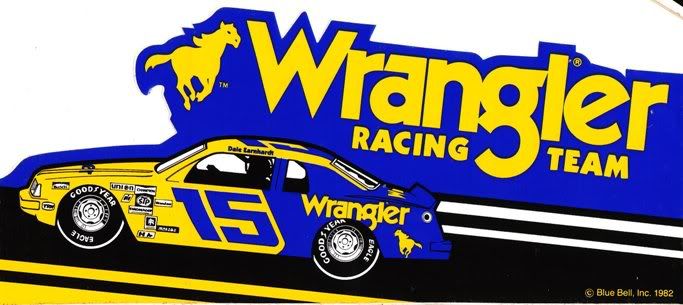 I'll wrap this entry up with a decal for the late Benny Parsons, the 1973 Winston Cup champion and 1975 Daytona 500 winner. Of the cars U.S. Tobacco sponsored, Harry Gant's Skoal Bandit was perhaps the most well-recognized. But I always thought BP's Cope car was a pretty cool looking car in its own right.
TMC