Last in the series. This entry's focus will be on a few sponsors from the 1970s-1980s era.
The last couple of Cup seasons have not yielded any high-impact rookies. For decades, one or two hot shoes would emerge from a pretty competitive class of first year drivers. In the late 1970s, First National City Travelers Checks sponsored the annual rookie of the year award. From there, Champion Spark Plugs took over the sponsorship.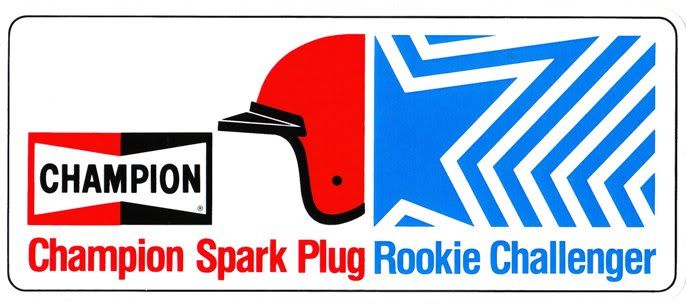 Look closely at this 1980 picture of rookie Kyle Petty and you'll see the CSP decal on his car. Its right below the A-post underneath the NASCAR sticker.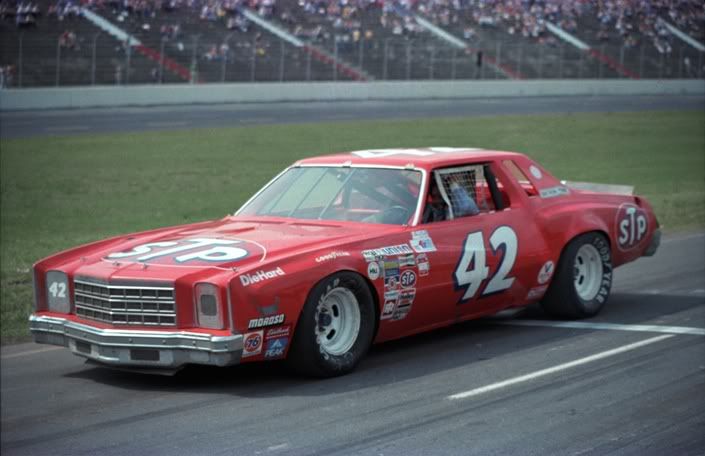 I know nothing about wheels - street or racing. I've never run custom rims or any other aftermarket wheels. My vehicles have just sported whatever the manufacturer bolted on them at the plant. If it comes in "brake dust" color, I'll take it! But in the mid 70s, Norris Racing Wheels sponsored Bud Moore's #15 team with the plan to sell more wheels to someone I guess.

Norris joined Moore's team in 1976 for two seasons with Buddy Baker as a sponsor.
After his 2-year stint, Baker moved on to M.C. Anderson's team and later Harry Ranier's #28 car (that later evolved into become Yates Racing). Bobby Allison was hired to replace Baker, and the team had immediate success with Norris as the sponsor. Allison won the 1978 Daytona 500 in only the second Cup start with his new team.
Today's official NASCAR fuel is Sunoco. Prior to that, it was UNOCAL. I don't remember exactly where the transition happened, but somewhere along the way the brand name was changed from UNION 76 to UNOCAL.(Prior to UNION 76, the official fuel was Pure Oil, but I don't have a Pure decal so the story ends there.)

Hawaiian Tropic sponsored a handful of drivers in the 1970s and into 1980. They were most prominently featured on Hoss Ellington's red #1 cars - particularly the Oldsmobile of Donnie Allison when he crashed with Cale Yarborough in the 1979 Daytona 500.
David Pearson took over Hoss' #1 car in 1980 after he was let go by the Wood Brothers in 1979. The Hawaiian Tropic sponsorship continued with the Silver Fox as the driver.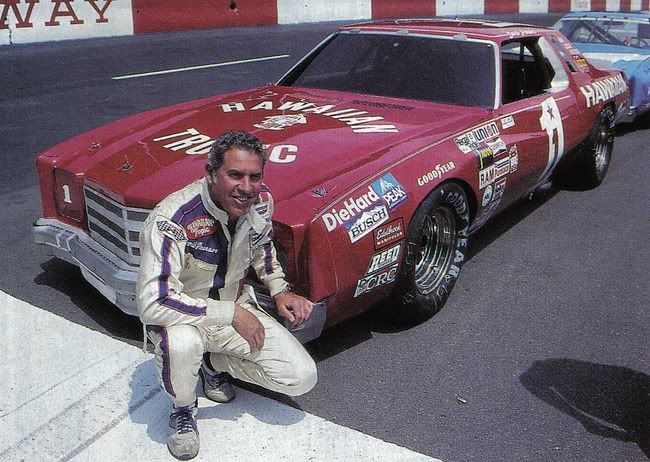 Source: Ray Lamm collection
In the early 1980s after about 10 years as the title sponsor of NASCAR's premier series, R.J. Reynolds updated its Winston Cup Series logo. The below decal starting showing up on the cars in the early 1980s and stayed in use until Nextel (and later Sprint) replaced RJR as the title sponsor of the Cup series.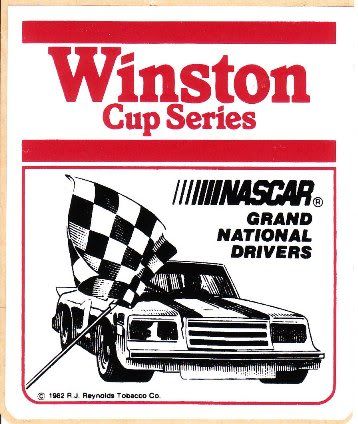 Today, Mark Martin is known as the "grizzled veteran" of the Cup series. He's been a part of well-funded teams for over 20 years (his stint with Ginn Racing excepted). But in the early 1980s, Martin decided to move to Cup from the ASA Series where he'd performed so well. He started his own team and secured Apache Stove as his sponsor. As it turned out, Mark's money ran out, he didn't have a lot of success, he was struggling with a pretty ferocious demon in his life, and he disappeared. He returned after a 5 year hiatus to join forces with Jack Roush.
Once again, look closely right above Mark's number - between the zero and two. You'll see the CSP rookie decal noted earlier.
Source: Jeff Droke at nashville420.com
Bill Elliott is best known for driving a Coors Ford during much of the 1980s. Before he and his family-led team hit it big, they received some sponsorship from Harry Melling's Mell-Gear company or division. Melling Tool was already the primary sponsor for Benny Parsons, but Mell-Gear helped the Elliotts. Their flirtations with success led Melling to move from sponsorship of the team to buying it outright.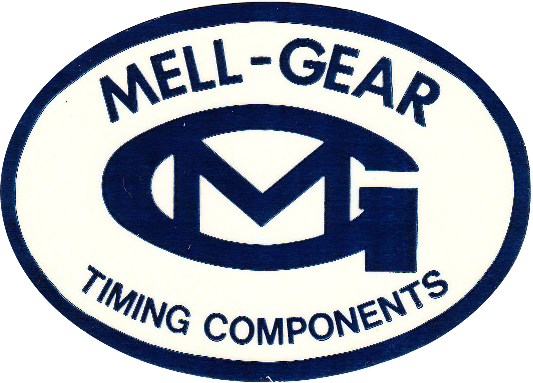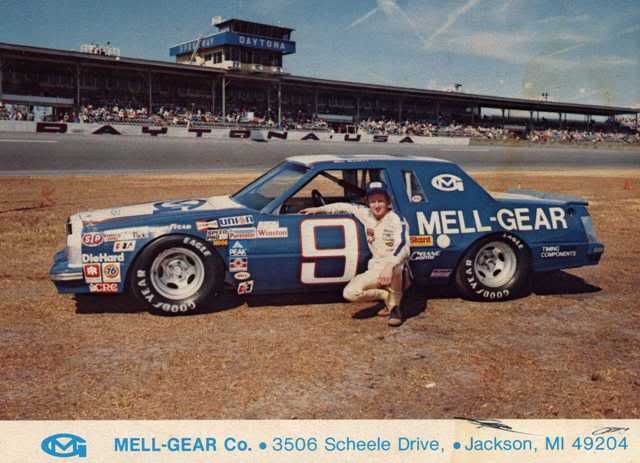 Thus endeth the series. Comment away please.
TMC